CBO released an Update to its Budget and Economic Outlook, while the IMF released a mission concluding statement for its Article IV review of the United States. Here are the implied GDP  levels for year-end 2021 [and updated CBO potential GDP, h/t Paweł Skrzypczyński]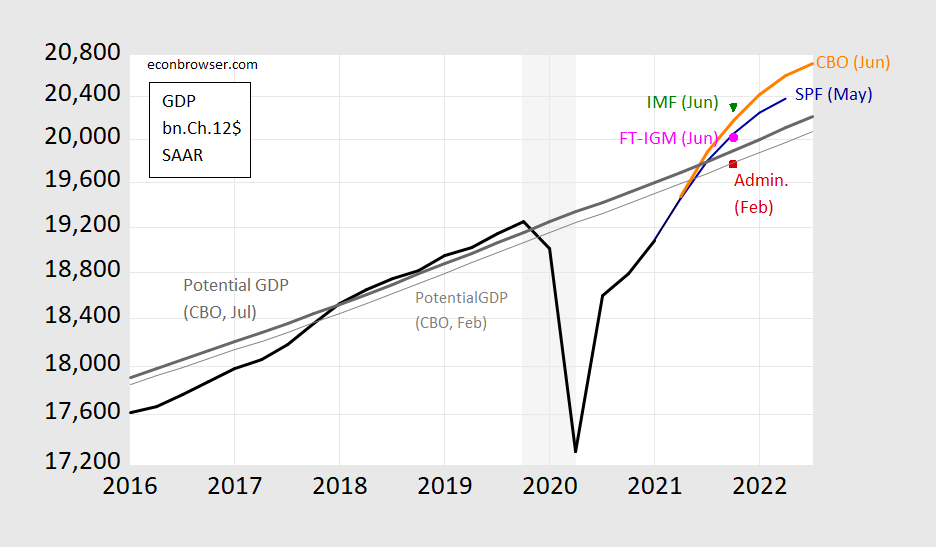 Figure 1: GDP as reported (black), Atlanta Fed nowcast (thin black line to 2021Q2), Administration (red square), Survey of Professional Forecasters (blue triangle), FT-IGM (pink circle), CBO as projected in June (orange *), IMF Article IV (green inverted triangle), potential GDP as estimated by CBO in February 2021 (thin gray line) and potential GDP as estimated by CBO in July 2021 (thick dark gray line). NBER recession dates assuming trough at 2020Q2. Dates indicated denote when the forecasts were "locked down". Source: BEA, Atlanta Fed as of 6/25, OMB FY'22 Budget, Philadelphia Fed SPF (May), and FT-IGM survey (June), CBO (February, July), IMF (July), and author's calculations [updated 7/2].
The IMF forecasts 8% q/q growth, while CBO projects 7.4% (compare to 3.7% in February).
Using the CBO's February July 2021 estimate of potential GDP and the CBO's July projection, the output gap at year's end will be about 2% 1.4%; using the IMF's estimate of output, it'll be about 2.6% 2%. There is no reason why either the CBO's or IMF's estimates of potential as of today will be the same as what CBO estimated in February. In fact, The CBO notes:
As the pandemic eases and demand for consumer services surges, real (inflation-adjusted) GDP is projected to increase by 7.4 percent and surpass its potential (maximum sustainable) level by the end of 2021.
Potential GDP has been revised up about 0.6% going from the February 2021 to July 2021 reports. That statement seems to indicate that its current estimate of potential GDP is considerably higher than what it indicated in the February report. That would be consistent with assessments that the extent of scarring in the business sector has been less profound than previously feared.