From Bloomberg today, "The Great Reflation Trade Is Buckling All Across Wall Street":
The reflation trade that hammered bonds, drove stock gauges to repeated records and re-energized long dormant value shares this year is in rapid retreat.

Driving the drama is the bond market. Benchmark 10-year Treasury yields broke below 1.3% Wednesday as real rates — which strip out the effect of inflation — sank below minus 1%, signaling that traders are souring on the growth outlook.
Here's the picture at the 5 year horizon, using the standard inflation breakeven calculation (5 year Treasury's minus 5 year TIPS), and the DKW adjusted inflation expectations.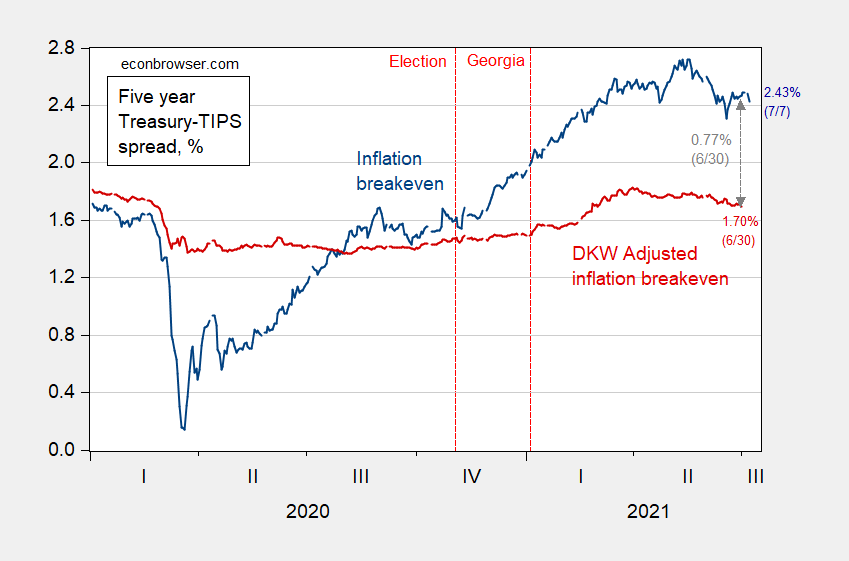 Figure 1: Five year inflation breakeven calculated as five year Treasury yield minus five year TIPS yield (blue), five year breakeven adjusted by inflation risk premium and liquidity premium per DKW, all in %. Source: Fed via FRED, Treasury, KWW following D'amico, Kim and Wei (DKW) accessed 7/7, and author's calculations [graph updated 7/7 to include 7/7 observation for unadjusted breakeven].
While the conventionally calculated breakeven hit a peak on 5/18 at 2.72% (market close), the peak according to the DKW adjusted series was 1.81% on 3/29. As of 6/30, the gap between the two series 0.77%.
As Joseph E. Gagnon and Madi Sarsenbayev point out, neither bond markets nor economists does very well at prediction (although the DKW series doesn't seem to do so badly in a quick and dirty comparison).
In any case, the market in all its wisdom (or lack thereof) seems to be seeing less inflation than previously anticipated, going forward.