From Bloomberg, Matthews and Shah, "High-Frequency Charts Show U.S. Economy Softening From Delta":
The delta variant has muted the progress of the U.S. economic recovery from the Covid-19 pandemic, with consumers putting off some leisure spending and businesses delaying a return to normal operations, according to a number of high-frequency reports that show softness in August.
The Bloomberg article includes two graphs: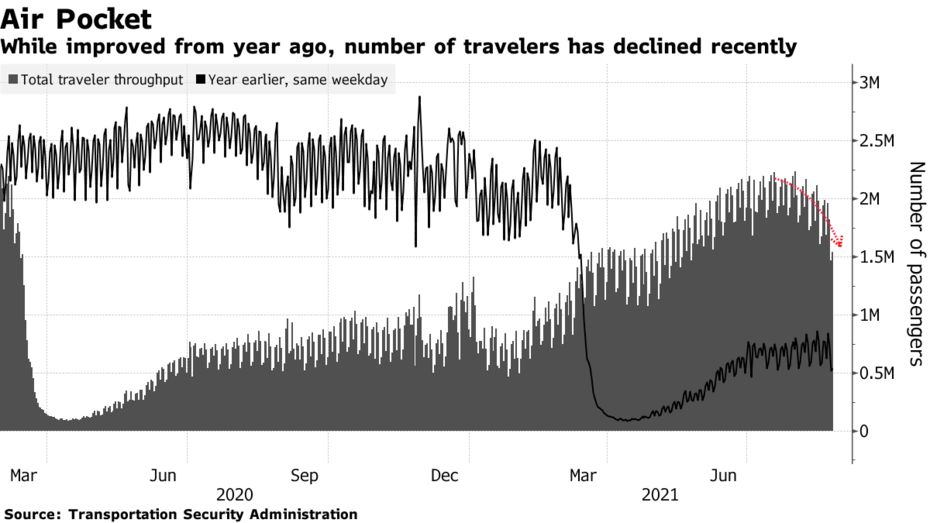 Some other high frequency indicators give a mixed message, for certain types of activity. Google Mobility Trends (August 24) shows some dropoff in retail and recreation, as well as transit stations, in recent weeks. Apple Mobility Trends indicates some dropoff in driving (but still above baseline) in recent weeks.
Other broad macroeconomic indicators show continued aggregate, albeit decelerating, growth through the weekend ending 8/21, as shown by the Lewis, Mertens, Stock Weekly Economic Index.

Source: Lewis, Daniel J., Mertens, Karel and Stock, James H., Weekly Economic Index (Lewis-Mertens-Stock) [WEI], retrieved from FRED, Federal Reserve Bank of St. Louis; https://fred.stlouisfed.org/series/WEI, August 28, 2021.
Other indicators, such as the Philadelphia Fed's Coincident Index for July has just been released, while the Baumeister et al. Weekly Economic Conditions Indicator is currently updated using data only through 7/31.
Researchers Herzon, Prakken and Goel at IHS-MarkIt (8/25) find a significant negative impact of case count on spending at the county level, and write:
From the week ending 4 July through the week ending 1 August, aggregate US consumer credit- and debit card spending declined by 7.6%, according to the Opportunity Insights Economic Tracker. Using the calculation described above, we estimate that 1.4 percent points of that decline (or about one-fifth of it) can be attributed to rising COVID-19 case counts. While material, the magnitude of this contribution suggests that most of the decline in spending over July (about four fifths of it) was accounted for by something else; something unrelated to rising case counts.

To be sure, the drag on consumer spending from rising cases counts predicted by this analysis will depend on how high the case counts go. When we assembled the data for this analysis, we had only one additional week of case counts by county beyond the end of our July sample. Using the estimated regression from the July sample and applying the methodology here, we estimate that further increases in case counts by county through the week ending 8  August subtracted an addition 0.7 percentage point from aggregate spending, for a cumulative effect of -2.1 percentage points. If case counts continue rising, these effects will mount, but, in our estimation, not by enough to put the broad economic recovery at risk.
Update, 8/30 8:45am Pacific:
As new data comes in, Q3 nowcasts are falling. IHS-MarkIt tracking estimates for Q3, over time (as of 8/30):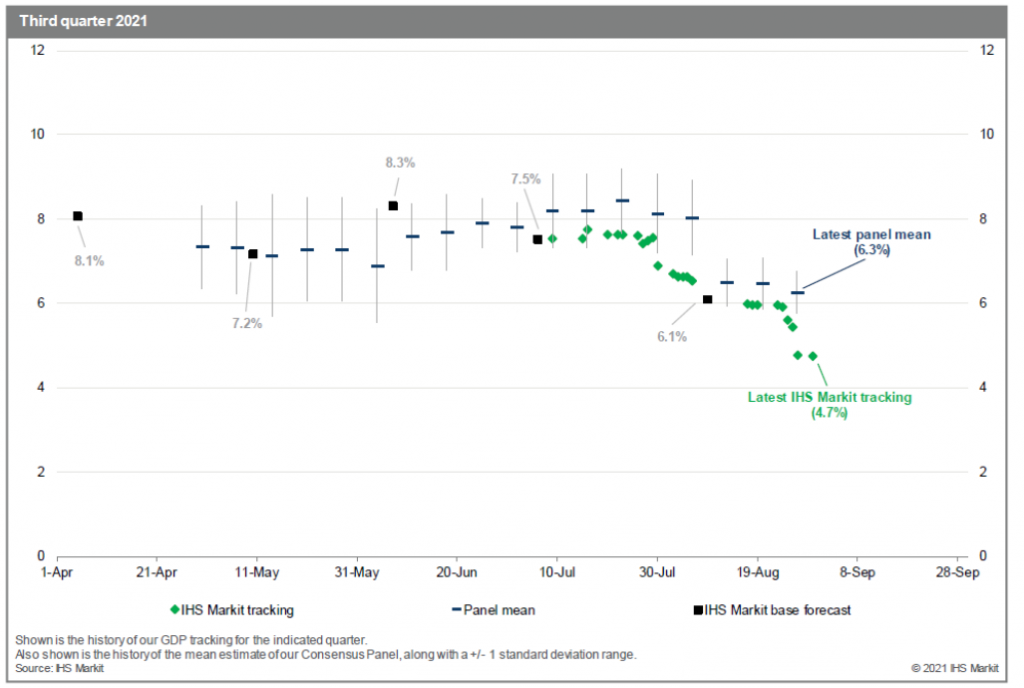 IHS-MarkIt at 4.7% q/q SAAR, Goldman Sachs today at 5.25%.