The CPI release for August numbers is tomorrow. As of today, here are the Cleveland Fed nowcasts for CPI and Core CPI: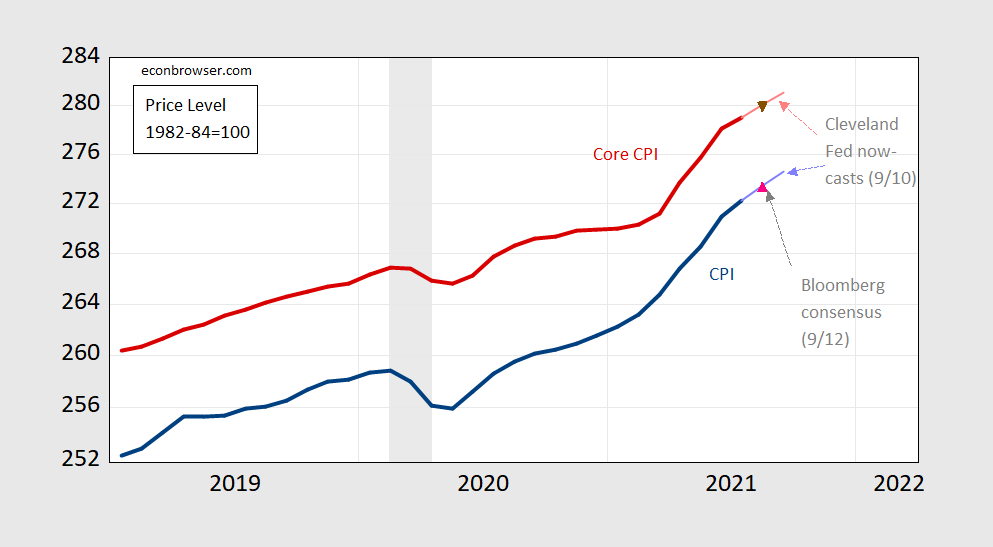 Figure 1: CPI (blue), CPI nowcasts (light blue), Bloomberg consensus CPI (red triangle), Core CPI (red), Core CPI nowcasts (pink), Bloomberg consensus core CPI (inverted brown triangle), all 1982-84=100, on log scale. NBER defined recession dates shaded gray. Source: BLS, Cleveland Fed (as of 9/10), Bloomberg (accessed 9/12), NBER, and author's calculations.
Inflation expectations are rising — but below recent peaks — when using a simple breakeven calculation of Treasury and TIPS five year yields.
Figure 2: Five year inflation breakeven calculated as five year Treasury yield minus five year TIPS yield (blue), five year breakeven adjusted by inflation risk premium and liquidity premium per DKW, all in %. Source: FRB via FRED, Treasury, KWW following D'amico, Kim and Wei (DKW) accessed 9/12, and author's calculations.
However, adjusting for estimated inflation and liquidity premia, expected CPI inflation over the next five years remains fairly low at 1.64%.
For cross-country monthly/quarterly/annual inflation data 1970-2021, see this post.