ZeroHedge breathlessly announces "Atlanta Fed Says US Economy Suddenly On Verge Of Contraction". The title is numerically correct, and the article actually provides more context than usual. However, for perspective, I think it's of interest to see what other organizations are nowcasting.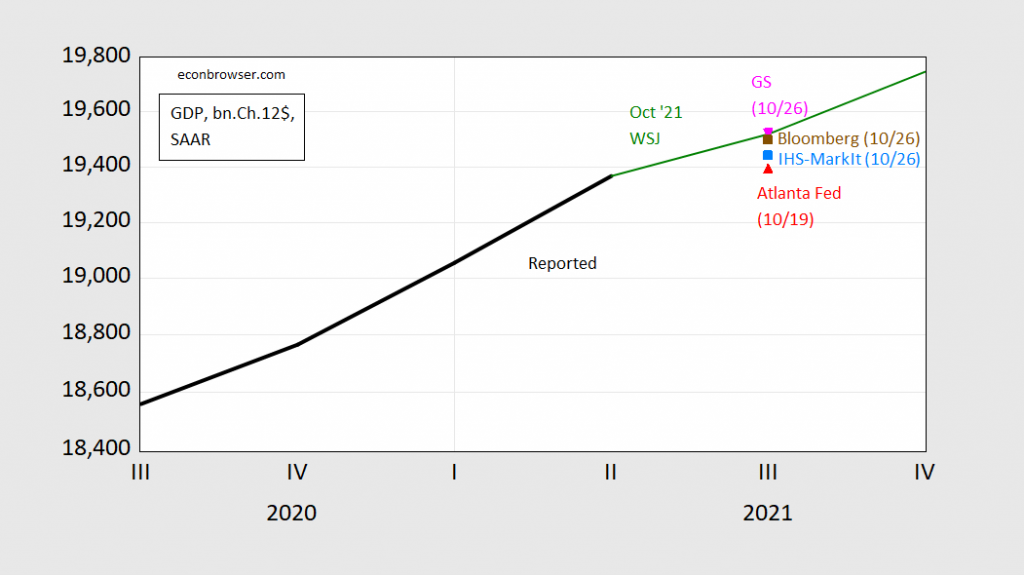 Figure 1: GDP (black), implied GDP from Atlanta Fed (10/19) (red triangle), IHS-MarkIt (sky blue square), Bloomberg consensus (brown square), Goldman Sachs (inverted pink triangle), and mean forecast from WSJ October survey (green line). Levels calculated using reported growth rates and latest GDP for Q2. Source: Atlanta Fed, IHS-Markit, Bloomberg, Goldman-Sachs, WSJ October survey, and author's calculations. 
The Bloomberg consensus reported as of today on the website is pretty much at the WSJ survey mean taken in the first week or so of October. As for nowcasts, the Atlanta Fed's GDPNow estimate is below the IHS-MarkIt (nee Macroeconomic Advisers) nowcast and substantially below the Goldman Sachs tracking estimate. However, the GDPNow nowcast is now a week old, with a new release set for tomorrow.
A final thought: Even if the advance release reports 0.5% q/q growth SAAR, the mean absolute revision going from advance to second, and going from advance to third release are, respectively, 0.53 and 0.59 percentage points (1996-2018) (see here for more documentation).