Just out, my paper with Hiro Ito, "Requiem for 'Blame It on Beijing'" [link thru Nov 28] (final version submitted on December 25, 2019):
Global current account imbalances have reappeared, although the extent and distribution of these imbalances are noticeably different from those experienced in the middle of the last decade. What does that recurrence mean for our understanding of the origin and nature of such imbalances? Will imbalances persist over time? Informed by empirical estimates of the determinants of current account imbalances encompassing the period after the global recession, we find that – as before – the observable manifestations of the factors driving the global saving glut have limited explanatory power for the time series variation in imbalances. Fiscal factors determine imbalances, and have accounted for a noticeable share of the recent variation in imbalances, including in the U.S. and Germany. For advanced economies, the financial component of the current account has been playing an increasing role to determine the movements of the account. Examining observable policy actions, it is clear that net official flows have been associated with some share of imbalances, although tracing out the motivations for intervention is difficult. Looking forward, it is clear that policy can influence global imbalances, although some component of the U.S. deficit will likely remain given the U.S. role in generating safe assets.
Figure 1 from the paper shows what the IMF was forecasting in its October 2019 IMF World Economic Outlook (WEO):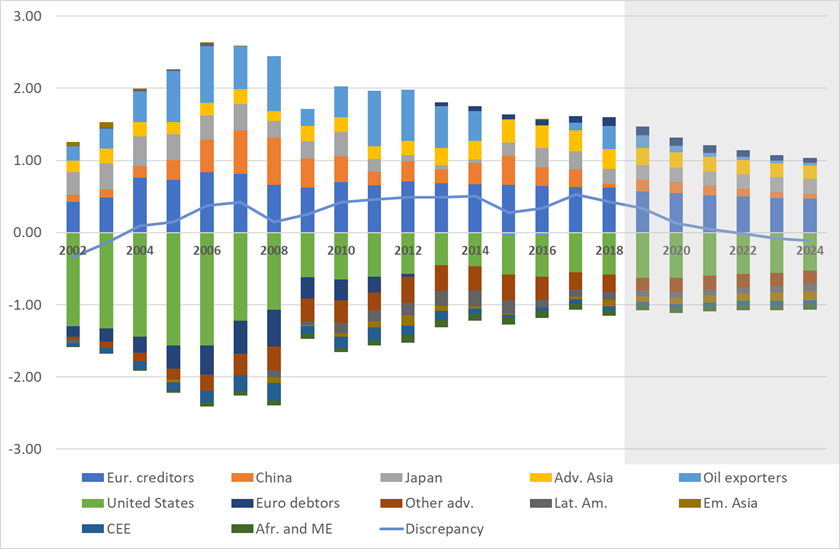 Source: Chinn and Ito (2021) using IMF WEO (October 2019) data. Note: US is green, China is orange.
This is what actually happened (along with the April 2021 WEO forecasts):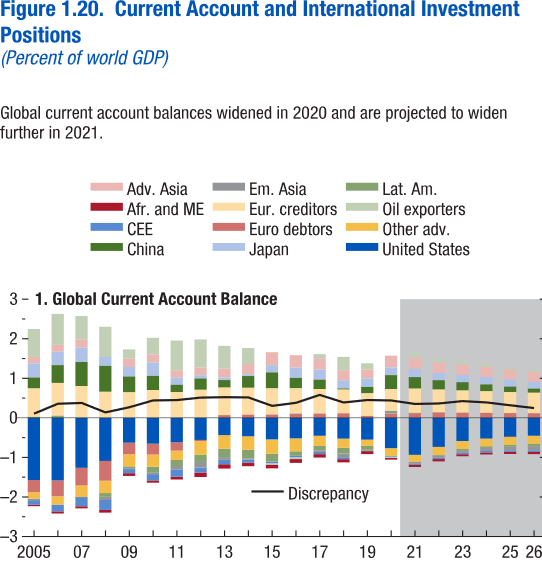 Source: IMF WEO (April 2021). Note: US is blue, China is dark green.
New forecasts will come out with the October 2021 WEO within the next week and a half. For now, it's interesting to see a predicted shrinkage of current account imbalances after the predictable 2020-21 surge (predictable in part due to the aggressive fiscal stimulus in the US). The April WEO viewed the increases in imbalances as temporary. To the extent that assessment is correct, we should see the longer term factors re-assert themselves.
On the other hand, the 2021 External Sector Report stresses the importance of fiscal policy — and indeed in our paper we find a heightened impact of fiscal policy. That means the trajectory of imbalances depends substantially on how post-Covid fiscal policy is conducted.