Michigan (preliminary) remains high and NY Fed rises 40 bps; both are consumer based. Cleveland Fed forecast is lower than in September.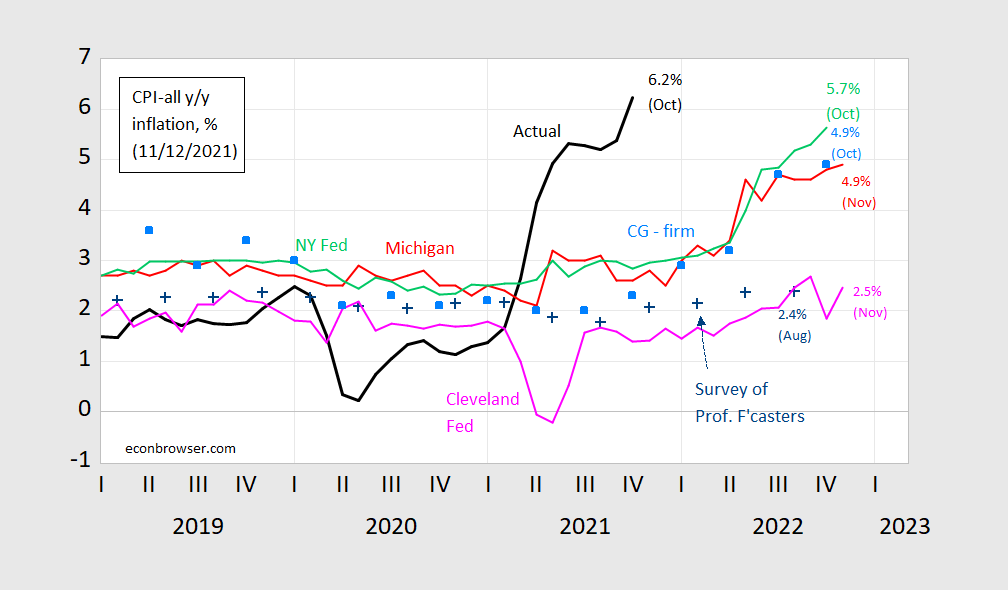 Figure 1: CPI inflation year-on-year (black), median expected from Survey of Professional Forecasters (blue +), median expected (preliminary) from Michigan Survey of Consumers (red), median from NY Fed Survey of Consumer Expectations (light green), forecast from Cleveland Fed (pink), mean from Coibion-Gorodnichenko firm expectations survey [light blue squares]. Source: BLS, University of Michigan via FRED and Investing.com, Reuters, Philadelphia Fed Survey of Professional Forecasters, NY Fed, Cleveland Fed and Coibion and Gorodnichenko. 
The Survey of Professional Forecasters will release its 4th quarter results on Monday.
As of today, the 5 year inflation breakeven (unadjusted) is 3.08%. If the gap between the DKW adjusted measure stayed constant at its 10/29 level (and there's no reason it should), the adjusted for premia breakeven would be about 1.9%.