From Hakan Yilmazkuday, "Oil Price Pass-Through into Consumer Prices: Evidence from U.S. Weekly Data", forthcoming in JIMF:
P G [Pass through into gasoline] is about 13% (meaning that doubling oil prices results in about 13% of an increase in gasoline prices) only one week after an oil price shock, increasing to 24% after one month, and 37% after three months. P G has a long-run estimate of about 50% (measured after five years), which is in line with the share of oil in the retail price of gasoline (paid at the pump, according to EIA). About 26% of this long-run estimate is achieved only one week after the oil price shock, about 47% of it is achieved after one month, and about 99% of it is achieved after about a year, suggesting that the effects of oil prices are reflected in gasoline prices in a relatively small amount of time. The 68% credible intervals highly support these estimates.
The author also estimates the impact on consumer prices.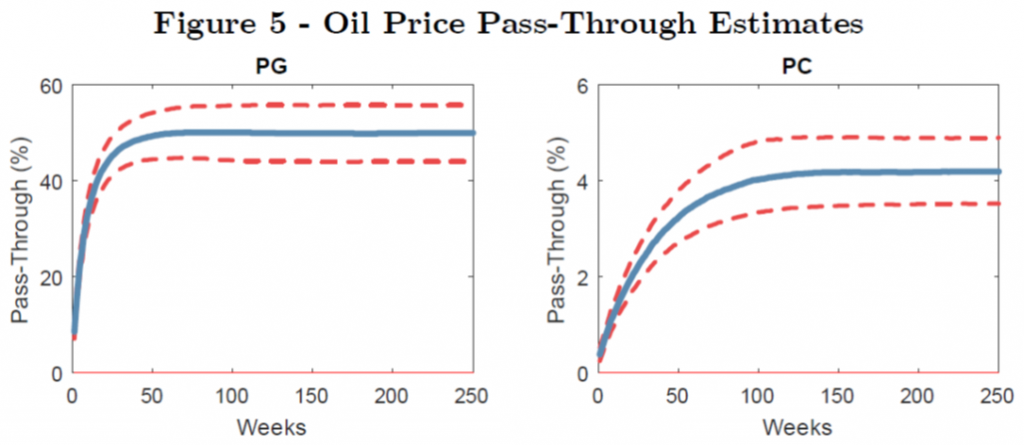 Source: Yilmazkuday (2021).
The price of WTI has roughly doubled over the past year; using the estimated pass through, gasoline prices should have risen by about a dollar (0.5 x 100% x $2 = $1). Conventional gasoline prices have risen from about $2 to $3.30.
[Jim Hamilton's rule of thumb from back in 2013 is 2.5 cents for every dollar in change in Brent, so the $43.4 increase in October y/y implies about $1.10 increase in the price of gasoline.]
Recent declines in oil prices should exert downward pressure on gasoline prices eventually.
For a breakdown of costs for a gallon of gas as of September 2021, see this DOE EIA infographic (h/t pgl).
Addendum:
Previous posts on pass through (from Jim H.), here, here and here.