One way to assess external financial stress is to look at exchange market pressure (EMP) – the change in the exchange rate, change in reserves, and change in interest rates, possibly weighted by inverse of standard deviations. or otherwise (see e.g., Patnaik, et al. (2017) for several different versions).
Without calculating the index (I don't have access to some of the relevant variables), here's what we see as of today, over the past year.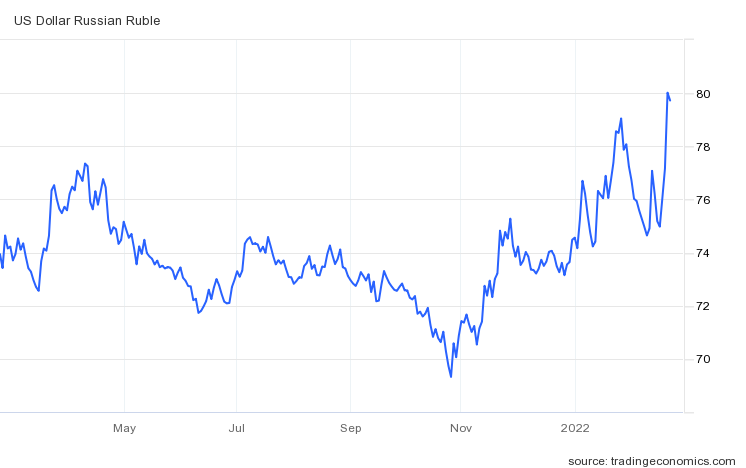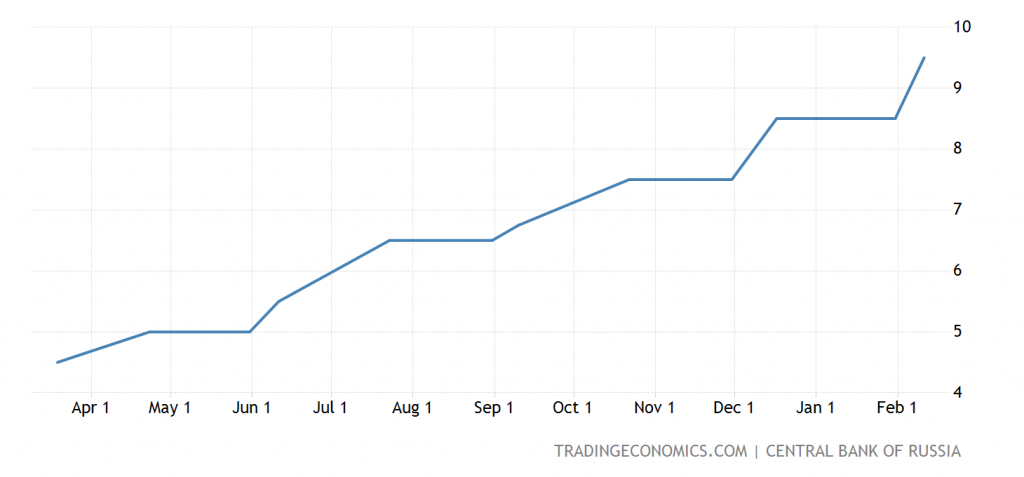 At a monthly frequency, reserves fell slightly in January.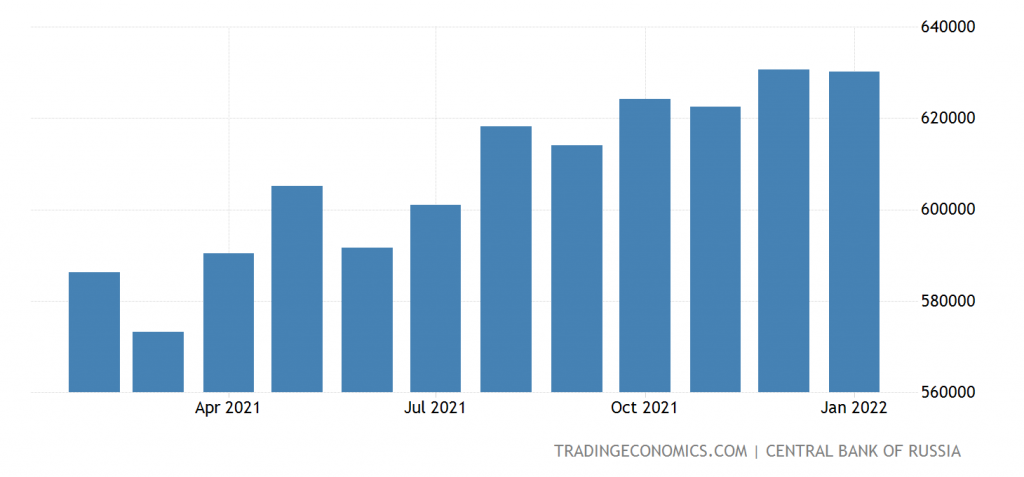 Obviously, we (or I) don't see reserves day by day, so we don't know what's happening in terms of intervention.
More broadly, confidence as summarized by the stock market, is plummeting.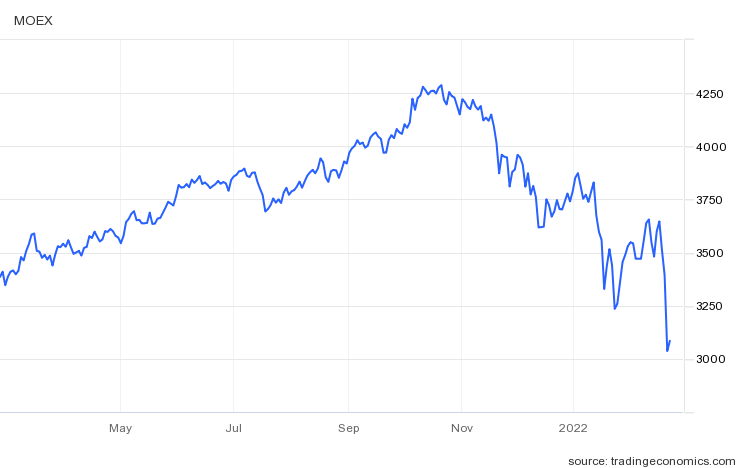 These data predate the announcement of sanctions today. Going forward, expect to see a combination of ruble depreciation, reserve depletion, and interest rate increase. How much depends on the stringency of the economic sanctions, how successful Russia has been insulating the economy from financial sanctions. A jump in oil prices ($120/bbl is a figure I hear a lot of) will mitigate pressure by increasing foreign exchange earnings so, unclear what the net effect is.
Capital Economics notes:
There are so many permutations that putting a number on the impact is nigh on impossible. For what it's worth, we estimate that the sanctions imposed in 2014 reduced Russian GDP growth by about 1%. That seems about the right ballpark for the sanctions mentioned above (although the risks are probably skewed towards a bigger impact than 1%). There would be larger impacts in areas that are particularly dependent on Western goods and services (e.g. software, some capital goods).
As for the financial market impact, it looks like a situation somewhat more severe than the annexation of Crimea in 2014 (and subsequent sanctions) is now priced in to Russia's financial markets. But even so, there is probably scope for further falls if sanctions are imposed due to the uncertainty about whether sanctions will need to be ratcheted up further in order to influence Russian policy. We suspect that the ruble could fall by another 10% in this situation, pushing inflation up further and prompting the central bank to deliver at least another 200bp of interest rate hikes, to 12.0%. (See Chart 2.)
I reproduce their Figure 2 below.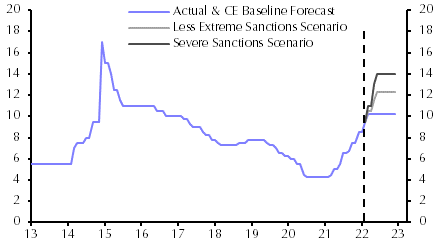 Source: W. Jackson, "Russia and the possible impact of sanctions," Capital Economics, 22 Feb 22.
In other words, if the Russians don't want to burn through their reserves in order to prevent a free-fall in the Ruble, the interest rate defense is the way to go (so this motivation is added onto the motivation they might have to squelch inflationary pressures).
Graphically, in Mundell-Fleming: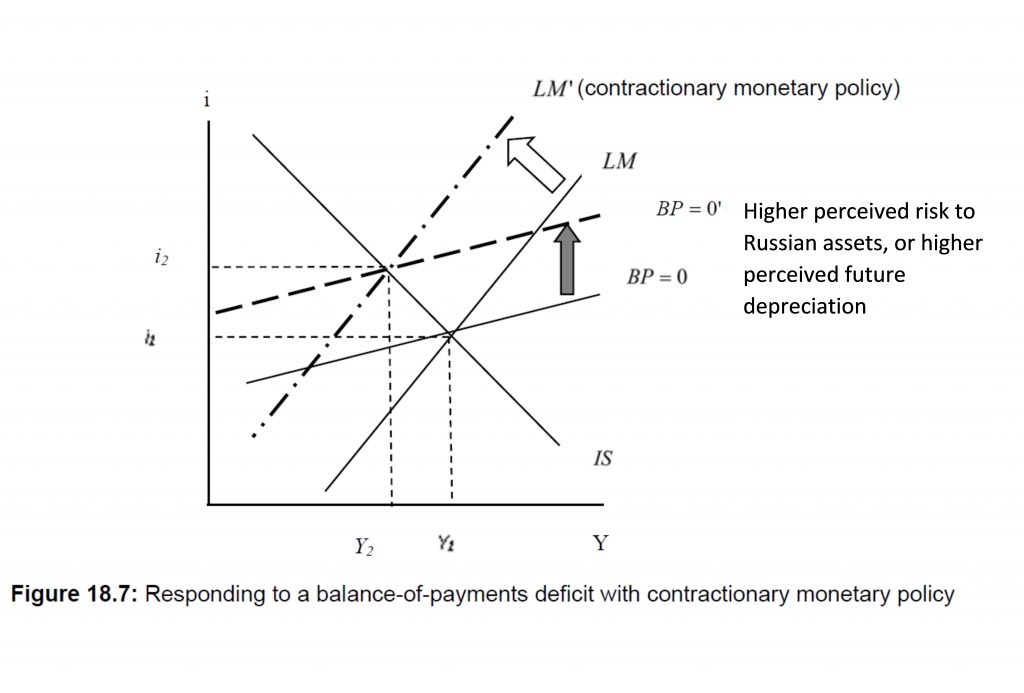 A higher interest rate will indeed stem a balance of payments crisis induced by heightened risk aversion, costs of transactions, or elevated expectations of currency depreciation — but at the cost of a recession (I'm ignoring complications from second-generation multiple equilibrium balance of payments crises a la Obstfeld, Jeanne, etc.). Oh, and higher US interest rates to deal with inflationary pressures would also exacerbate balance of payments challenges for Russia.
Update, 6:50pm Pacific:
Goldman Sachs notes today that their Financial Conditions Index for Russia has already tightened 450 bps year-on-year…
Source: Hatzius, et al., Global: GS Economic Indicators: Russian FCI Is Now 450bp Tighter Than a Year Ago," Goldman Sachs, 22 February 22.
"Our FCI is defined as a weighted average of riskless interest rates, the exchange rate, equity valuations, and credit spreads, with weights that correspond to the direct impact of each variable on GDP." Source.
Update, 7:15pm Pacific:
Risk as inferred from Credit Default Swaps on 5 year Russian government bonds are also up – although not back up to 2016 levels. Still a quick climb in recent weeks.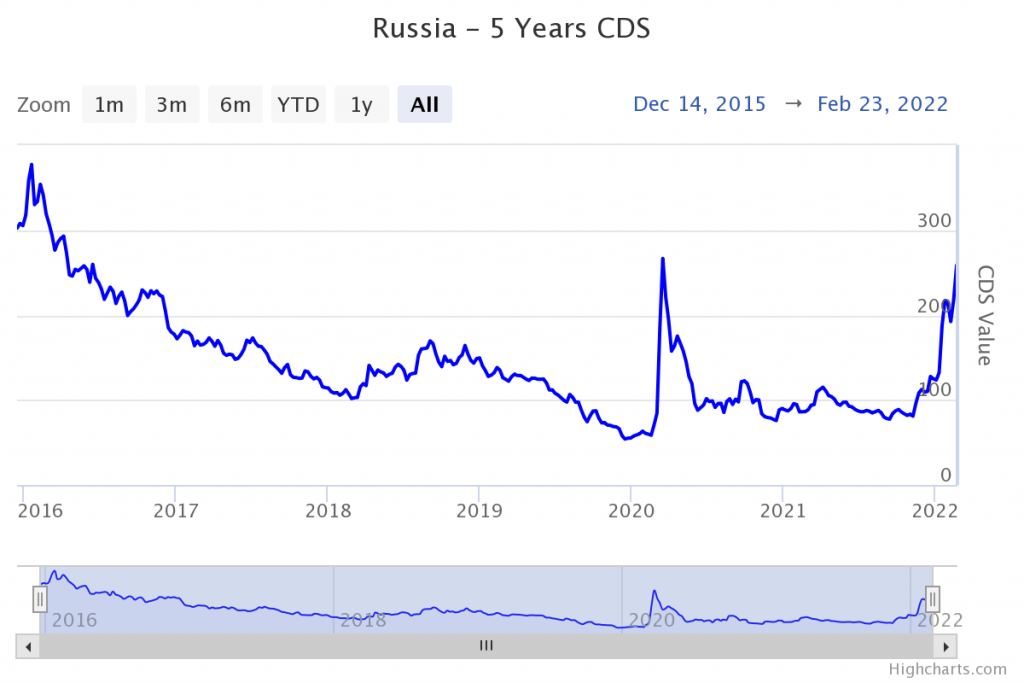 Source: WorldGovernmentBonds.