From Wells Fargo today: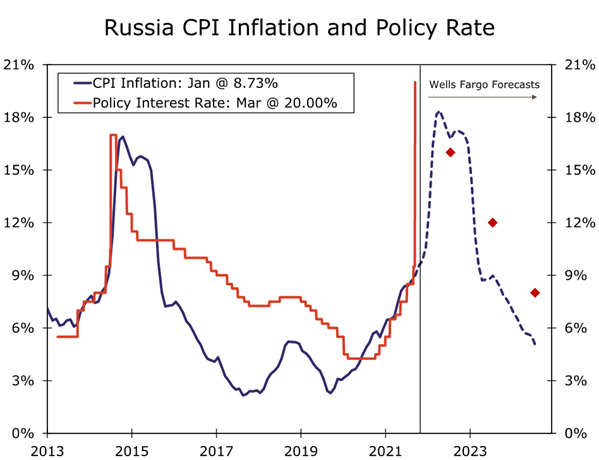 Source: Wells Fargo, March 1, 2022. Inflation is year-on-year. 
From Wells Fargo (McKenna/Kennenbroek),absent a full fledged financial crisis and sovereign default:
… we believe Russia's economy will fall into recession this year, and could follow a pattern similar to the way it behaved during 2014-2016 when sanctions tied to the invasion of Crimea were imposed and oil prices crashed. On the inflation side, CPI in Russia is already elevated with January inflation data indicating prices grew close to 9% year-over-year. In 2015, a collapse in the ruble sent inflation up to 17% year-over-year. In our view, inflation could spike above 2015 levels this year. The quick depreciation of the ruble, coupled with already broad based local price pressures before the conflict, should mean Russian inflation can reach 18.5% year-over-year by the end of 2022. Tight monetary policy and a stable ruble should place Russia's CPI on a downward trajectory over the course of 2023, and converge toward the CBR's 4% target in 2024. In our view, CBR policy rates will remain at 20% for the next few quarters, and only until inflation has peaked will CBR policymakers begin to lower interest rates. In that sense, we look for policy rates to be lowered at the CBR's October 2022 meeting and continue to be cut over the course of 2023 and into 2024 as inflation softens
Update, 2pm Pacific:
The above forecast based upon "no default". A big if.