From Bloomberg yesterday:
China reappointed several top economic officials in a leadership reshuffle Sunday, giving investors greater continuity as Beijing overhauls financial regulation and grapples with escalating tensions with the US.

People's Bank of China Governor Yi Gang, 65, will remain in his post, as will the finance and commerce ministers. He Lifeng, a close ally of President Xi Jinping, was appointed a vice premier, signaling he could replace Liu He as the nation's top economic official.

The retention of Yi and others — announced at the National People's Congress, the annual parliamentary gathering — surprised analysts who were expecting a larger reshuffle. Many predicted officials with international experience, like the PBOC governor, would be replaced by men with closer personal ties to Xi but less familiar to global investors.

Keeping some of the existing economic team in place provides continuity as Beijing creates a powerful new financial regulatory body and confronts a more hostile geopolitical environment.

"The fact that the main technocrats are staying should reassure the market and reduce chances of mistakes during policy implementation," said Qian Wang, Vanguard Group Inc.'s chief Asia-Pacific economist.
Let's hope. List of who's in what positions, here. And here is the organizational table (names to be updated), from GS: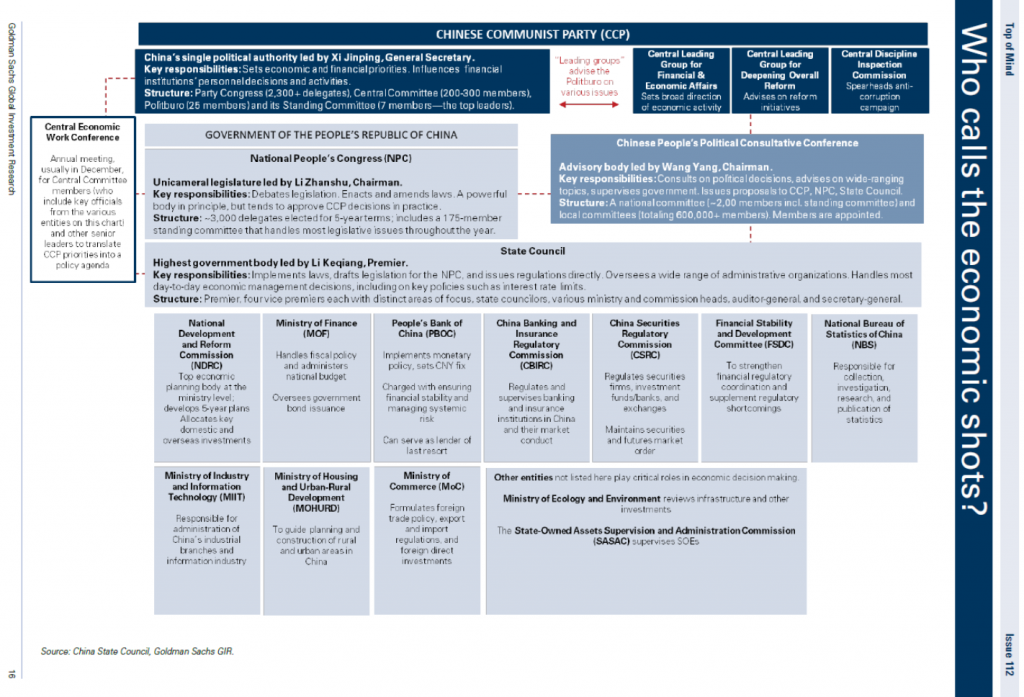 Source: GS, Oct 11, 2022
Note that Li Keqiang is replaced as premier by  Li Qiang, and the NRDC's He Lifeng moves to vice-premier. Zheng Shanjie moves to head NRDC, while the heads of Finance and Commerce Ministeries stay the same.