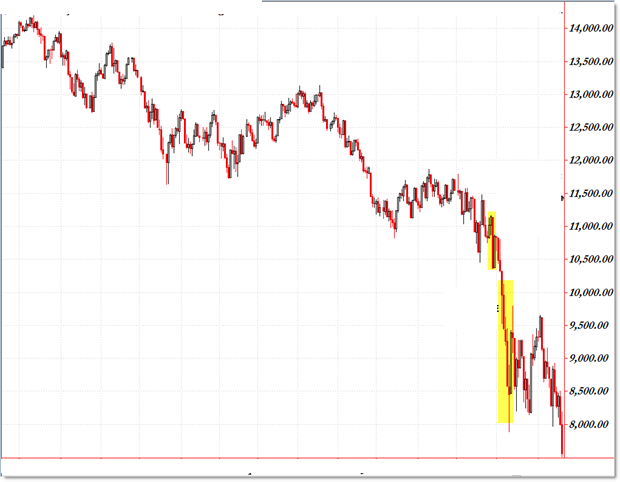 The shading denotes the decline of the Dow Jones around September 29th, when the TARP legislation went down the first time. Here's the detail: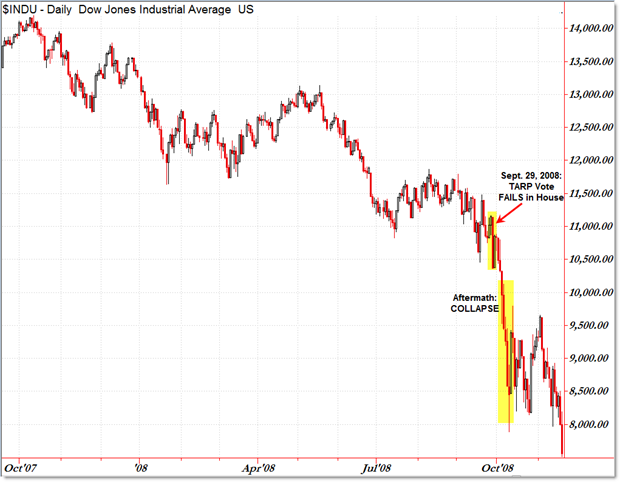 Source: ATT.
As the WSJ noted:
The Dow, which had opened sharply lower on fears of more possible bank failures, finished the day down 7%, with a 777.68 point drop to 10365.45. Losses to shares on the broader Dow Jones Wilshire 5000 index amounted, on paper, to $1.2 trillion — eclipsing the size of the proposed bailout package. The Nasdaq Stock Market finished down 9.1%.
My guess is the effect of a default would be much larger on impact, given it's news regarding the safety of a global benchmark.
Edelberg and Sheiner discuss the implications of a default, citing among other points a 2013 Fed study indicating a 30% stock market decline. Last week, CEA released an analysis, examining a scenario involving a stock market decline of 45%. (For comparison, the October 2008 to March 2009 decline was 22%.)