Today we are fortunate to present a guest post written by Baptiste Meunier (ECB). The views expressed in this paper are those of the authors and not necessarily those of the  institutions they are affiliated with.
---
In a recent NBER working paper (Chinn, Meunier and Stumpner, 2023), coauthored with Sebastian Stumpner (Banque de France) and Menzie Chinn (UW), we nowcast world trade using machine learning methods. The reason for nowcasting global trade is straightforward: official statistics are published with some delay (two months) while multiple early indicators are available in the meantime. The use of machine learning techniques responds to trade growth being highly volatile, much more than other macroeconomic variables like GDP or employment. Our idea is that using non-linear techniques, best exemplified by machine learning, could improve the accuracy of predictions. Two key lessons emerged from our paper – that might be useful for other forecasters – are detailed in this post.
Lesson 1: among non-linear models, machine learning techniques based on linear regressions appear to perform better – though they have been much less in the literature so far
As we tested over a range of different machine learning techniques, an important ingredient in our study is the distinction between those based on trees and those based on regressions. The first category includes random forest and gradient boosting and works by aggregating several decision trees together. It is the most widely used in the literature, notably random forests that gained in popularity over recent years. The second category is an adaptation of the first but using linear regressions instead of, or in complement to, decision trees. It comprises macroeconomic random forest (Goulet-Coulombe, 2020) and gradient linear boosting, two innovative methods that have received much less attention in the literature so far.
Nevertheless, machine learning techniques based on regressions outperform other techniques significantly and consistently across different horizons, real-time datasets, and states of the economy. They outperform tree-based methods which – despite their increasing popularity in the literature – perform poorly in our setup. This supports recent evidence that such techniques might be ill-equipped to deal with the short samples of time series in macroeconomics. Comparing more broadly, we find that regression-based machine learning techniques also outperform more "traditional" techniques, both linear (OLS) and non-linear (Markov-switching, quantile regression), again significantly and consistently.
Individually, the best-performing method is found to be the macroeconomic random forest of Goulet-Coulombe (2020), an extension of the canonical random forest. This is visible in figure 1 which represents the accuracy (measured by the out-of-sample RMSFE over 2012-2022) of the different techniques relative to the OLS (= 1, figured by the black line). "Traditional" non-linear techniques (in shades of grey) and machine learning techniques based on trees (in shades of blue) fail to improve over the OLS benchmark, and even have slightly worst accuracy (indicated by their RMSE being above the black line). Machine learning techniques based on linear regressions (in shades of red), by contrast, outperform the OLS benchmark by 15-20% on average – and therefore also outperform the other non-linear techniques. Among these techniques, best in class is the macroeconomic random forest (dark red). Beyond the results presented in figure 1, averaged over horizons and real-time datasets, evidence in our paper shows that these results hold true across different horizons, real-time datasets, and states of the economy.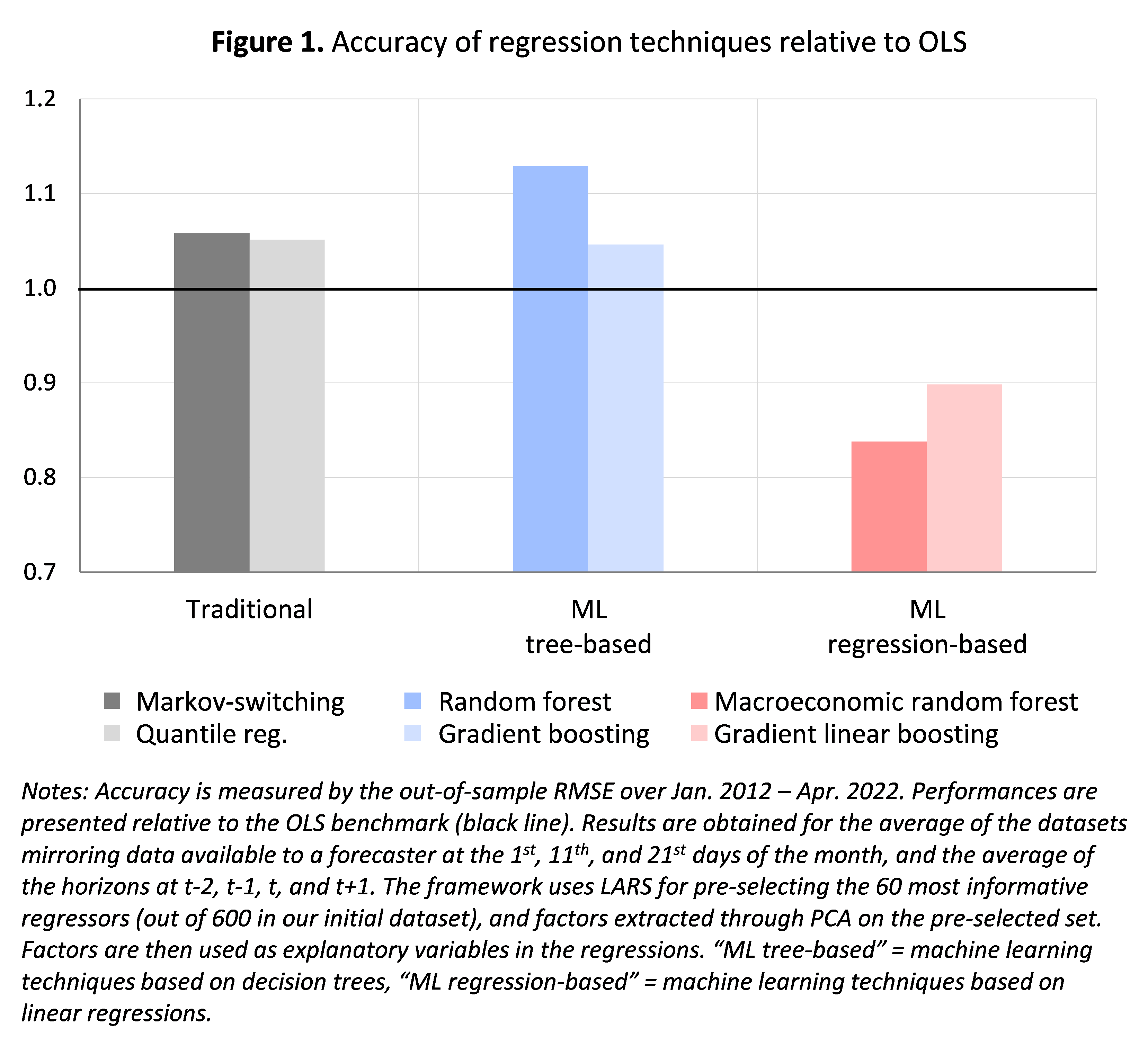 Lesson 2: doing preselection and factor extraction on the input dataset appears to enhance the accuracy of predictions based on machine learning
In order to maximize the accuracy of machine-learning-based forecasts, our paper proposes a three-step approach composed of (step 1) pre-selection, (step 2) factor extraction, and (step 3) machine learning regression. It is motivated by the literature: for instance, Goulet-Coulombe et al. (2022) suggest that machine learning techniques are more accurate when used in a factor model. And doing pre-selection in factor models responds to another literature (Bai and Ng, 2008) that found that selecting fewer but more informative regressors improve performances of such models. Our framework combines these two strands and apply it to a range of machine learning techniques.
Both pre-selection and factor extraction improve the accuracy of machine-learning-based forecasts. In our setup, adding a pre-selection enhances predictive accuracy by around 10-15% on average. Pre-selection can therefore be useful also for machine learning techniques, despite the common idea that such techniques are set to handle large datasets of irrelevant variables. Similarly, using factors provides more accurate predictions than using all individual variables as regressors, with accuracy gains also around 10-15% on average. This is shown in figure 2 which presents the accuracy of the three-step approach relative to alternative setups where we skip the preselection step (left panel) or the factor extraction step (right panel). In both cases, the accuracy of the three-step approach (showed by the coloured bars corresponding to the different machine learning techniques) is better than the alternative (black line at 1). Once again, results are averaged on figure 2, but disaggregated results (available in the paper) yield similar conclusions.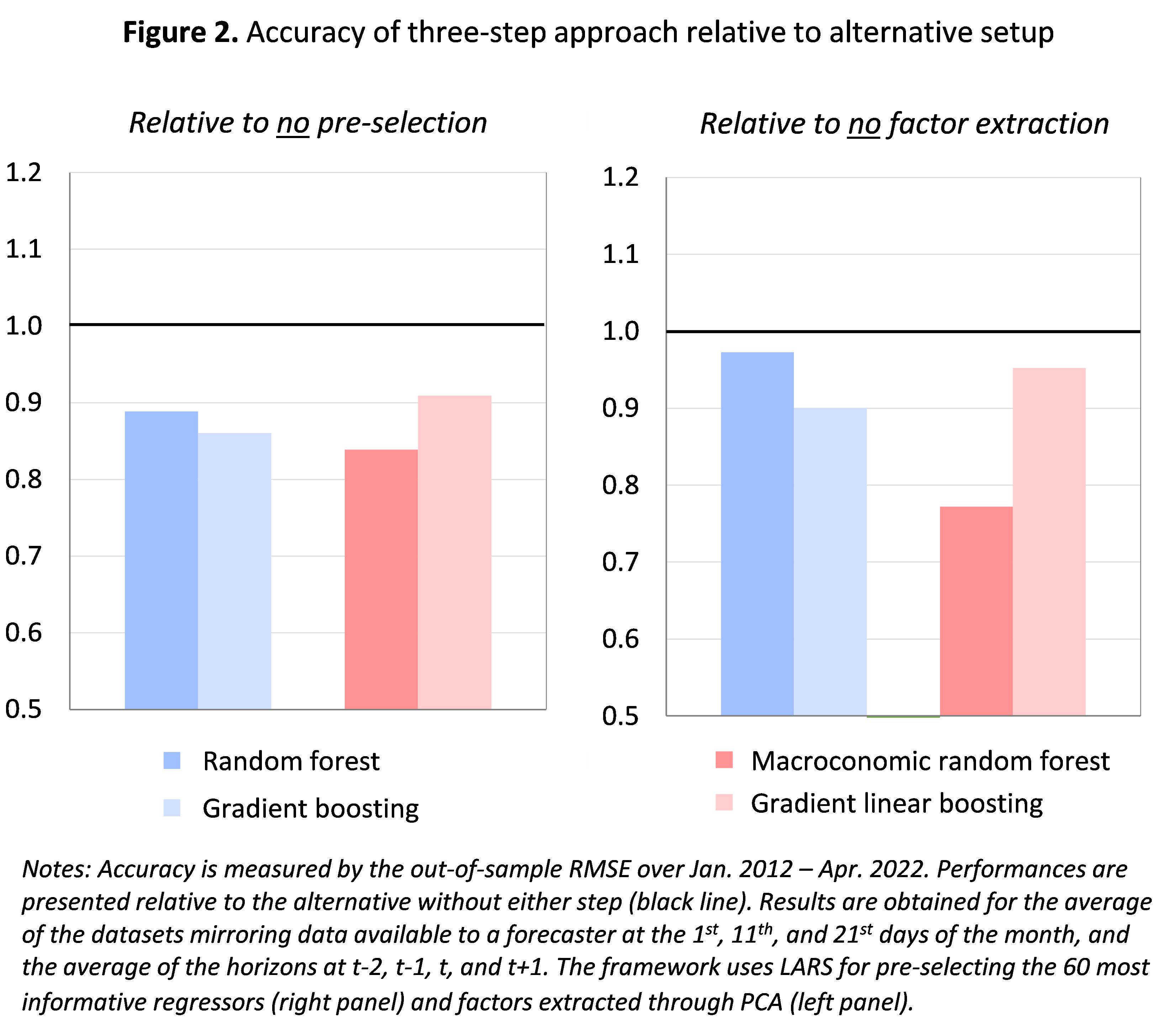 Finally, on our setup the three-step approach significantly outperforms other workhorse nowcasting techniques. It first outperforms the widely used "diffusion index" method of Stock and Watson (2002) that uses two steps: factors extraction via Principal Components Analysis (PCA) and OLS regression on these factors. Compared to this method, the three-step approach can be viewed as an extension towards pre-selection and machine learning. Our approach also outperforms a dynamic factor model, a technique widely used in the nowcasting literature. Finally, we also tested across a range of methods for pre-selection and factor extraction and find that the best combination – in our setup – is given by the Least Angle Regression (LARS; Efron et al., 2004) for preselection and the PCA for factor extraction.
In a nutshell, our own experience of nowcasting with machine learning offers two key lessons that are best summarized in the three-step approach we lay out. This framework can also offer a practical and step-by-step method for forecasters willing to use (or at least to test) machine learning methods on their favourite dataset. To make this easier, we share a simplified version of our code on GitHub.
References
Bai, J., and Ng, S. (2008). "Forecasting economic time series using targeted predictors", Journal of Econometrics, 146(2), pp. 304–317
Chinn, M. D., Meunier, B., Stumpner, S. (2023). "Nowcasting World Trade with Machine Learning: a Three-Step Approach", NBER Working Paper, No 31419, National Bureau of Economic Research  [ungated version]
Efron, B., Hastie, T., Johnstone, I., and Tibshirani, R. (2004). "Least angle regression", Annals of Statistics, 32(2), pp. 407–499
Goulet-Coulombe, P. (2020). "The Macroeconomy as a Random Forest", arXiv pre-print
Goulet-Coulombe, P., Leroux, M., Stevanovic, D., and Surprenant, S. (2022). "How is machine learning useful for macroeconomic forecasting?", Journal of Applied Econometrics, 37(5), pp. 920–964
Stock, J., and Watson, M. (2002). "Forecasting using principal components from a large number of predictors", Journal of the American Statistical Association, 97(460), pp. 1167–1179.
---
This post written by Baptiste Meunier.