Today we are fortunate to present a guest post written by Natasha Che, Alexander Copestake and Davide Furceri (all at the International Monetary Fund) and Tammaro Terracciano (IESE Business School, Barcelona). The views expressed in this paper are those of the authors and not necessarily those of the institutions with which they are affiliated.
---
Crypto assets vary substantially in their design and value proposition—from an inflation hedge to a provider of more efficient payments, censorship-resistant computing or property rights—yet their prices have moved in common cycles. Periods of exponential returns have attracted retail and institutional investors alike, while subsequent crashes have drawn increasing attention from politicians and regulators. And fluctuations in crypto markets may also be increasingly synchronized with other asset classes: prior to 2020, Bitcoin provided a partial hedge against market risk, yet it has since become increasingly correlated with the S&P500 (Adrian, Iyer, and Qureshi, 2022).
In a new paper, we shed light on the drivers of crypto asset prices by answering the following questions. To what extent is there a common cycle across crypto assets? Are crypto markets becoming more synchronized with global equity markets? If so, why? Given that US monetary policy has been identified as a key driver of the global financial cycle (Miranda-Agrippino and Rey, 2020), does US monetary policy influence the crypto cycle to a similar extent? If so, through which channels?
We begin by using a dynamic factor model to identify a single dominant trend in crypto-asset prices. Using a panel of daily prices for several of the longest-lived tokens, which together account for approximately 75% of total crypto market capitalization, we decompose their variation into asset-specific idiosyncratic disturbances and a common component. We find that the resulting "crypto factor" explains approximately 80% of the variance in the crypto price data.
We then study the relationship of this crypto factor to a set of global equity factors, constructed using the equity indices of the largest countries by GDP (in the spirit of Rey, 2013; Miranda-Agrippino and Rey, 2020). We find a positive correlation over the entire sample, driven by a particularly strong correlation since 2020. The increasing co-movement is not limited to Bitcoin vis-a-vis the S&P500, but pertains more broadly to the crypto and global equity factors. Disaggregating across equity markets, we find that the crypto factor correlates most strongly with the global tech factor and the small-cap factor since 2020, while it is interestingly less correlated with the global financial factor.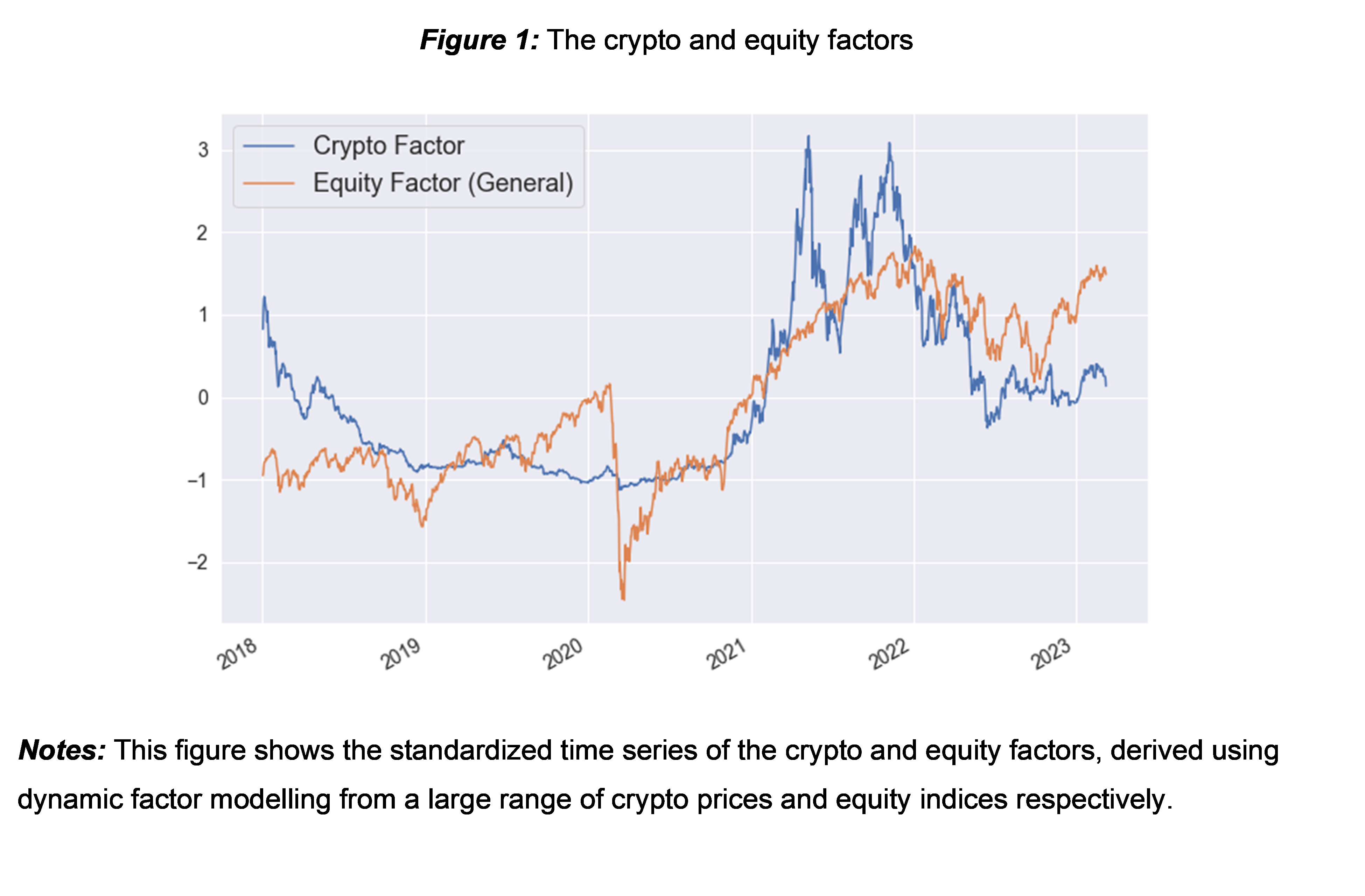 The increased correlation between crypto and equities coincides with the growth in the participation of institutional investors in crypto markets since 2020. Although institutions' exposure is small relative to their balance sheets, their absolute trading volume is much larger than that of retail traders. In particular, the volume of trading by institutional investors in crypto exchanges increased by more than 1700% (from roughly $25 billion to more than $450 billion) from 2020Q2 to 2021Q2 (Auer et al., 2022). Since institutional investors trade both stocks and crypto assets, this has led to a progressive increase in the correlation between the risk profiles of marginal equity and crypto investors, which in turn is associated with a higher correlation between the global equity and crypto factors. When decomposing factor movements following Bekaert, Hoerova, and Lo Duca (2013), we find that correlation in the aggregate effective risk aversion of crypto and equities can explain a large share (up to 65%) of the correlation between the two factors.
Since US monetary policy affects the global financial cycle (Miranda-Agrippino and Rey, 2020), the high correlation between equities and crypto suggests a similar impact on crypto markets. We test this hypothesis using a daily VAR with the shadow federal funds rate (SFFR) of Wu and Xia (2016) to account for the important role of balance sheet policy over our sample period. We find that US monetary policy affects the crypto cycle, as it does with the global equity cycle, contrasting starkly with claims that crypto assets provide a hedge against market risk. A one percentage point rise in the SFFR leads to a persistent 0.15 standard deviation decline in the crypto factor over the subsequent two weeks, relative to a 0.1 standard deviation decline in the equity factor.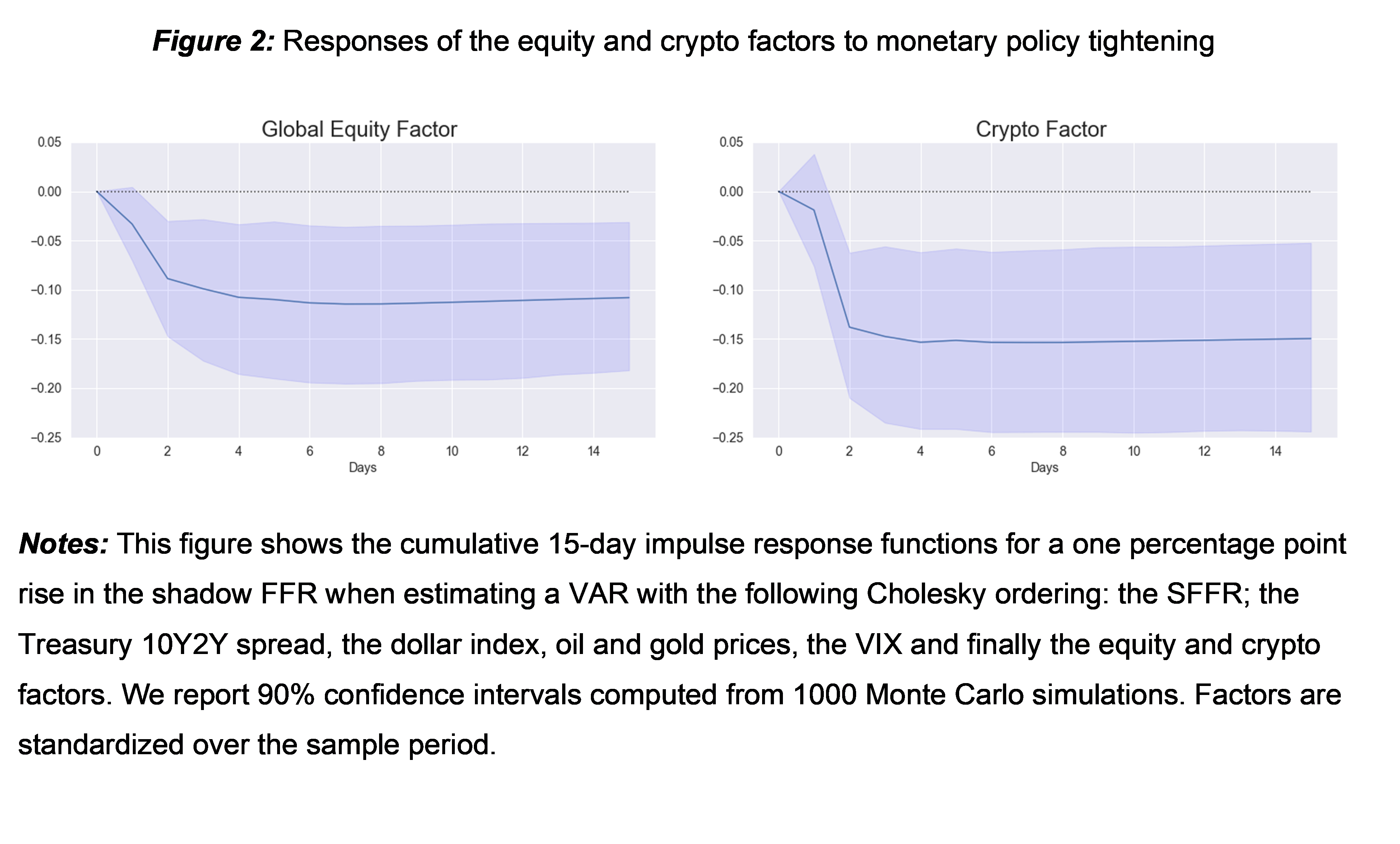 We find evidence that the risk-taking channel of monetary policy is an important channel driving these results, paralleling the findings of Miranda-Agrippino and Rey (2020) for global equity markets. A monetary contraction leads to a reduction of the crypto factor that is accompanied by a surge in a proxy for the aggregate effective risk aversion in crypto markets. When splitting the sample in 2020, we find that the impact on risk aversion in crypto markets is significant only for the post-2020 period, consistent with the entry of institutional investors reinforcing the transmission of monetary policy to the crypto market.
We rationalize our results in a model with two heterogeneous agents, namely crypto and institutional investors. The higher the relative wealth of institutional investors, the more similar the crypto aggregate effective risk aversion becomes to their risk appetite and the more correlated are crypto and equity markets. Even in our simple framework, spillovers from crypto to equities can arise: if institutions' crypto holdings become large, a crash in crypto prices reduces equilibrium returns in equities.
Overall, our results highlight that despite the range of explanations for crypto asset values, most variation in crypto markets is highly correlated with equity prices and highly influenced by Fed policies. Growth in institutional participation has strengthened these conclusions and increased the risk of spillovers from crypto markets to the broader economy.
References
Adrian, Tobias, Tara Iyer, and Mahvash S. Qureshi, 2022, Taking stocks: Monetary policy transmission to equity markets, IMF Blog.
Auer, Raphael, Marc Farag, Ulf Lewrick, Lovrenc Orazem, and Markus Zoss, 2022, Banking in the shadow of Bitcoin? The institutional adoption of cryptocurrencies, BIS Working Papers.
Bekaert, Geert, Marie Hoerova, and Marco Lo Duca, 2013, Risk, Uncertainty and Monetary Policy, Journal of Monetary Economics.
Miranda-Agrippino, Silvia, and Helene Rey, 2020, U.S. Monetary Policy and the Global Financial Cycle, Review of Economic Studies.
Rey, Helene, 2013, Dilemma not Trilemma: The Global Financial Cycle and Monetary Policy Independence, Jackson Hole Conference Proceedings.
Wu, Jin Cynthia, and Fan Dora Xia, 2016, Measuring the Macroeconomic Impact of Monetary Policy at the Zero Lower Bound, Journal of Money, Credit and Banking.
---
This post written by Natasha Che, Alexander Copestake, Davide Furceri and Tammaro Terracciano.