EuroCoin in October indicates quarterly growth rate of -0.67 (q/q). The Q3 flash estimate for Euro Area GDP was -0.1%.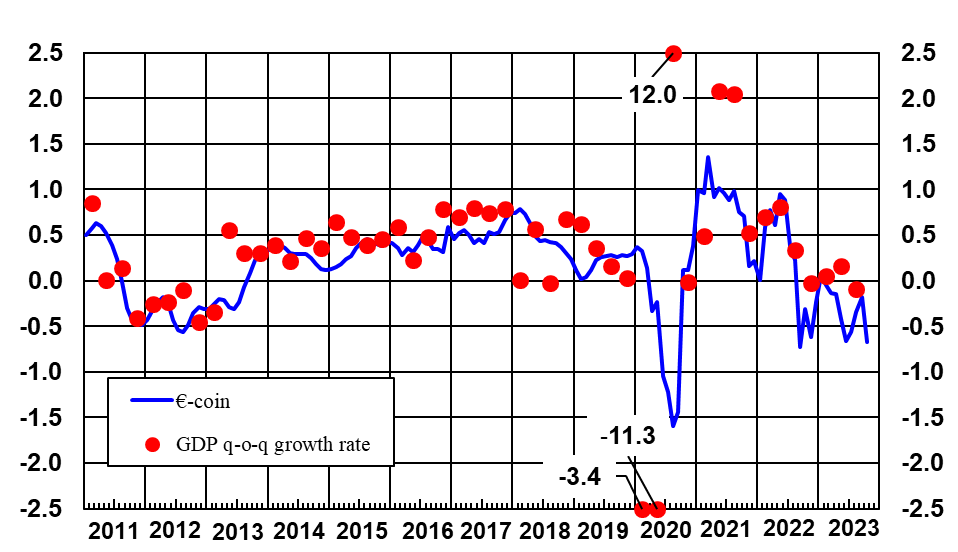 Figure 1: Euro Area GDP growth rate (not AR) (red circle), and EuroCoin (blue line), both q/q (not AR). Source: Banca d'Italia.
From CEPR release:
In October, €-coin dropped significantly (to -0.67, from -0.18 in  September), confirming the underlying weakness of euro-area activity.
This decline is due to a deterioration in financial, demand and business confidence indicators.

The €-coin indicator developed by the Bank of Italy provides a summary index of the current economic situation in the euro area. The indicator is an estimate of quarterly GDP growth shorn of the most erratic components (seasonal variations, measurement errors and short-run volatility). €-coin is published monthly by the Bank of Italy and CEPR.
The Cascaldi-Garcia/Ferreira/Giannone/Modugno  nowcast for Q4 as of 11/3 is for -0.1% q/q (not AR). The Survey of Professional Forecasters from late Sept/early October consensus for Q4 was +0.1%.
Over the last four quarters, the y/y growth rate has been +0.1%. Using this nowcast of -0.1% and the flash Q3 of -0.1% means q4/q4 growth will be approximately zero.
As in the US, the determination of a recession usually takes place substantially after a business cycle peak, and based on other variables in addition to GDP. In this case, the CEPR-EABCN Euro Area Business Cycle Dating Committee is a key arbiter.
Aside: As of today (11/7), GDPNow for 4th quarter US q/q growth is 2.1% SAAR, or about +0.5% q/q (not AR). If the Q4 nowcast holds, then q4/q4 growth in the US will be 2.8%(!).