High frequency estimates are falling, while consensus forecasts are for a turnaround in 2009H2. First, consider two estimates of GDP released today.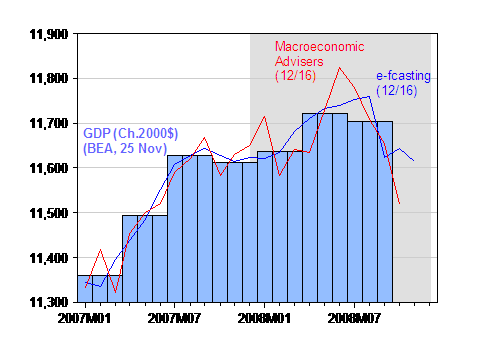 Figure 1: GDP (light blue bars), GDP from e-forecasting, 12/16 (blue), and from Macroeconomic Advisers 12/16 (red) in Ch.2000$, SAAR. NBER defined recession dates shaded gray (assuming recession has not ended by 2008M12). Source: BEA, GDP release of 25 November, e-forecasting 12/16 and Macroeconomic Advisers [xls] 12/16 release.

The WSJ forecast consensus suggests substantial declines in output continuing through the second quarter of 2008.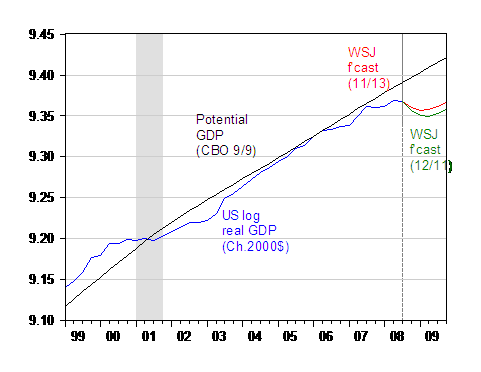 Figure 2:
Log real GDP, from 25 Nov 08 preliminary release (blue), potential GDP (black), WSJ mean forecast from November survey (red), from December survey (green). Source: BEA NIPA releases
[link]
, CBO estimates of 9 Sep 08
[xls]
, WSJ survey of forecasters from October and November
[link]
.
Notice that the trajectory has shifted downward since last month's survey. My guess would be further downshifting next month, given that we've had no good news regarding output indicators, either of a contemporaneous nature (manufacturing output) or leading (purchasing managers indices, etc.).
There is, interestingly, a considerable skew in distribution of forecasts. The trajectory of GDP under the mean forecast for the five quarters growth 08q4-09q4 is very similar to the trajectory implied by the high estimate (after removing the two regularly "high" forecasts of MacroEcon Global Advisers and Parsec Financial Management), while the trajectory implied by the low estimate (after removing the two lowest forecasts) is substantially below the mean trajectory (implying an 8.2 ppts of GDP output gap, rather than the 6.4 ppts. implied by the mean forecast). This phenomenon is shown by the skew in the histogram of 08q4-09q4 growth (this is not q4/q4 growth, since 08q4 growth is included).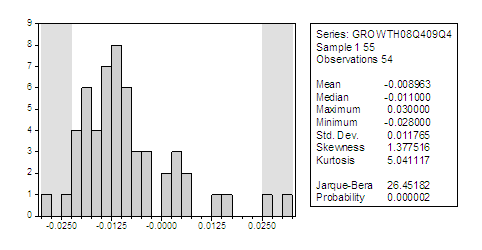 Figure 3:
Histograms for forecasts for 2008q4 through 2009q4 from December survey. Shaded area denotes excluded forecasts for discussion of hi/lo forecasts. Source: WSJ survey of forecasters December
[link]
.
Note the mean growth rate of -0.9% (SAAR) is above the -1.1% median growth rate…
A Digression: I was recently talking to a reporter who asked me how this recession would compare to previous ones, and specifically whether it'd be worse than the 1981-82 one. That spurred me to check how the forecasted changes in output would compare to the past. Well, the mean (not median) forecast would say it'll be the worst since 1981-82. The Deutsche Bank forecast (which is not the most pessimistic, but rather the 13th from bottom in 55) would say it looks like the worst since 1957 (and vying for top position in the post war period).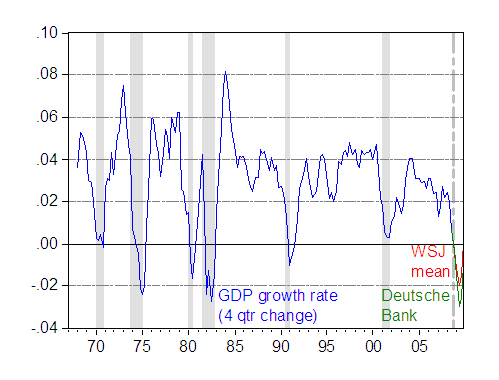 Figure 4:
Growth rate of real GDP (Ch.2000$) (blue), mean WSJ Dec. forecast (red), and DeutscheBank forecast of 8 Dec. (green), calculated as 4 quarter change in log levels. NBER defined recession dates shaded gray. Shaded gray dashed line is the start date for last NBER-defined peak. Source: BEA GDP release of 25 Nov.,
[link]
, Deutsche Bank,
Global Economic Perspectives
, 8 Dec. 2008, and author's calculations.