Ed Hanson argues that 2013 Gross State Product (GSP) data for 2013 will show a Wisconsin renaissance:
I am looking forward to each release of data for each state. I note that preliminary data both Minnesota and Wisconsin snapped up in new employment in December, Wisconsin more so. State GDP release is months away but will be relevant to this discussion. It is an unfortunate but reality that discussions derived from economic releases are limited mostly to pre-2013 data. The discussions of our differing positions will become better as new economic releases for 2013 become available.
GSP will only be released in June, as Mr. Hanson correctly notes, but why wait? One can use already released data — namely the Philadelphia Fed coincident indices, calibrated to match trends in GSP, to estimate what 2013 GSP data will reveal.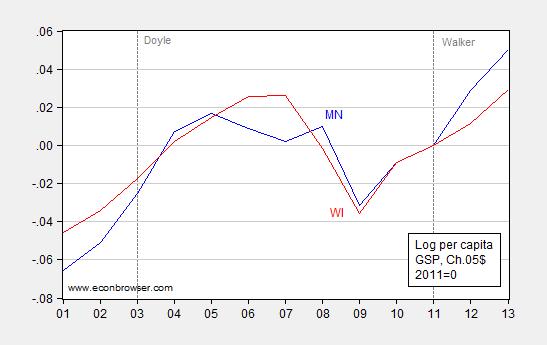 Figure 1: Log per capita Gross State Product in Wisconsin (blue red), and in Minnesota (red blue), in Ch.2005$, rescaled to 2011=0. Vertical dashed line at 2011. Data for 2013 is based on Philadelphia Fed coincident indicators. Pre-1997 data in Ch.1997$ is spliced to post-1997 data. Source: BEA, Philadelphia Fed, Census, and author's calculations.

Since 2011, Minnesota's per capita GSP has grown a cumulative 2.1 percentage points (log terms) more than Wisconsin's.
Mr. Hanson also alleges that I have been avoiding the Wisconsin-Minnesota comparison of late, due to imminent improvement of Wisconsin economic performance. This post should put that notion to rest.