For a last bit of "Year in Review", yet more "Facts are Stupid Things". Patrick R. Sullivan asserts that the economy boomed once the government reduced its spending in the wake of World War II. I am going to take a "boom" as a rapid increase in economic activity. Here is a time series depiction of real GDP's evolution, using the Valerie Ramey (UCSD) series from her 2011 QJE paper (ungated working paper version here).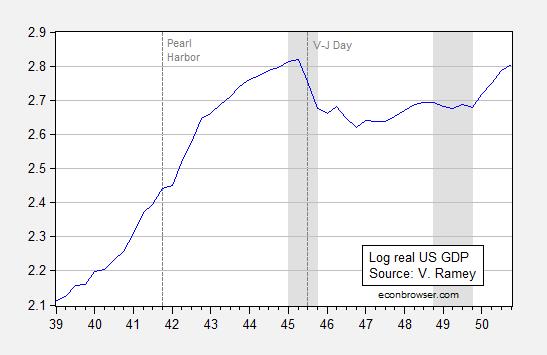 Figure 1: Log real GDP index (2005=100). NBER defined recession dates shaded gray. Source: V. Ramey, NBER, and author's calculations.
So…output fell, and actually hit bottom in 1946Q4.Output does not re-attain levels at 1945Q3 (V-J day) until 1950Q3. Per capita output does not exceed V-J day levels until 1952Q4.
So, the proposition the economy boomed can be resurrected by defining "up" as "down". Now, consumption does rise, but — as shown in the figure — economic activity overall moves in the fashion consistent with the proposition that a large decline in government spending ceteris paribus induces an output decline.
How can learning occur if one can't agree on the facts…?
Update, 1/2/2015, 11:20AM Pacific: Reader Rick Stryker is concerned about controlled prices distorting real GDP measures. Well, here are some additional indicators in a graph drawn from the original post. The industrial production index does not incorporate prices in the same way that GDP does.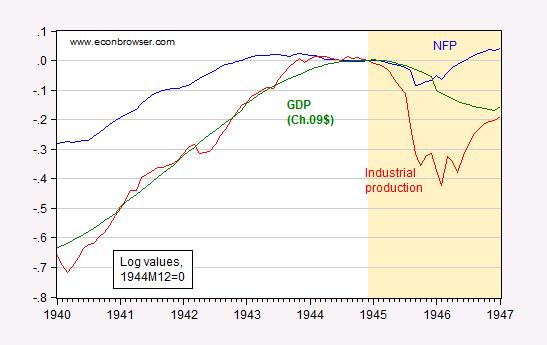 Figure 2: Log nonfarm payroll employment (blue), log industrial production (red) and log real GDP measured in Ch.2009$ (bold green), all normalized to 1944M12=0. Real GDP interpolated using quadratic-match-average. Tan shaded area is 1945 onward. Source: BLS and Federal Reserve via FRED, and Measuring Worth, and author's calculations.
Now, I don't mean to say the Nation is worse off even thought industrial production is lower in 1946. But, from the perspective of economic activity (which was the impetus of the original discussion of Keynesian economics), I'd say down is …well… down.
By the way, Rick Stryker writes approvingly of Ramey's paper (the same one), as well as Barro's, both cases using data spanning WWII. Mysterious and mysteriouser.