Wisconsin employment falls in March; continues to lag the Nation.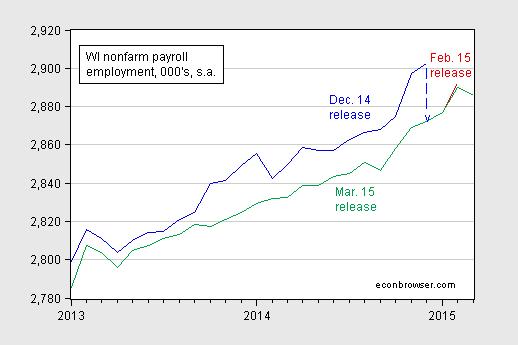 Figure 1: Wisconsin nonfarm payroll employment from December 2014 (blue), February 2015 (red), March 2015 (green). March release from DWD. Source: BLS, and WI DWD.
The big shift downward is due to the benchmark revision to figures, using figures from the QCEW through September 2014 (see discussion here).
Of course, one should not put too much weight on one observation, especially a preliminary one. Greater reliance should be put on trends. Here, established trends remain in place.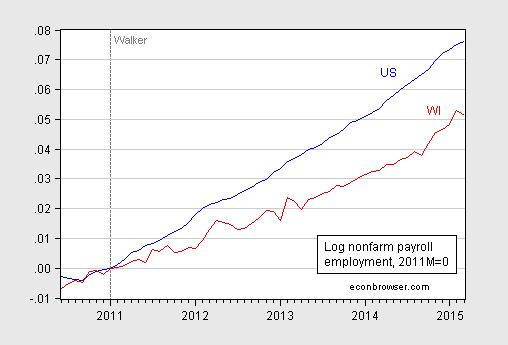 Figure 2: Log US nonfarm payroll employment (blue), Wisconsin(red), both normalized to 2011M01=0. Source: BLS, and WI DWD.
The divergent trends apparently have had some impact on popular opinion.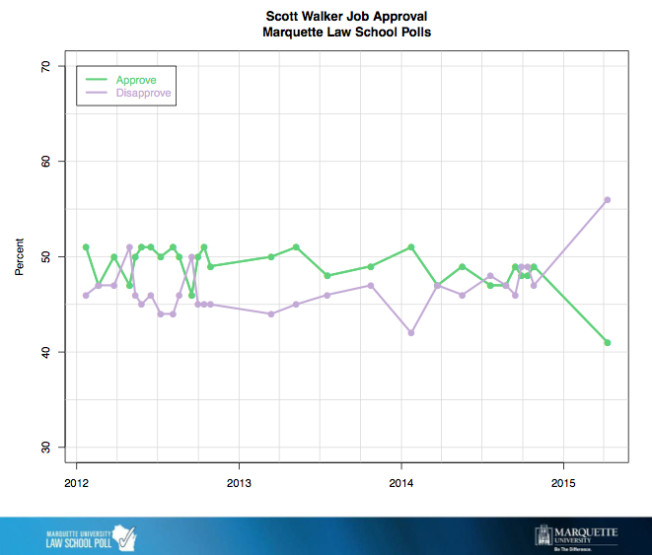 Figure 3: sourced from Marquette Law School poll.
From the Marquette University Law School Poll (4/16):
Voters also see the state's employment situation as turning down compared to other states, with 52 percent saying that Wisconsin is lagging behind other states in job creation, 34 percent saying that the state is doing about the same as other states and 8 percent saying that the state is creating jobs faster than other states. In October, 42 percent said the state was lagging, 38 percent said about the same and 13 percent said Wisconsin was creating jobs faster.
Update, 4/18 2:30pm Pacific: David L. Hagen writes:
Wisconsin unemployment has declined from 8.1% to 4.6% under Governor Walker.
Bruce Hall observes that Wisconsin unemployment rates are not that bad, at 18th in the country.
These are (if one will excuse me) mind-numbingly stupid comments (if they have been written by people who have had high school statistics), to the extent that (1) unemployment rates have come down nationwide, and (2) Wisconsin's unemployment rate is almost always below the national average. In Figure 4, I show the US-Wisconsin unemployment differential adjusted by the 1976-2010 average differential.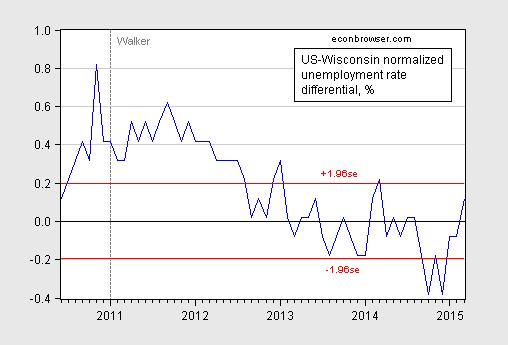 Figure 4: US-Wisconsin unemployment rate differential, adjusted by 0.76 ppts, in % (blue), and +/- 1.96 standard error band (red). Differential estimated using OLS, HAC robust standard errors. Source: BLS, and author's calculations.
That is, Wisconsin's performance along the unemployment rate dimension is well within what is to be expected.
Update, 4/20 7:30am Pacific: Reader Bruce Hall argues for normalizing and adducing a kind of "fixed effect" on the basis of the last peak. In a separate email to me, he argues that he does not believe that there is an average difference between US and Wisconsin unemployment rates at business cycle peaks. Here is a time series graph using available data (easily accessible at FRED) of the differential.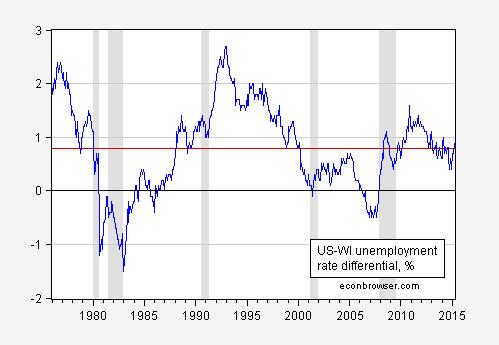 Figure 5: US-Wisconsin Unemployment differential, s.a., in % (blue), and average over 1976M01-2015M03 period (red). March WI unemployment rate from DWD. NBER defined recession dates shaded gray. Source: BLS via FRED, WI DWD, NBER, and author's calculations.