While Wisconsin lags, and statistically significantly so…
From CEA Chair Jason Furman:
The economy added 215,000 jobs in July, while the unemployment rate held steady at 5.3 percent—its lowest level since 2008. Over the past two years, our economy created 5.7 million jobs, the strongest two-year job growth since 2000. And our businesses have created 13.0 million jobs over the past 65 straight months, extending the longest streak on record.
Figure 1 shows private nonfarm payroll employment in the US and Wisconsin, normalized (in logs) to 2011M01=0.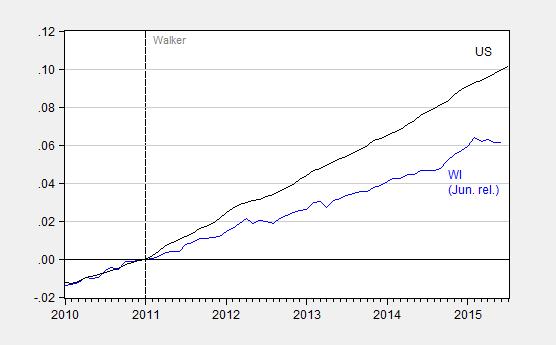 Figure 1: Log private nonfarm payroll employment in US (black) and Wisconsin (blue), both normalized to 2011M01=0. Source: BLS and author's calculations.
Since the beginning of Governor Walker's first administration, cumulative private employment growth has lagged the Nation's by 3.9% (log terms).
Since Wisconsin's trend employment does not necessarily match the Nation's, it makes sense to ask what one should have expected Wisconsin's employment growth to be, given historical correlations. One way to do this is to estimate the relationship between US and Wisconsin employment through 2010, then use this relationship to forecast dynamically out-of-sample Wisconsin employment through 2015M07 using ex post realizations of US employment.
Here is how I implemented this procedure.
1. I used the maximum sample period available for in-sample estimation, while allowing for sufficient lags, i.e., 1990M06-2010M12.
2. Test for stationarity of log US and WI private NFP. I fail to reject I(1) processes.
3. I test for cointegration, using the Johansen maximum likelihood approach, allowing for trend in VAR, constant in cointegrating equation. The no cointegration null is rejected at the 5% msl using asymptotic critical values, according to the trace and maximal eigenvalue statistics.
4. I then estimated a single-equation (unconstrainted) error correction model over the 1990M06-2010M12 period.
5. The estimated equation is then used to conduct a dynamic out-of-sample forecast.
The estimated equation is:
(1) Δnt = -0.0014 – 0.041×nt-1 + 0.028×nUSt-1 + three lags of first differences + ut
Adj-R2 = 0.47, SER = 0.0018, DW = 2.00, Obs.=216247, sample 1990M06-2010M12. Bold face denotes significance at the 10% MSL, using HAC robust standard errors.
Using the DW statistic is not valid for assessing the presence of serial correlation when there's a lagged dependent variable in the regression, but Q(12) and Q(24) tests fail to reject the no-serial correlation null.
The implied long run elasticity of Wisconsin to US private NFP is 0.69; using the Johansen procedure (no trend in cointegrating vector, four first difference lags) yields a long run elasticity of 0.73, while DOLS(+2,-2) yields an estimate of 0.80. The maximum likelihood and DOLS estimates indicate one can reject the null that the elasticity is unitary.
Figure 2 presents the resulting dynamic out-of-sample forecast, along with the 90% forecast interval.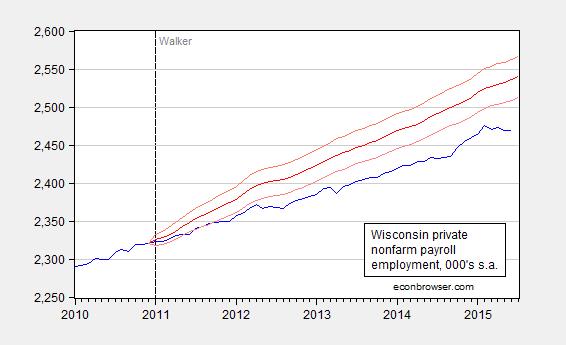 Figure 2: Wisconsin private nonfarm payroll employment, June release (blue), and out-of-sample forecast (red), in 000's, s.a. 90% forecast interval (pink). Source: BLS and author's calculations. See text.
The results indicate that Wisconsin private employment has been lagging what one would have expected given historical correlations with US employment.
Regression output is here. The methodology roughly follows that in Chinn (JPAM, 1991) (paper is sans Johansen and Juselius).
Update, 8/10 1pm Pacific: Here for completeness is a graph of Wisconsin employment trends (downward) according to establishment and household surveys.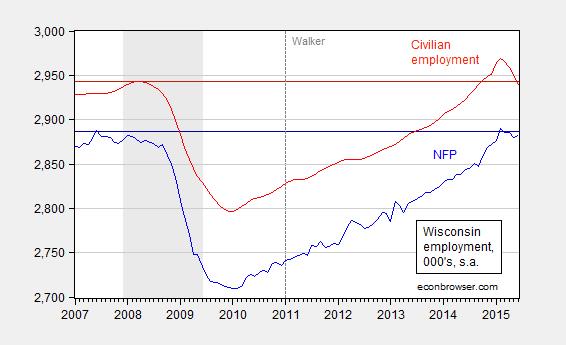 Figure 3: Wisconsin nonfarm payroll employment (blue) and civilian employment (red), and corresponding peak levels (dark blue, dark red). NBER defined recession dates shaded gray. Source: BLS (June release), and NBER.