Why one shouldn't obsess on just one data set. Read on only if you don't believe in a conspiracy so vast…
I've always wondered by climate change skeptics focus on satellite data; I guess "satellites" conjure up images of high-tech super-accurate measurement. But there's a lot of stuff that can go wrong, imparting measurement error. From Yang, et al., in Nature – Climate Change (2013):
Observations of many climate variables are made by satellite sensors that were originally designed for meteorological observations. The coarse-resolution sensors carried by some satellites cannot capture climate processes occurring at finer spatial scales…

…The findings of satellite records that are used for trend detection and retrieval of the absolute levels of climate variables are greatly affected by how well the uncertainties associated with the sensors are resolved. This important step is underscored in the debate on the trend in solar radiation. Undetected drifts in sensor sensitivity have been cited as the main reason for the apparent spectrum of change57. Satellite sensors gradually lose radiometric sensitivity and stability during their operation, so good calibration is essential. Some satellite sensors cannot be recalibrated after launch due to the lack of accurate on-board or on-orbit calibrations. Procedures have been developed to calibrate these types of sensors but may still contain uncertainties92. Biases caused by instrument drifts are also common in satellite data. Satellites go through a slow change of crossing time at the local equator and a decay of orbital height, adding a spurious effect to detected trends93. Such biases must be addressed by applying a diurnal correction procedure to the data93 or by determining the precise orbit position of the satellites94.

Uncertainties can also increase when combining observations from different satellite systems to form long-term records. If the procedures for merging data from different systems are not well developed and calibrated, the uncertainties can potentially be high in combined data sets. [Emphasis added — mdc]
Given this set of caveats, what does the latest set of calibrations yield?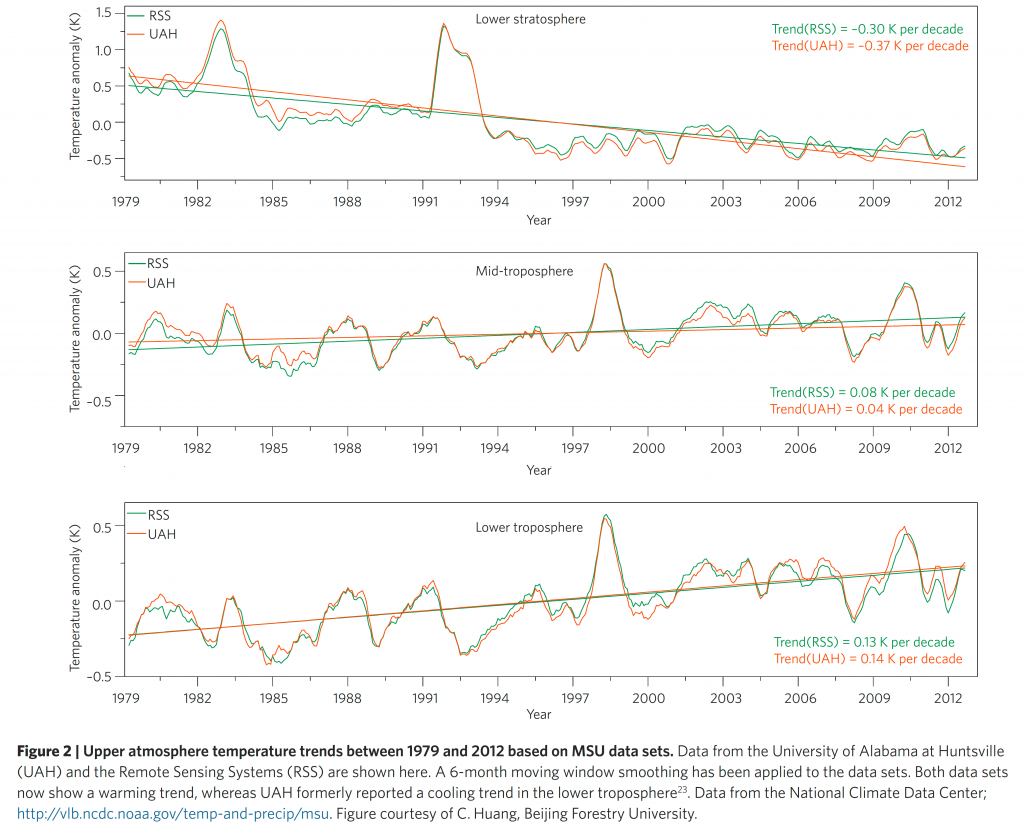 Figure 2 from Yang, et al. (2013).