From Bloomberg:
The yuan strengthened after China's central bank raised its fixing for a fourth day and data showed a less-than-estimated drop in the nation's foreign-exchange reserves.
The currency stockpile shrank by $28.6 billion last month, the smallest decline since June, to $3.2 trillion, the People's Bank of China said on Monday. That's lower than the $40.9 billion decrease predicted in a Bloomberg survey of economists, and compares with December's record drop of $108 billion as the monetary authority supported the yuan.
Context
As previously noted, Chinese policymakers have been navigating the trilemma — the proposition that one can only fully achieve two of three goals of exchange rate stability, monetary autonomy and financial openness.
The exchange rate has depreciated over time against the reference basket of currencies, as shown in Figure 1.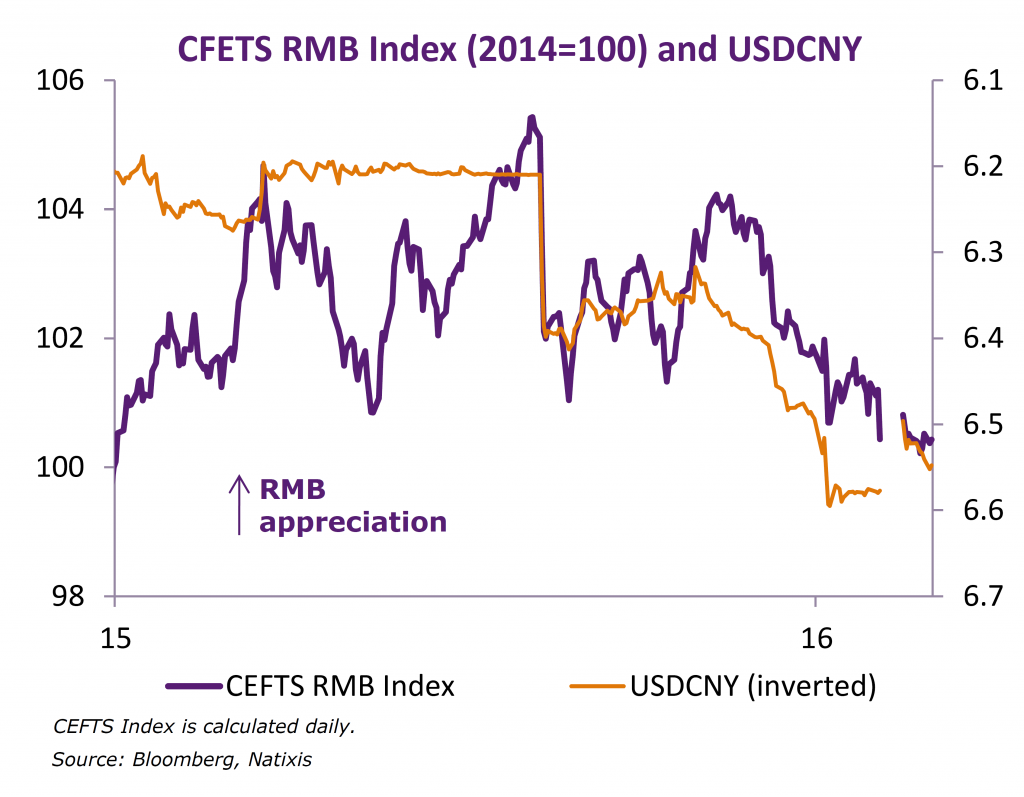 Figure 1: "While CNY appreciated against USD it remained flat against the CFETS currency basket," from Natixis Economic Research, March 1, 2016.
At the same time, the PBoC is attempting to stimulate the economy — by dropping policy rates and reducing bank required reserve ratios — without further depreciating the currency. These policy actions are shown in Figure 2.

Figure 2: "One more RRR cut to replenish liquidity from loss of FX reserves," from Natixis Economic Research, March 1, 2016.
Achieving the goal of autonomous monetary policy (in order to sustain growth) can be accomplished by either further currency depreciation, or tightening capital controls. The extent to which a combination of these policies will have to be pursued depends in part on how much capital outflow persist, with some observers holding apocalyptic views (e.g., "people are panicked"). On this count, McCauley and Shu provide a more nuanced view of the source of outflows.
Persistent private capital outflows from China since June 2014 have led to two different narratives. One tells a story of investors selling mainland assets en masse; the other of Chinese firms paying down their dollar debt. Our analysis favours the second view, but also points to what both narratives miss – the shrinkage of offshore renminbi deposits.

Our approach, presented in the September 2015 BIS Quarterly Review, starts from the BIS international banking statistics reported by banks outside China. This contrasts with other analyses which typically take changes in official foreign reserves (plus current account surplus) as capital outflows, which require complicated estimation of valuation and other adjustments. To understand the cross-border outflow of capital in the BIS data, we follow the money from declining offshore renminbi deposits in East Asia and declining foreign currency loans at banks in mainland China, as reported by the People's Bank of China (PBoC). In addition, we exclude from the BIS data PBoC deposits with overseas banks, using new data consistent with the IMF's special data dissemination standard (SDDS).
McCauley and Shu highlight the trends in these banking data in a series of graphs.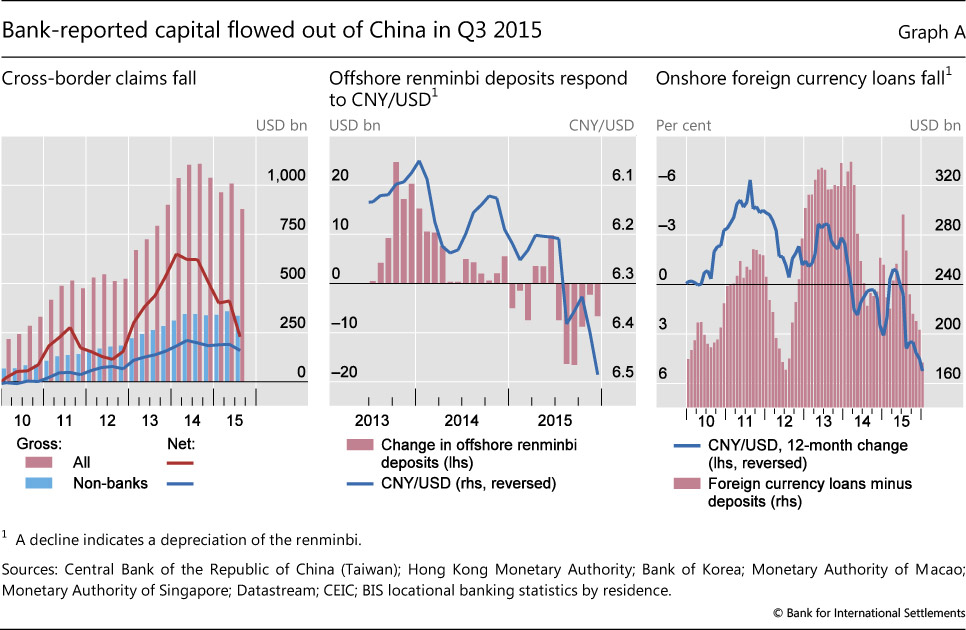 Source: McCauley and Shu (2016).
They conclude:
To recap, our analysis suggests that recent outflows from China can be explained, to a large extent, by continued shrinkage of the offshore renminbi market and Chinese firms' paydown of net foreign currency debt. The PBoC's declared intention to keep the renminbi stable in effective terms would imply a weaker renminbi against the dollar were the dollar to appreciate against major currencies. In this event, offshore depositors might not hold onto maturing renminbi deposits and Chinese firms would still have reason to repay dollar-denominated debt.
Of course, just because these factors have been the primary driver of capital outflows in the past doesn't mean they will continue to be. Moreover, the hit to the trade balance as exports fell in February will, if repeated, add a new strain on forex reserves (as well as growth).
An Observation on "The" Money Supply
As noted previously, the PBoC has reduced policy rates and reduced reserve requirements. It's interesting to note that M0 (essentially money base, or high powered money) growth has flattened out even as M1 growth has accelerated. This, combined with fairly steady M2 growth (and tighter capital controls), suggests to me that part of these policy moves are aimed at offseting the contractionary effects of forex reserve holding, rather than depreciating the currency.
(For additional reasons why depreciation might not be desirable from the Chinese policymakers' views, see here).