Benn Steil and Emma Smith at the Council on Foreign Relations present an interesting picture of Chinese reserves.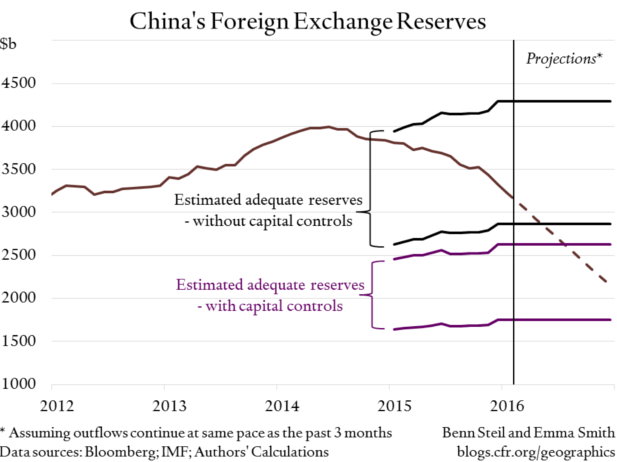 They write:
The People's Bank of China has been selling off foreign currency reserves at a prodigious rate to keep the RMB stable. At $3.2 trillion, China's reserves still seem enormous. But they are down $760 billion from their 2014 peak, and $300 billion in just the past three months. As shown in the figure above, at the current pace of decline China's reserves will, according to the IMF's framework for reserve adequacy, actually fall to a dangerously low level in the spring. This means that China would be at risk of a balance-of-payments crisis, unable to pay for essential imports or service its dollar debt payments.

China has for years been pursuing what has been called the "Impossible Trinity": controlling interest and exchange rates while leaving the capital account significantly open. Chinese residents are permitted to send up to $50,000 overseas annually – this is enough to allow trillions in outflows. So what can China do to staunch the rapid decline in reserves?
In an interview with Allison Nathan in Goldman Sachs Global Macro Research's must-read Top of Mind publication (the issue entitled "China Ripple Effects") released the day before yesterday, I made the following observations regarding the choices facing Chinese policymakers:
Allison Nathan: What options does the PBOC have for managing the RMB in the face of ongoing capital outflows?

Menzie Chinn: The standard rules of international finance apply: they have the options of further devaluation, FX intervention, or interest rate defense. For now, I'm going to eliminate one other option—substantial and persistent tightening of capital controls—because that would run counter to their longer-term program of capital account liberalization. Of the three more likely choices, an interest rate defense is least likely because it would conflict with their goal of stimulating growth, which I believe trumps all else. Even if the PBOC tried to raise interest rates, the fact that such a move would likely depress the economy means it would be difficult to persuade the markets that higher rates would remain in place for an extended period. In the end, outflows would not be staunched, and policymakers would be forced to relent, thereby damaging policy credibility. That means the authorities are almost certain to pursue a combination of further intervention in the currency markets and some exchange rate depreciation if need be. They have plenty of ammunition to continue to do the former given their still-massive holdings of foreign exchange.

Allison Nathan: What lessons can we draw from past currency attacks and defenses—successful or not—in other countries when thinking about the PBOC's policy choices?

Menzie Chinn: Let me first say that I am reluctant to call China's current situation an attack on the RMB; the currency has weakened because of capital outflows and the deteriorating economic outlook, not because of fear of an impending large and discrete devaluation. It is unfortunately
difficult to draw lessons from other countries that have experienced attacks on their currencies because China's circumstances differ in many respects from these historical precedents. First, China has a current account surplus, which is not typical for a country facing a run on its currency. This means that even if China has capital outflows, there will still be
some offsetting inflow of foreign currency just by virtue of the fact that they export more than they import. This is a critical difference from countries that rely on capital inflows to offset the deficit in their current account balance. For these countries, if capital inflows cease or reverse and access to borrowing disappears, policymakers end up in a bind—they have no choice but to curtail imports until they match exports.

Second, China has an incredibly large stockpile of foreign exchange reserves, which means that even if the current account-related foreign currency inflows are not sufficient to offset outflows, they can use their reserves to offset depreciation pressures.

Third, they have a vast arsenal of capital controls that they could quickly tighten if need be. These three factors suggest that the market should not be particularly anxious about the potential for a sudden devaluation.
The entire interview is here. For a recent post on capital flight, see here, and on financial reforms in pursuit of RMB internationalization here, and the Trilemma generally here.