The ironies abound
As I've noted before, Senator Sanders has unique views on financial regulation. I've never quite understood the specifics of the "break up the banks" proposal, and after his interview with the New York Daily News and subsequent "clarification", understood even less.
The Interview
Daily News: Okay. Well, let's assume that you're correct on that point. How do you go about doing it?

Sanders: How you go about doing it is having legislation passed, or giving the authority to the secretary of treasury to determine, under Dodd-Frank, that these banks are a danger to the economy over the problem of too-big-to-fail.

Daily News: But do you think that the Fed, now, has that authority?

Sanders: Well, I don't know if the Fed has it. But I think the administration can have it.

Daily News: How? How does a President turn to JPMorgan Chase, or have the Treasury turn to any of those banks and say, "Now you must do X, Y and Z?"

Sanders: Well, you do have authority under the Dodd-Frank legislation to do that, make that determination.

Daily News: You do, just by Federal Reserve fiat, you do?

Sanders: Yeah. Well, I believe you do.

Daily News: So if you look forward, a year, maybe two years, right now you have…JPMorgan has 241,000 employees. About 20,000 of them in New York. $192 billion in net assets. What happens? What do you foresee? What is JPMorgan in year two of…

Sanders: What I foresee is a stronger national economy. And, in fact, a stronger economy in New York State, as well. What I foresee is a financial system which actually makes affordable loans to small and medium-size businesses. Does not live as an island onto themselves concerned about their own profits. And, in fact, creating incredibly complicated financial tools, which have led us into the worst economic recession in the modern history of the United States.

Daily News: I get that point. I'm just looking at the method because, actions have reactions, right? There are pluses and minuses. So, if you push here, you may get an unintended consequence that you don't understand. So, what I'm asking is, how can we understand? If you look at JPMorgan just as an example, or you can do Citibank, or Bank of America. What would it be? What would that institution be? Would there be a consumer bank? Where would the investing go?

Sanders: I'm not running JPMorgan Chase or Citibank.

Daily News: No. But you'd be breaking it up.

Sanders: That's right. And that is their decision as to what they want to do and how they want to reconfigure themselves. That's not my decision. All I am saying is that I do not want to see this country be in a position where it was in 2008, where we have to bail them out. And, in addition, I oppose that kind of concentration of ownership entirely.

You're asking a question, which is a fair question. But let me just take your question and take it to another issue. Alright? It would be fair for you to say, "Well, Bernie, you got on there that you are strongly concerned about climate change and that we have to transform our energy system away from fossil fuel. What happens to the people in the fossil fuel industry?"

That's a fair question. But the other part of that is if we do not address that issue the planet we're gonna leave your kids and your grandchildren may not be a particularly healthy or habitable one. So I can't say, if you're saying that we're going to break up the banks, will it have a negative consequence on some people? I suspect that it will. Will it have a positive impact on the economy in general? Yes, I think it will.

Daily News: Well, it does depend on how you do it, I believe. And, I'm a little bit confused because just a few minutes ago you said the U.S. President would have authority to order…

Sanders: No, I did not say we would order. I did not say that we would order. The President is not a dictator.

Daily News: Okay. You would then leave it to JPMorgan Chase or the others to figure out how to break it, themselves up. I'm not quite…

Sanders: You would determine is that, if a bank is too big to fail, it is too big to exist. And then you have the secretary of treasury and some people who know a lot about this, making that determination. If the determination is that Goldman Sachs or JPMorgan Chase is too big to fail, yes, they will be broken up.

Daily News: Okay. You saw, I guess, what happened with Metropolitan Life. There was an attempt to bring them under the financial regulatory scheme, and the court said no. And what does that presage for your program?

Sanders: It's something I have not studied, honestly, the legal implications of that.

…

Daily News: Okay. But do you have a sense that there is a particular statute or statutes that a prosecutor could have or should have invoked to bring indictments [against the banks for fraudulent activities]?

Sanders: I suspect that there are. Yes.

Daily News: You believe that? But do you know?

Sanders: I believe that that is the case. Do I have them in front of me, now, legal statutes? No, I don't. But if I would…yeah, that's what I believe, yes. When a company pays a $5 billion fine for doing something that's illegal, yeah, I think we can bring charges against the executives.

Daily News: I'm only pressing because you've made it such a central part of your campaign. And I wanted to know what the mechanism would be to accomplish it.

….
Critique and Response
There has been substantial reportage on whether Senator Sanders knows the specifics of what he has in mind for breaking up the banks. Strangely, he seems to indicate that it's not up to the regulators to determine the nature of the break-ups, rather it's up the the entities themselves into what parts they'll be cut up into. That's only one of the oddities. The other is the dispute over whether new legislation is — or is not — required to effect the break up of the banks. Perhaps in response to the furor over Sanders's apparent confusion ("pretty close to a disaster", "How much does Bernie Sanders know…", charitable view here), the Sanders campaign released this statement today:
"Within the first 100 days of his administration, Sen. Sanders will require the secretary of the Treasury Department to establish a "Too-Big-to Fail" list of commercial banks, shadow banks and insurance companies whose failure would pose a catastrophic risk to the United States economy without a taxpayer bailout.

"Within a year, the Sanders administration will work with the Federal Reserve and financial regulators to break these institutions up using the authority of Section 121 of the Dodd-Frank Act.

"Sen. Sanders will also fight to enact a 21st Century Glass-Steagall Act to clearly separate commercial banking, investment banking and insurance services. Secretary Clinton opposes this extremely important measure.
When I read this press release, then I became really confused.
Why Do We Need a President Sanders to Break Up the Banks?
It is interesting that Senator Sanders does not go into the details of Section 121. Section 121 is all about the Board of Governors of the Federal Reserve, exactly the entity that Bernie Sanders wants to audit. Here is the relevant text of Section 121 of the Dodd-Frank Act:
Dodd Frank Act Section 121
SEC. 121. MITIGATION OF RISKS TO FINANCIAL STABILITY.

(a) MITIGATORY ACTIONS.—If the Board of Governors determines that a bank holding company with total consolidated assets of $50,000,000,000 or more, or a nonbank financial company supervised by the Board of Governors, poses a grave threat to the financial stability of the United States, the Board of Governors, upon an affirmative vote of not fewer than 2/3 of the voting members of the Council then serving, shall—

(1) limit the ability of the company to merge with, acquire, consolidate with, or otherwise become affiliated with another company;

(2) restrict the ability of the company to offer a financial product or products;

(3) require the company to terminate one or more activities;

(4) impose conditions on the manner in which the company conducts 1 or more activities; or

(5) if the Board of Governors determines that the actions described in paragraphs (1) through (4) are inadequate to mitigate a threat to the financial stability of the United States in its recommendation, require the company to sell or otherwise transfer assets or off-balance-sheet items to unaffiliated entities.
So, Senator Sanders plans to delegate to the Federal Reserve breaking up the banks? In that case, how does electing a President Sanders move foreward breaking up the banks if existing authority already allows the Fed to break up the banks. Or, does President Sanders intend to re-write the Federal Reserve Act so that he can direct the Fed to take specific actions at the President's behest? That seems to be the logical implication.
The irony is that the Fed is exactly the entity that has been the focus of so much of the Senator's ire, so much so that he joined Rand Paul in voting to Audit the Fed!!!!
Does Breaking Up the Banks Even Make Sense?
As various observers have noted, it is unclear that breaking up the big banks would make the US financial system more stable. Jeffrey Frankel has drawn up a diagram that shows what policies would actually help.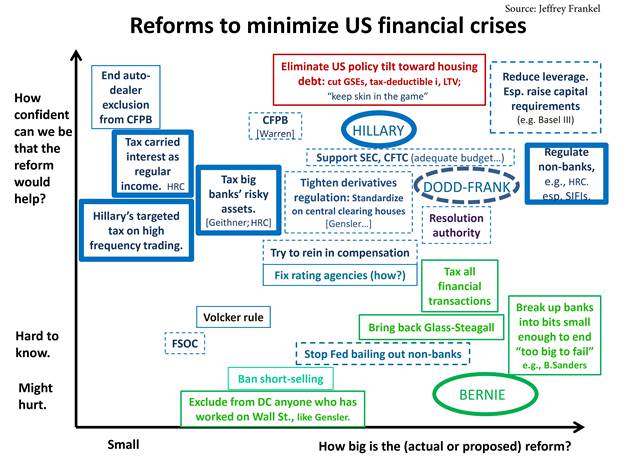 Source: Jeffrey Frankel.
In other words, most of the policies proposed by Senator Sanders would be largely diversions, rather than dealing with the problem of financial instability.
Update, 4/8, 7PM Pacific: For additional discussion of some of the complexities, see this article.