"For now, there is nothing the matter with Kansas." – Stephen Moore, June 17, 2014
Readers will recall that, in response to CNN bringing Stephen Moore on board as an "economics analyst", I noted that Stephen Moore is a liar. Now I continue with the Kansas edition.
For those who forgot, in the original Wichita Eagle piece, Moore wrote:
No-income-tax Texas gained 1 million jobs over the past five years; California, with its 13 percent tax rate, managed to lose jobs. Oops. Florida gained hundreds of thousands of jobs while New York lost jobs. Oops. Illinois raised taxes more than any other state over the past five years, and its credit rating is the second lowest of all the states, below that of Kansas.

For those who don't believe all of this, here are the numbers for job creation of the four largest states over the past 20 years: Texas, up 49 percent; Florida, up 35 percent; California, up 19 percent; New York, up 4 percent.
As the Wichita Eagle itself recounted (as it decided to no longer publish pieces by Moore):
Correction: The 5-year time period mentioned in this piece was December 2007 to December 2012. Over that time, Texas gained 497,400 jobs, California lost 491,200, Florida lost 461,500 and New York gained 75,900. The totals in this piece are incorrect.
This is old news (by the way, the version posted on the Heritage Foundation makes no mention of this egregious error). But it behooves us to remember this episode because it highlights the extent of the man's mendacity. Now as the Brownback experiment has ended, it's useful to see exactly how disastrous the Moore prescription has been for the Kansas economy.
From June 7th post: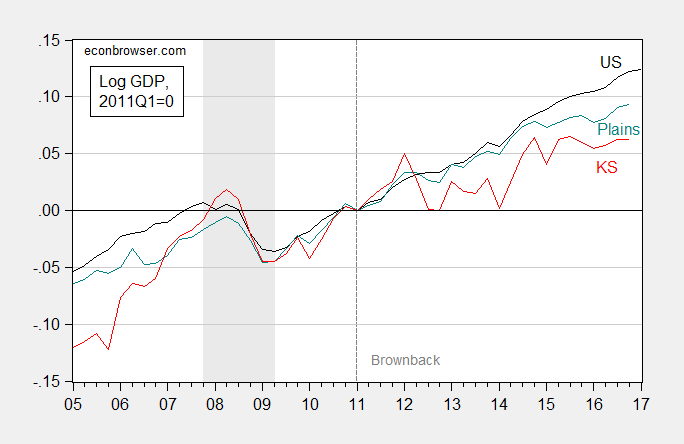 Figure 1: Log GDP relative to 2011Q1 for US (black), Plains (teal), and Kansas (red). NBER defined recession dates shaded gray. Source: BEA, and author's calculations.
From May 27th post: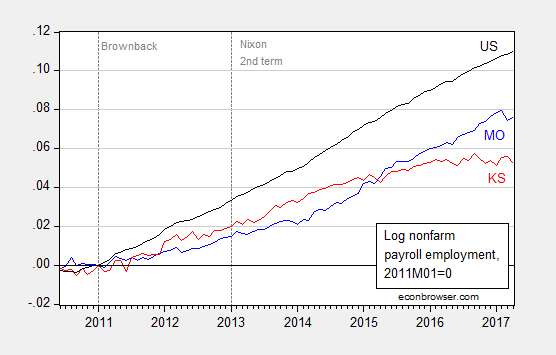 Figure 2: Log nonfarm payroll employment for Missouri (blue), Kansas (red), and US (black), seasonally adjusted, 2011M01=0. Source: BLS, and author's calculations.
And from September 2016, an assessment of what a counterfactual with no government spending reductions cum tax cuts would have implied for Kansas (it would've done better than under the Brownback program):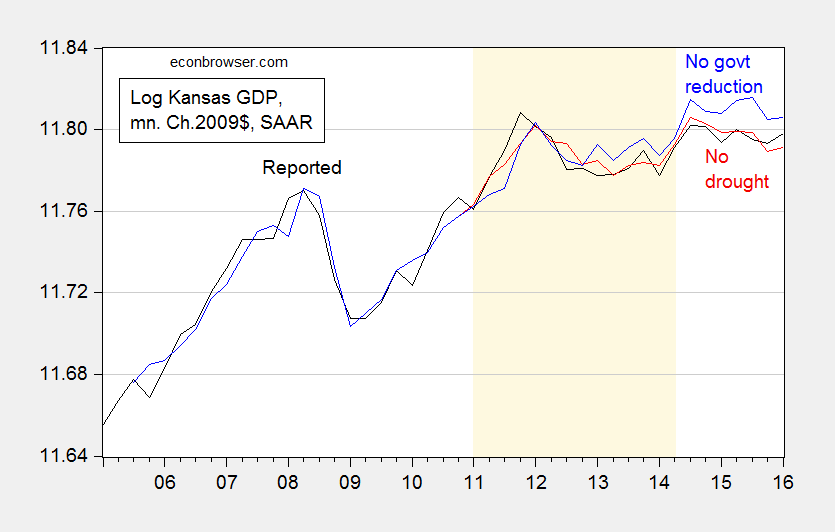 Figure 3: Log Kansas GDP (black), fitted values without drought (red), and without government output reductions (blue). Drought dates as suggested by Political Calculations (light brown). Source: BEA, and author's calculations.
Watch for more chapters of "Stephen Moore Is a Liar" as long as CNN continues to employ him as an "economics analyst"
See also this compilation.