Or, Ironman at Political Calculations mangles Econ 101. Again.
Political Calculations takes on the issue of the Philadelphia soda tax issue, asking specifically "Who is really paying Philadelphia's controversial soda tax? And how much, if at all, has it affected the economy of the City of Philadelphia?"
A little online tool to calculate tax incidence and dead weight loss (DWL) is provided, motivated by the following graph: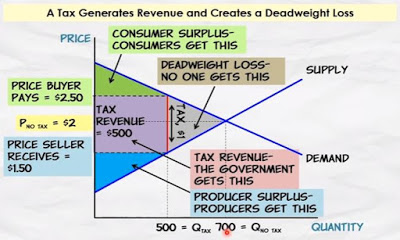 Source: Political Calculations.
Now, the funny thing is that the graph is appropriate when no externalities exist. But the reason for imposing the tax is to internalize the negative externalities associated with consuming sugary drinks. That means that, contrary to the graph provided by Political Calculations, the marginal social benefit and marginal private benefit (i.e., demand) curves do not overlap.
If the marginal social benefit of consuming a soda is less than that of private benefit, then one obtains the following graph (substitute "soda" for "alcohol" in the figure below).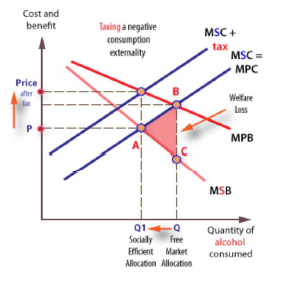 Source: EconomicsOnline.
The imposed tax is assumed to fully internalize the externality. The tax incidence calculations are correct, but the dead weight loss calculation offered by Political Calculations is wrong in this context. In fact, in this case, the DWL is exactly zero. Only by assuming away the externality is the DWL calculation correct.
It might be that Political Calculations believes there are no negative externalities associated with soda consumption; if so, he should mention it, given that's a key reason the tax is there.
As an aside, Political Calculations provides an odd definition of DWL:
If a deadweight loss exists, it represents the amount of economic activity that has been directly lost because of the imposition of the tax, which tells us the degree to which the city's economy may have shrunk as a result.
I don't think I've ever seen such a definition of DWL. I think of DWL (in Political Calculation's context) as the cumulation of excess social benefit over social cost, for all the foregone units of consumption arising from the tax; in his graph, he thinks it's for units 501 to 700. So, it's a welfare loss, expressed in dollar terms, under various assumptions regarding the nature of utility functions.
This discussion exercise illustrates the adage that a (very) little knowledge is a dangerous thing. At a minimum, bloggers should complete reading an entire intro micro textbook before writing about micro.
If you want to see Ironman mangle the use of economic statistics, see this post.