December employment figures are out. Time to re-evaluate this assessment from a year ago in Political Calculations that California was in recession.
Going by these [household survey based labor market] measures, it would appear that recession has arrived in California, which is partially borne out by state level GDP data from the U.S. Bureau of Economic Analysis. [text as accessed on 12/27/2017]
The release provides an opportunity to revisit this question (the November employment figures are discussed here). It's (still) unlikely that a recession occurred.
From Wells Fargo today
Employment Growth Remains Sturdy in the Golden State

Employers continued to expand payrolls at a solid clip in December. Payrolls increased by 24,500 net new jobs during the month, a 0.1% rise. While the state has enjoyed a string of 30 consecutive months of positive payroll additions, employment growth moderated somewhat over the past 12 months relative to 2017. The number of new jobs added in December is consistent with the 23,700 average monthly additions registered throughout the year, but is slightly lower than the 30,500 new jobs averaged last year. While job growth appears to have been more moderate in 2018, monthly estimates have been somewhat volatile, notably in the first half of the year. The end of the year ended on a much stronger note, and over the past 12 months payrolls have risen at a solid 1.7% pace, which amounts to 284,300 new jobs.

Employment growth has been broad-based, with a majority of industries expanding payrolls. The only major industries to register declines in December were construction (-1,300) and retail trade (-1,200). Some of the weakness in these areas may be reflecting impacts of the devastating wildfires that spread through parts of Northern and Southern California.
Here are two pictures in levels to buttress the case.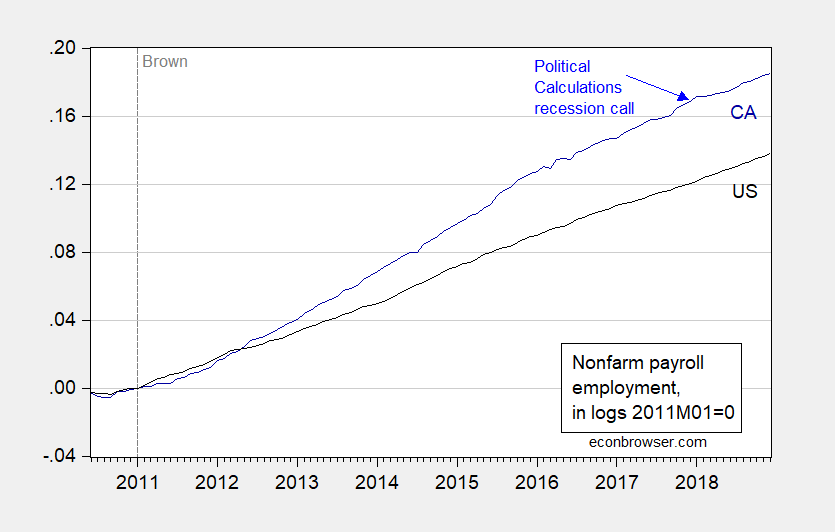 The establishment series gave no evidence of recession. What about the household?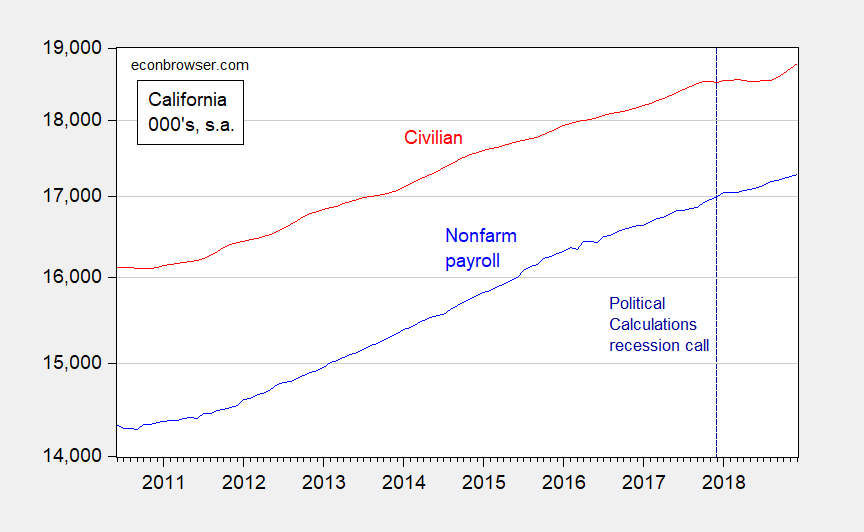 While ultimately, civilian employment did decline slightly over 5000 in December (according to the latest available vintage), this dwarfs in comparison to the standard deviation of changes of 16,000 … (2010M06-2018M12).
I'm sure Ironman will defend himself by saying the vintage he used indicated a decline. But, as I have said before, beware the state level household survey, even in a state as large as California, exactly because of the large benchmark revisions.