The Bureau of Economic Analysis announced today that U.S. real GDP grew at a 3.2% annual rate in the first quarter of 2019. That's better than the 2.2% average rate since the recovery from the Great Recession began in 2009:Q3, and even a little better than the average 3.1% growth over the last 70 years.

And year-over-year growth keeps climbing.

That brings the
Econbrowser Recession Indicator Index
in at 2.4%, among the lowest levels we ever see. That means the U.S. economic expansion has now been under way for 9-3/4 years, 1 quarter shy of the longest expansion on record (1991:Q2-2001:Q1).
The details behind the GDP report, however, are a little disappointing. Inventory accumulation contributed 0.65% of the 3.2%; that's not sustainable. Lower imports added 0.6%. That's another measure that's volatile at the quarterly frequency and often revised. Higher state and local government spending added 0.4%. These factors helped compensate for weaker than usual consumption growth. Housing continues to be a slight drag on the economy.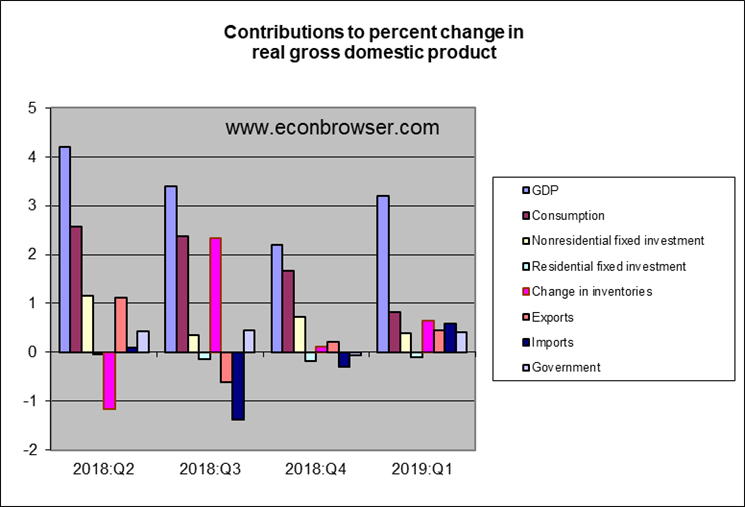 Nonetheless, the numbers unambiguously tell us that U.S economy keeps growing. Those who for several years have been predicting disaster around the corner will have to wait for at least a few more corners.