Modern asset-based models are based upon fundamentals such as money stocks, incomes, interest and inflation rates mattering. But the dollar — in which safe assets like Treasurys are denominated — is special in that risk also matters.
This point is quantitatively described in this post, and illustrated in the below graph: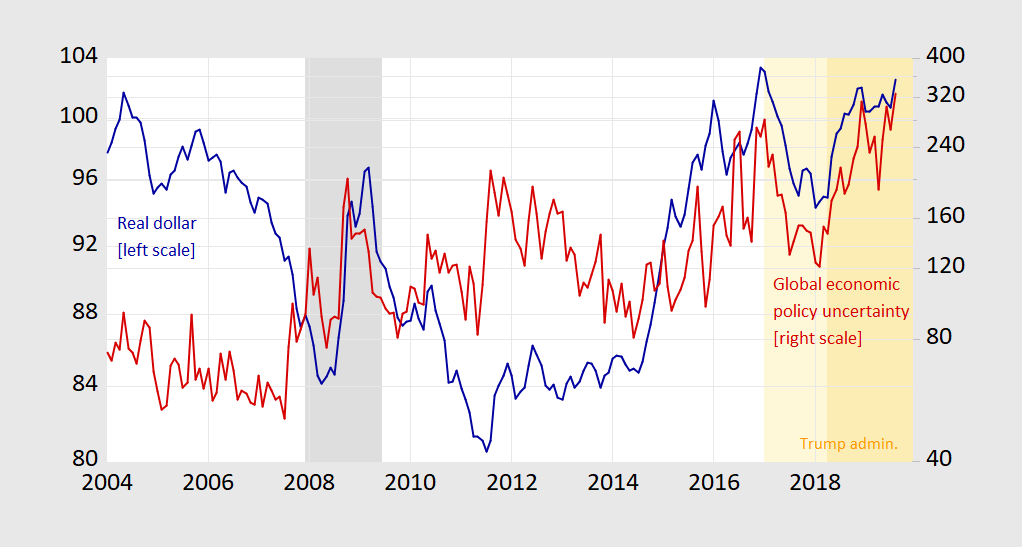 Figure 1: Real dollar against broad basket of currencies (blue, left log scale), global economic policy uncertainty (market weights) index (red, right scale). NBER defined recession dates shaded gray; Trump administration shaded light orange; period encompassing US Section 301 actions and retaliation shaded orange. Source: Fed via FRED, policyuncertainty.com, and NBER. 
So, let me re-iterate — if Trump wants a weaker dollar and hence smaller trade deficit, he should relent on the trade threats (and last minute backtracking). The elevated uncertainty accounts for about 12% appreciation of the US dollar.