I had the pleasure of speaking with UW's Ian Coxhead and Sandi Siegel, President of MITA and of ME Dey, at Talking Trade last week about trade, direct investment and competition in technology production.
Some of the hotspots depicted are now longer particularly salient: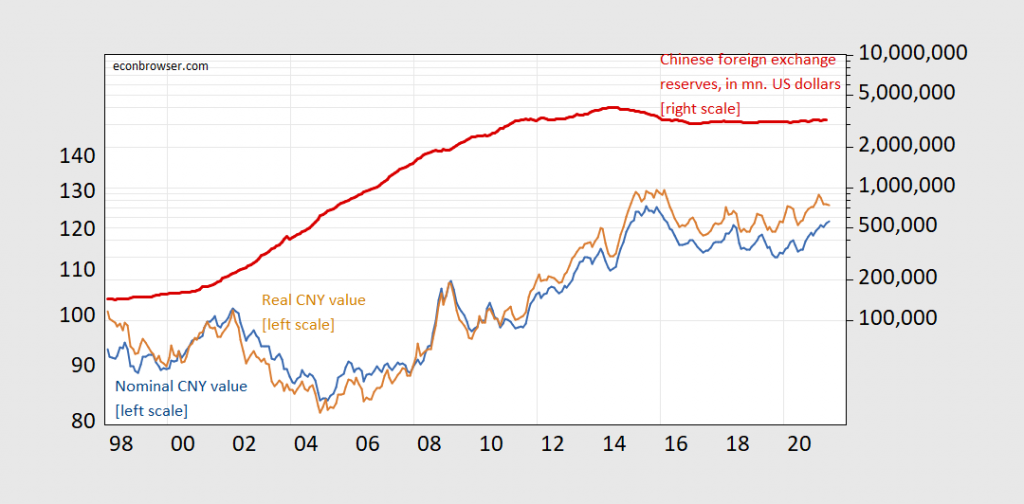 Figure 1: Real trade weighted (broad) measure of value of Chinese yuan (brown, left log scale), nominal (blue, left log scale), and reported Chinese foreign exchange reserves ex-gold at central bank, in millions of USD (red, right log scale). Source: BIS, IMF.
With the CNY fairly strong and observed reserves stable, it's harder to make a case of currency manipulation.
The size of the US-China trade balance has not been at the forefront, either.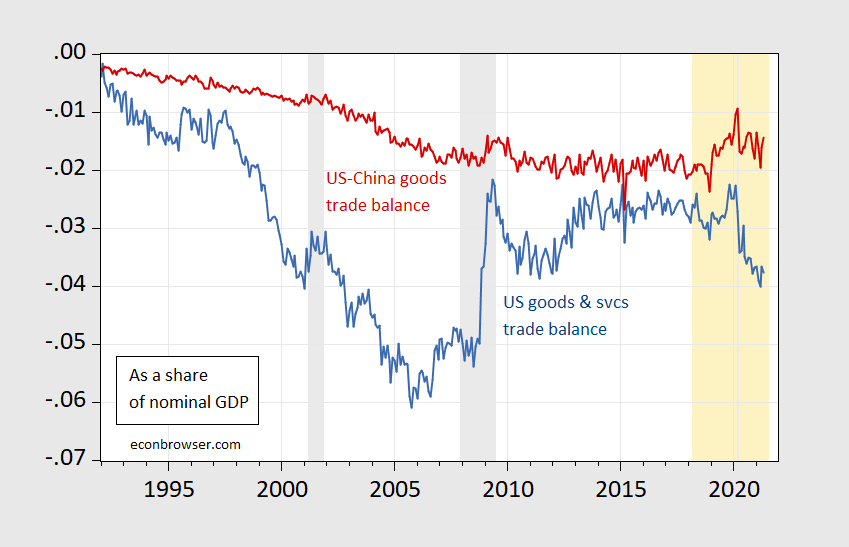 Figure 2: US-China goods trade balance as share of US GDP (red), US overall trade balance (goods and services) as share of US GDP (blue). NBER defined recession dates shaded gray. Orange shading denotes period of announcement and imposition of Section 232, Section 301 measures. US-China exports, imports seasonally adjusted by author using X-13/X-11 procedure. Source: BEA via FRED for trade flows, IHS-MarkIt for nominal monthly GDP, NBER and author's calculations. 
However, it would be a mistake to say that the US-China trade deficit has been "fixed" (and given the full documentation of failure to achieve the Phase 1 deal that Trump negotiated). As Clark and Wong point out, there's been a lot of incentive to mis-measure trade flows (given taxes, tariffs, etc.).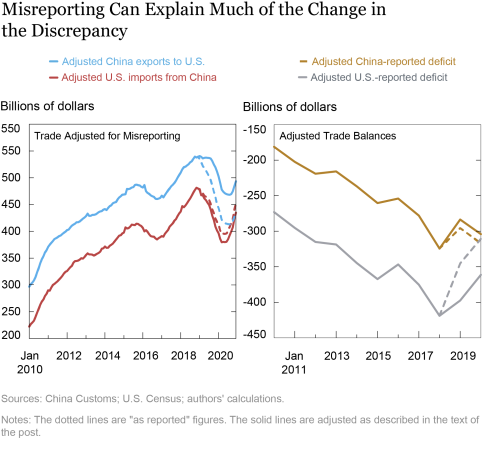 Source: Clark and Wang (2021).
In addition, as I've pointed out numerous times, from a macroeconomic standpoint bilateral trade balances make little difference. And our overall trade balance with the rest of the world as deteriorated – unsurprisingly so given the extent of fiscal stimulus being undertaken in the US. A large share of the imports that originally were coming from China have been shifted to coming from other Asian countries, probably at higher cost (that's called "trade diversion").
The points of friction are clearly more in trade in high technology goods and foreign direct investment in the United States. More on these topics in the talk, and in these references below.
Many other podcasts covering numerous trade topics at Talking Trade (produced by WisBusiness).