Manchin's announcement that he would vote against BBB constituted a kind of event study. Here are the market indicators of expected inflation and economic activity.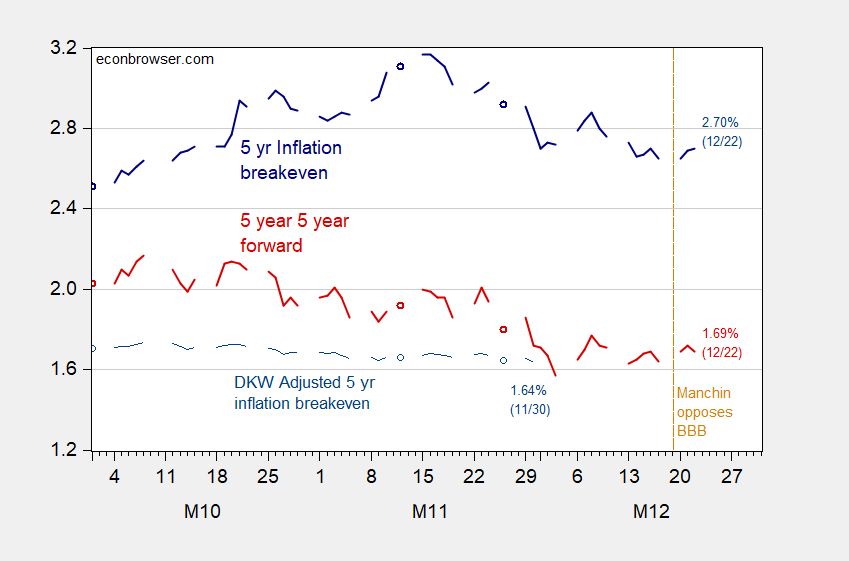 Figure 1: Five year inflation breakeven calculated as five year Treasury yield minus five year TIPS yield (dark blue line), five year breakeven adjusted by inflation risk premium and liquidity premium per DKW (light blue thin line), five year five year forward expected inflation calculated  from Treasury and TIPS yields (red), all in %. Source: FRB via FRED, Treasury, Kim, Walsh and Wei (2019) following D'amico, Kim and Wei (DKW) accessed 12/22, and author's calculations.
The five year inflation breakeven barely budged going from Friday close (12/17) to Monday close (12/20), suggesting — in line with most analyses — that there would have been minimal impact on inflation arising from BBB passage (see [1], [2]). It would've been interesting to know what the adjusted (for term, liquidity premia) DKW estimates are, but those extend only up to 11/30 (thin blue line).
What about the implications for economic activity? The five year TIPS yield also barely budged, while the 10yr-3mo Treasury spread stayed constant going from Friday to Monday close.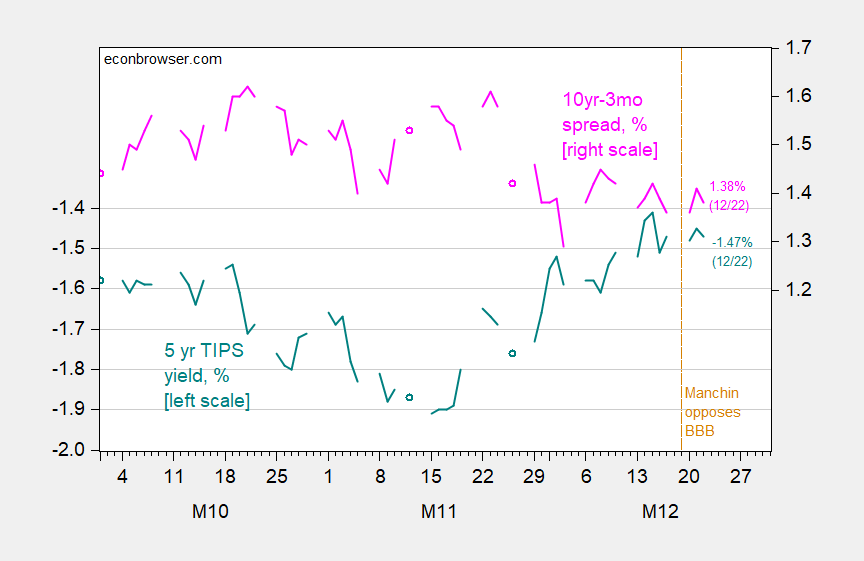 Figure 2: Five year TIPS yield (teal, left scale), ten year-three month Treasury term spread (pink), both in %. Source: FRB via FRED and author's calculations.
Event studies rely upon a dearth of concurrent events during the window examined. Clearly, over the weekend, news about omicron weighed upon expectations, so this is not a clean test. In addition, the prospects for BBB had been fading over time, even before Manchin's declaration. Hence, the relevant window might not be the one extending from Friday to Monday.
PredictIt doesn't have a measure of betting on what would be the relevant outcome on BBB (e.g., passage of BBB in January), but did have one for passage by December 23rd (wherein odds declined starting around 26th of November), and does have one for amounts in the package passed by July 1st. The latter jumps up for $0.6 trillion, from 21 cents on 12/18 to 40 cents on 12/19.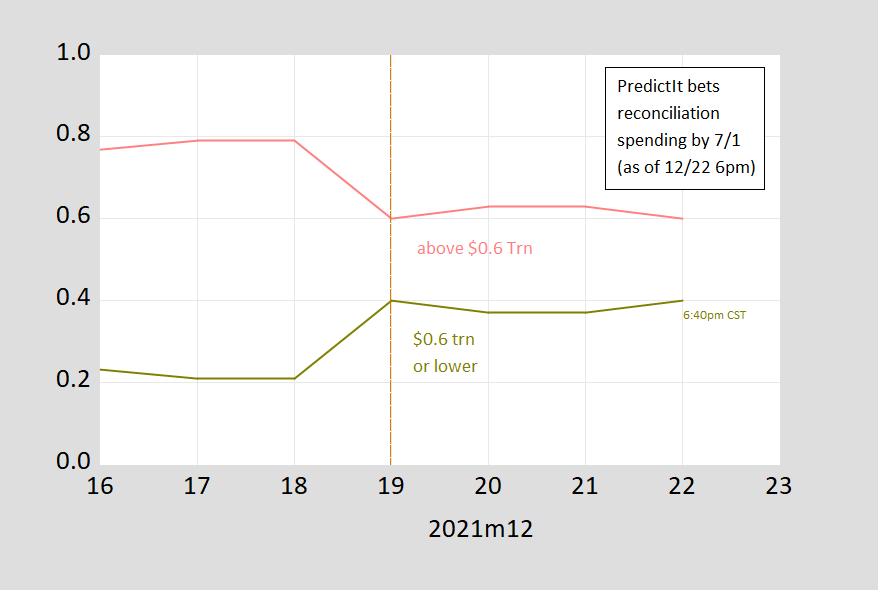 Figure 3: PredictIt bets on reconciliation package spending by 7/1, $0.6 trillion or below (chartreuse), and greater than $0.6 trillion (rose). Source: PredictIt, accessed 6:40pm Central, and author's calculations.
With that in mind, I still think that the movements over the weekend in the financial indicators reflect the news regarding Manchin's decision.