Given the indications of tightening in the Fed's statement today – both on rates and tapering – it's surprising how little inflation breakeven moved. On the other hand, 5 year TIPS jumped 13 bps.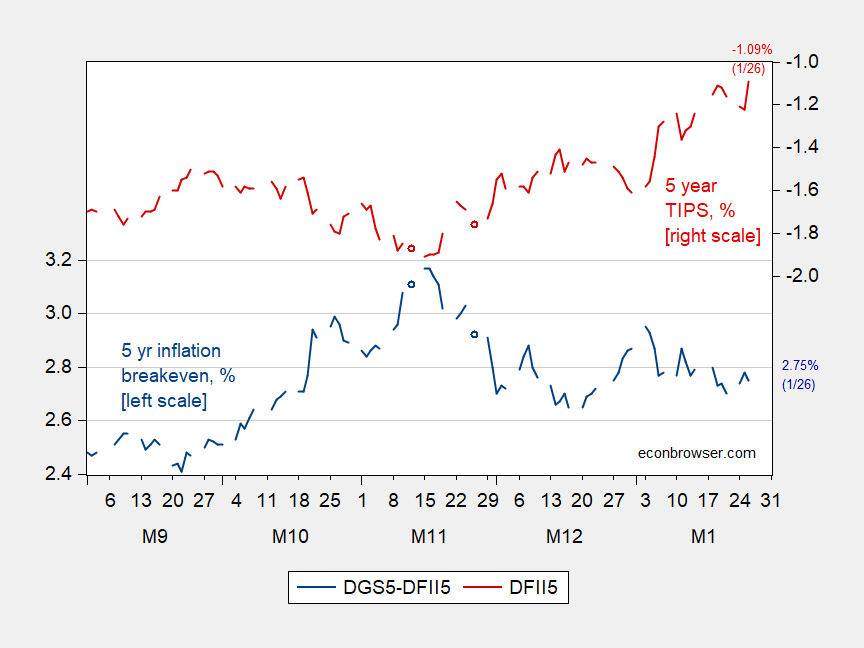 Figure 1: Five year inflation breakeven calculated as 5 year Treasury minus 5 year TIPS (blue, left scale), and five year TIPS yield (red, right scale). Source: Federal Reserve via FRED, Treasury, author's calculations.
Note that neither indicator is adjusted for term and/or liquidity premia.
In line with the interpretation of rate changes moving forward, the 10yr-3mo term spread has trended sideways, while the 10yr-2yr has shrunk (i.e, the yield curve at the 2 year plus horizon has flattened).
Figure 2: 10 year – 3 month Treasury spread (blue), and 10 year – 2 year Treasury spread (red). Source: Federal Reserve via FRED, Treasury, and author's calculations.
No inversion yet, but flattening does suggest slowing growth.