Today's NYT article suggests apocalypse (very) soon:
…the government faces a payment shock similar to those that sent legions of overstretched homeowners into default on their mortgages.
Do we really need to worry so much in the short term?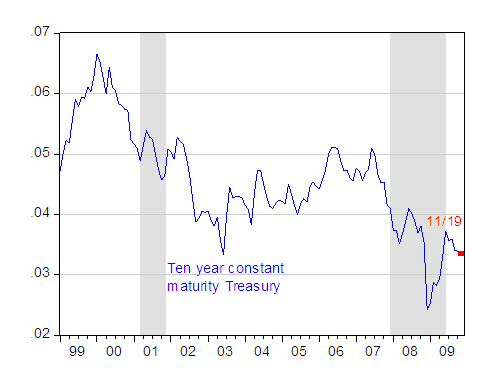 Figure 1: Ten year constant maturity Treasury yields (blue line), and observation for 11/19 (red square). NBER defined recessions shaded gray; assumes last recession ends June 2009. Source: St. Louis Fed FREDII and NBER.

Six years ago, Jeff Frankel and I examined the implications of the borrow-and-spend policies of the Bush Administration [PDF]. We estimated the following relationship:
(1) it long = 0.001 + 1 × πt + 0.077 E(dt+2) + 0.280 (yt-ytFE) + 0.005 it* – 0.574 intt
Adj.-R2 = 0.51, N=17, Smpl 1988-2004. i is the long term interest rate on ten year bonds, π is the y/y inflation rate, E(dt+2) is the two-year ahead expected debt-to-GDP ratio and (yt-ytFE) is the output gap (both according to OECD), and i* is the foreign interest rate, and int is foreign [correction: official]purchases of US Treasury debt. (This specification was also discussed in this March 2007 post.)
We can use these estimates to do a back of the envelope calculation of what happens in a year, going from end FY2009 to end FY2010, by taking the total differential of equation (1). The change will be given by:
(2) Δ i = Δ π + 0.077 Δ E(dt+2) + 0.280 Δ (yt-ytFE) – 0.574 Δ int
According to the August CBO Economic and Budget Outlook, public debt held by the public two years ahead will rise from 65.2 to 65.9 ppts of GDP (that is, end FY 2011 to end FY2012, in Summary Table 1). The OECD November Economic Outlook reports that the output gap in 2009 was -4.92 ppts of GDP, and is projected to be -5.36 in 2010. If East Asian bank purchases of Treasuries remain constant, then one finds that the inflation adjusted interest rate will rise by:
(0.659-0.652)×0.077 + (-0.0536+0.0492)×0.280 = 0.0005-0.0012 = -0.0007
That is, the interest rate would fall by 7 bps (holding expected inflation constant). In other words, real interest rates would stay roughly constant, ceteris paribus.
Now, what about foreign purchases of US treasury bills and notes? These ran about $333 billion through September [1], or about 2.3% of nominal GDP. [correction 11/25, 8pm: Now, what about foreign official purchases of US Treasury securities? These ran about $67.5+320.9= 388.4 billion through September, according to TIC data, or about 2.7 ppts of GDP.] (usual caveats about TIC data apply here.)
Suppose this went to zero (!). Then real rates would rise 1.3% 1.56%. Of course, one needs net foreign official purchases to drop to zero, which seems to me unlikely.
Some caveats: These estimates were obtained using data that spanned a period without extraordinary Federal Reserve credit easing, and in the face of an unprecedented financial collapse. And, the relationship is not precisely estimated. But they're the estimates we — or at least I — have.
By the way, CBO predicts only a 0.8 ppts increase in the ten year rate going from 2009 to 2010, and an additional 0.3 ppts by 2011 (Summary Table 2).
I'll further observe that the article gives the impression that the jump in Federal debt was due to the stimulus bill. But in fact, as shown in this post, most of the debt accumulation has been accounted for by the decline in tax revenues associated with the recession.
No doubt, trouble on the fiscal front is real, and has long been brewing — from the tax cuts of 2001 (if extended) to Medicare Part D. And, indeed, I argued for a lot more fiscal restraint when we were near full employment. [2] But, in my view, apocalypse not quite yet.