From Leonard E. Burman, Marvin Phaup, "Tax Expenditures, the Size and Efficiency of Government, and Implications for Budget Reform," NBER Working Paper 17268. (ungated early draft here):
One possible explanation for the difficulty in controlling the budget is that a major component of spending—tax expenditures—receives privileged status. It is treated as tax cuts rather than spending. This paper explores the implications of that misclassification and illustrates how it can lead to higher taxes, larger government, and an inefficient mix of spending (too many tax expenditures). The paper then suggests options for reform to the budget process that would explicitly incorporate and properly measure tax expenditures. It concludes by considering ways to control tax expenditures (and other spending) and the special challenges presented by tax expenditures.
The paper is quite illuminating, even for those of us who know about tax expenditures. The authors note:
Tax expenditures are large relative to other spending. (Table 1). Income tax expenditures
will amount to about $1.2 trillion in fiscal year 2011 based on US Treasury estimates. That is
significantly larger than nondefense or defense discretionary spending. Tax expenditures would
roughly equal total discretionary spending were it not for the extra outlays authorized in an effort
to boost the economy out of recession. Overall, income tax expenditures are one-quarter of total
spending, or about 8 percent of GDP. Put another way, excluding income tax expenditures
causes spending to be understated by about one-third.
There are three main points I want to stress (there are many in the paper that also merit discussion, but these are of greatest interest to me in terms of fiscal consolidation):

Total tax expenditures exceed total discretionary spending (defense and nondefense).

Total tax expenditures exceed total net individual income tax revenue for FY2011.

Exclusions for employer sponsored health care and for mortgage interest are the two largest components of tax expenditures.



These points are illustrated in these three tables from the paper.






Table 1: from Burman and Phaup (2011).

Table 2: from Burman and Phaup (2011).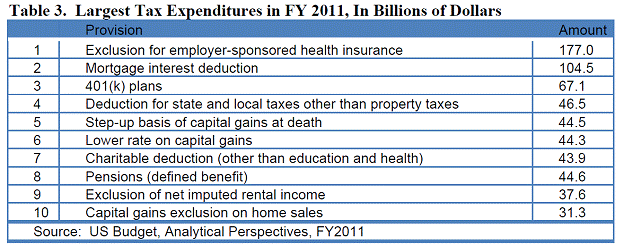 Table 3: from Burman and Phaup (2011).

In this context, it is truly amazed at the recalcitrance of certain policymakers in allowing for some revenue increases. I'm not advocating elimination of all tax expenditures, but one has to consider the implications of retaining the current panoply of measures, given the current state of tax revenues. (Acharya, Richardson, van Nieuwerburgh, and White discuss the the economic implications of the mortgage deduction in an op-ed in yesterday's NYT.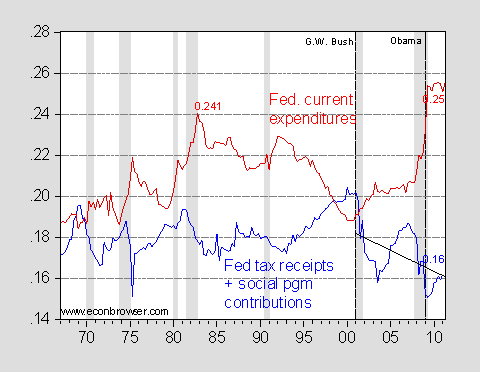 Figure 1: Federal current expenditures, line 20, BEA Table 3.2 (red) and sum of Federal tax receipts and social program contributions, lines 2 and 11, BEA Table 3.2 (blue), both divided by GDP. Solid black line is linear trend over period EGTRRA and JGTRRA in place. All raw figures in billions of $, SAAR. Numbers are ratios to GDP for 2011Q1 (2011Q2 tax revenues not available). NBER defined recession dates shaded gray. Dashed lines at 2001Q1 and 2009Q1. Source: BEA, 2011Q2 advance release, NBER, and author's calculations.


A realistic approach to dealing with our debt situation requires that increased tax revenues accompany spending cuts.