With so much slack in the economy and so many Americans still looking for jobs, why hasn't inflation been falling further? University of Texas Professor Olivier Coibion and Berkeley Professor Yuriy Gorodnichenko propose an answer in an interesting new research paper.
For nearly a century, many economists have viewed variation in the unemployment rate as a key determinant of why inflation is higher in some years than in others. The relation is usually credited to a paper published by A. W. Phillips in 1958, though Irving Fisher (1926) had in fact made a similar claim thirty years earlier. Here is what you find if you regress the inflation rate on the unemployment rate using U.S. data from 1953:Q1 through 1969:Q4 (t statistics in parentheses):

Here's a scatter plot of that historical relation along with the actual values over the period on which the above regression was estimated.
Unemployment and quarterly CPI inflation rates and estimated regression relation, 1953:Q1-1969:Q4.

But that relation broke down in the 1970s. The black dots and line in the figure below are the same as those in the graph above, while blue dots indicate the new data that came in between 1970:Q1 to 1975:Q4. Inflation was much higher over those six years than one would have predicted from the earlier simple regression relation.
Black dots: unemployment and inflation, 1953:Q1-1969:Q4. Black line: regression relation estimated using 1953:Q1-1969:Q4 data. Blue dots: data for unemployment and inflation, 1970:Q1-1975:Q4.
Many economists interpreted that breakdown as evidence of an important variable having been left out of the original relation, that being the expectations of inflation held by consumers and firms. If I expect the prices of everything I buy to go up 5% this year, then if the wage I earn or price I receive for my product stays frozen, I'd see that as a substantial real cut in what I'm getting, something I wouldn't accept unless high unemployment and excess capacity were leaving me with no other choice. According to this view, as people came to expect higher inflation in the 1970s, the Phillips Curve shifted up, with the blue dots in the figure above tracing out a new Phillips Curve keyed on a higher level of expected inflation.
One way to try to correct for this is to view the variable that belongs on the vertical axis of a Phillips relation as the difference between the actual inflation rate and the rate of inflation that most people were expecting. One way you might try to measure that expected inflation rate is with what the average rate of inflation has been over the last year. If you estimate a relation of that form using data over 1953:Q1-1969:Q4, you get the black line and dots in the figure below. The experience of the 1970s (blue dots) seems much more consistent with a Phillips Curve in this form.
Black dots: unemployment and difference between inflation rate in quarter t and average inflation rate over previous four quarters, 1953:Q1-1969:Q4. Black line: regression relation estimated using 1953:Q1-1969:Q4 data. Blue dots: data for unemployment and inflation minus lagged average inflation, 1970:Q1-1975:Q4.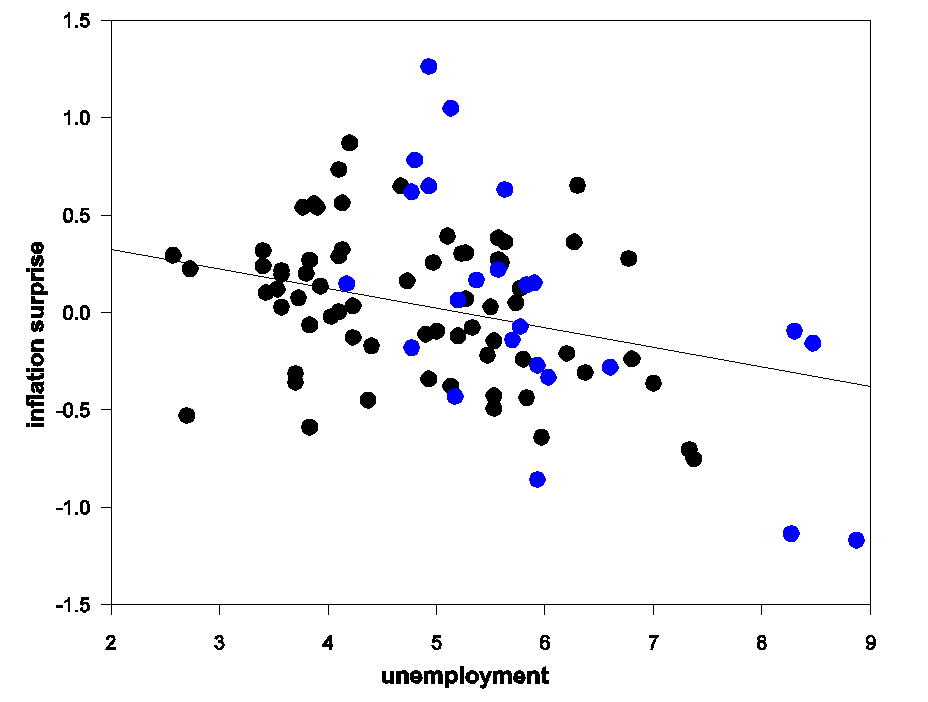 The diagram below, taken from Coibion and Gorodnichenko (2013), updates the above analysis. Here the blue circles summarize data over 1960:Q1-2007:Q3, with the inflation surprise again the variable on the vertical axis as in the previous figure. The expectations-adjusted Phillips Curve seemed to do a reasonable job of capturing an important feature of the data over the half century that followed publication of Phillips' original article.
Blue empty circles: unemployment and difference between inflation rate in quarter t and average inflation rate over previous four quarters, 1960:Q1-2007:Q3. Red filled circles: data for 2007:Q4-2013:Q1. Source:
Coibion and Gorodnichenko (2013).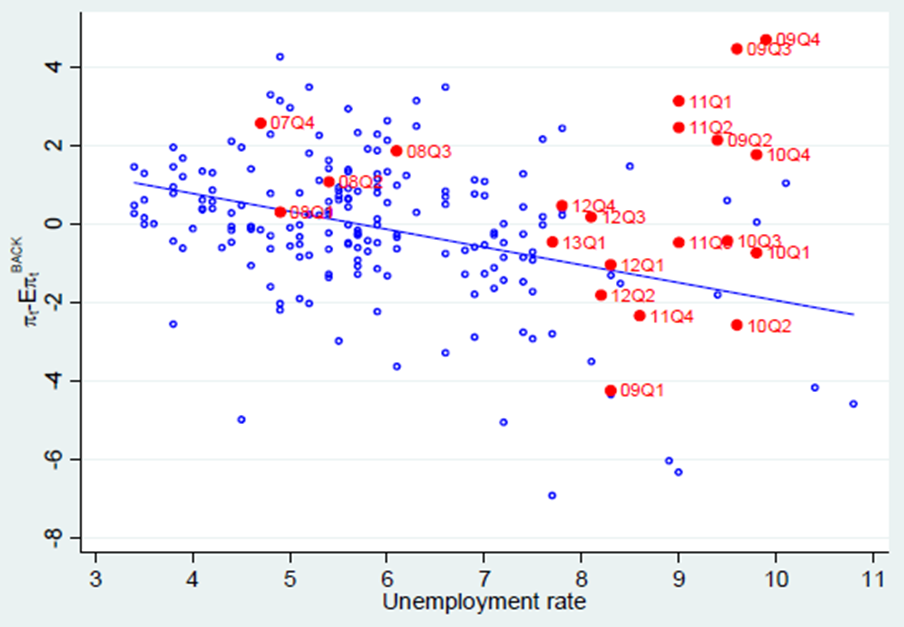 But as one can see from the red circles in the graph above, the expectations-adjusted Phillips Curve again seems to be missing over the last 5 years, with the observed inflation rate higher than predicted. Coibion and Gorodnichenko (2013) explore a number of possible explanations for this, including structural instability and changes in the labor market. They suggest that the best explanation is a divergence of different measures of the "expected inflation" that serves as a shift factor for the Phillips Curve. Using either the last-year's average adjustment used in the above figures, or looking at expectations of inflation implied by the yields on Treasury Inflation Protected Securities, or expectations from the Survey of Professional Forecasters, one always finds recent inflation to have been higher than predicted by the historical Phillips Curve. But Coibion and Gorodnichenko note that these measures of expected inflation have recently diverged from the answers given by those households who are sampled in the University of Michigan's survey of consumers. Those respondents have been consistently saying that they expect a higher inflation rate than the value implied by TIPS or professional inflation forecasters.
If one uses the Michigan survey expected inflation numbers, the recent observations seem to track the historical expectations-adjusted Phillips Curve pretty well.
Horizontal axis: difference between unemployment rate and the natural rate of unemployment as inferred by the CBO. Vertical axis: difference between inflation rate and the expected inflation rate from the Michigan household survey. Blue line: relation estimated using data from 1960:Q1 to 1984:Q4; green line: relation estimated using data from 1985:Q1 to 2007:Q3. Source: Coibion and Gorodnichenko (2013).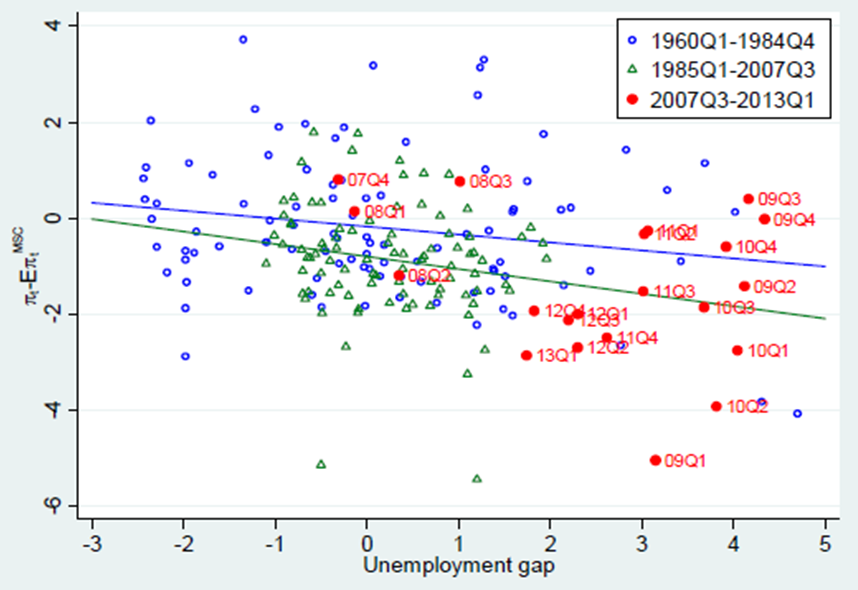 Coibion and Gorodnichenko also have a hypothesis about why many consumers have a different assessment from financial markets and professional forecasters: regular consumers seem to be paying more attention to what's been happening to oil prices. Perhpas this is because most Americans see gasoline prices prominently posted on a daily basis, and many of us experience its direct effects on our purchasing power immediately after any change in the price.
The phenomenon identified by Coibion and Gorodnichenko would undermine the Fed's ability to stimulate the economy in a number of important respects. First, it makes it much more difficult for the Fed to try to justify its actions to the public on the grounds that inflation is currently too low. Second, if makes it harder for the Fed to stimulate the economy without raising inflation, particularly if one byproduct of stimulus efforts is an increase in the relative price of oil. Third, it implies that ex ante real interest rates, if we base that concept on the perceptions of large numbers of economically important decision makers, are extremely negative at the moment, casting doubt on the claim that a primary policy objective should be to make them even more negative.