The recent weakness in emerging market currencies, and implementation of the taper, are sure to be topics of discussion at the G-20 meetings in Australia. While the imminent retrenchment in quantitative/credit easing is responsible for some of the currency movements of late, I'm not sure this is the only way to look at recent events; nor do I think we need see a replay of previous episodes of currency crises in response to US monetary tightening.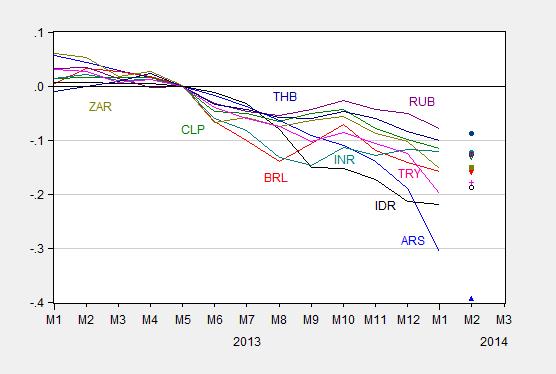 Figure 1: Log exchange rate against USD of Argentina Peso (ARS, blue), Brazilian Reals (BRL, red), Chilean Peso (CLP, green), Indonesia rupiah (IDR, black), Indian rupee (INR, teal), Russian ruble (RUB, purple), South African rand (ZAR, olive green), Thai baht (THB, dark blue), and Turkish lira (TRY, pink), all expressed against the USD, 2013M05=0. February observation pertains to 18 February. A decline indicates a weakening of the currency. Source: IMF International Financial Statistics, Federal Reserve Board via FRED, and Pacific Exchange Services, and author's calculations.
Interpreting EM Currency Movements
For those of us who believed unconventional monetary policy (quantitative and credit easing, as well as forward guidance) had an impact on cross-border asset prices, including exchange rates (see this this post and this BIS discussion paper) it has been no surprise that exchange rates should move in response to talk of reducing the amount of monetary stimulus.
While forward guidance has been consistent in its phrasing, apparently recent discussion of more durable rapid growth in the US has meant a movement forward in the market-predicted raising of the Fed funds rate: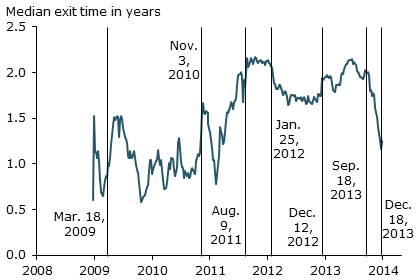 Source: Jens Christensen, "When Will the Fed End Its Zero Rate Policy?" Economic Letter 2014-04 (Federal Reserve Bank of San Francisco, February 10, 2014).
Notice the precipitous decline in the median time of exit from the ZLB between September and December of 2013. The recently released Fed minutes gives further weight to this view. [1]
Financial Stress and Idiosyncratic Factors
That being said, it's clear from the heterogeneity in responses – Argentina has suffered far more than Thailand, for instance – that domestic factors are very important. (For the debate over the importance of local factors, see this presentation).
Nonetheless, thinking back to a previous episode of monetary tightening, in 1994, gives pause for thought.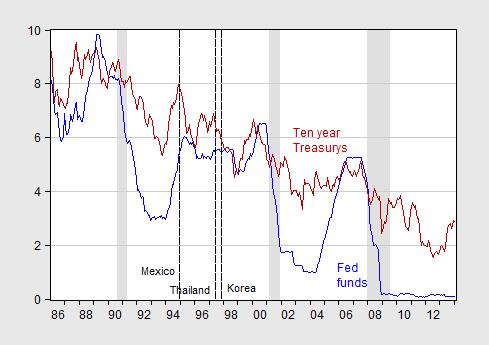 Figure 2: US Federal funds rate (blue), and ten year constant maturity yields (red). NBER recession dates shaded gray. Vertical dashed lines at dates of currency crises in Mexico, Thailand and Korea. Source: FRED and NBER.
A casual inspection of the timing of the interest rate hikes — at least in the 1990's — and subsequent currency crises would suggest a pretty straight line cause-and-effect. However, casting a broader net over the data yields a slightly different story. From Hooper, Luzzetti, and Slok, "Fed taper and EM: Investors more selective," Global Economic Perspectives (Deutsche Bank, 20 Feb 2014):
from an historical perspective, EM capital flows have not been highly correlated with shifts in Fed policy. For example, since 1990, the correlation between the fed funds rate and private capital flows to EM as a percent of EM GDP is slightly positive (7%) – the opposite sign from what would be expected (Chart 11). Looking further back to 1980, this correlation takes the correct sign, but remains relatively low (-28%). Instead, EM capital flows have been more highly correlated with uncertainty and growth prospects than with the fed funds rate (Table 3). In particular, since 1990, capital flows to EMs have been highly correlated with the VIX (-62%) and EM growth (47%).
Table 3 added 2/23:

Table 3 from Hooper, Luzzetti, and Slok, "Fed taper and EM: Investors more selective," Global Economic Perspectives (Deutsche Bank, 20 Feb 2014).
This finding is reminiscent of recent findings by the IMF in its External Balance Assessment (EBA) approach; a volatility index similar to the VIX accounts for a component of current account balances (see discussion here and IMF Working Paper). [Disclaimer: I provided input into portions of this project]
These findings suggest to me that US monetary policy is only part of the story. Reduced pressure on EM currencies depends on minimizing financial stress in the core advanced economies, and the vagaries of individual EM country growth prospects.
That being said, EM policymakers will be confronted by difficult choices – whether to allow depreciation or use the interest rate defense to respond to capital outflows (caused by either higher foreign returns or financial stress). Which one is better depends on several factors, including how much foreign currency denominated debt has been accumulated as currencies have been stabilized (see the Economist's take, using the Aizenman-Chinn-Ito exchange rate stability indices, here), versus the interest sensitivity of aggregate demand.
Vulnerabilities
What are the prospects emerging market economies as US financial markets and monetary policy normalize? The IMF has just released an assessment in anticipation of the G-20 meetings.
Global activity has picked up, largely on account of advanced economies. Growth firmed in 2013H2, driven largely by stronger outturns in advanced economies as final demand expanded broadly as expected. In many emerging markets, despite a boost to output from stronger exports, domestic demand has been weaker than expected, reflecting in part tighter financial conditions.

A new bout of financial volatility has affected emerging market economies as markets reassess their fundamentals. While the pressures were relatively broad-based, emerging economies with relatively high inflation and high current account deficits saw the largest asset price declines initially. Markets are showing signs of stabilizing recently, although they are still fragile, on the back of actions by key emerging economies to shore up confidence and strengthen their policy commitments. This episode, however, underscores vulnerabilities and the challenging environment for many emerging economies. The rapid jump in global risk aversion had also driven down advanced economy equity prices.




…




However, the recovery is still weak and significant downside risks remain. Capital outflows, higher interest rates, and sharp currency depreciation in emerging economies remain a key concern and a persistent tightening of financial conditions could undercut investment and growth in some countries given corporate vulnerabilities. A new risk stems from very low inflation in the euro area, where long-term inflation expectations might drift down, raising deflation risks in the event of a serious adverse shock to activity.
One bit of good news is that short term debt-to-reserves ratios is low for many EM countries.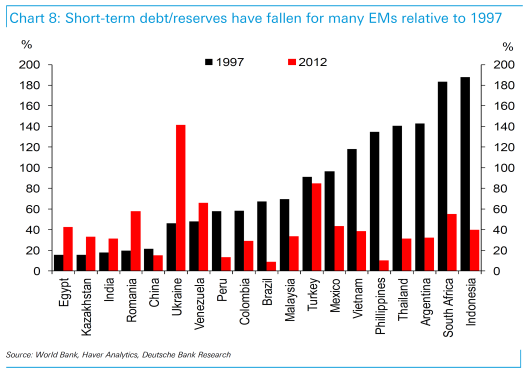 Source: Hooper, Luzzetti, and Slok, "Fed taper and EM: Investors more selective," Global Economic Perspectives (Deutsche Bank, 20 Feb 2014) [not online]

As discussed in this post, a higher reserves-to-short term debt means a greater resilience to a negative global economic environment. This bodes well for many countries, although several countries are in a more challenging situation than in 1997 – India and Ukraine for instance (Turkey experienced its currency crisis in 2000-01). (Recent developments in selected EM countries discussed in this post.)
For more on recent developments in emerging markets, see here, here, World Bank via Econbrowser, Barry Eichengreen, Helmut Reisen, and WSJ RTE; Economist and Capital Ebbs and Flows on international macro cooperation.