The Wisconsin Manufacturers and Commerce group has a recent piece, written by Scott Manley (VP), highlighting negative impacts of a minimum wage increase. I have attempted to track down the numbers cited. It has been an illuminating experience.
From the article:
A recent analysis by the Employment Policies Institute (EPI) found increasing the minimum wage to $10.10 per hour would kill as many as 27,937 jobs in Wisconsin. That estimate is consistent with a projection by the Congressional Budget Office (CBO) that predicted 500,000 lost jobs nationwide if the federal minimum wage was increased to $10.10.
It is instructive to see how this 27,937 figure is obtained. The estimate is found on this website sponsored by Employment Policies Institute. The supporting documentation, written by Even and Macpherson, reports the calculations using an elasticity of 0.3 for the high end. The website also reports estimated job loss, for a low-end elasticity of 0.1 (that low end elasticity, with associated job loss of 9,312 is not cited by Mr. Manley). The midpoint of the range is 18,625 (which might differ slightly from the estimate obtained using a 0.2 elasticity.)
Is the use of the high-end 0.3 elasticity justified? I would suggest not, as discussed in this post. It's much higher than most recent estimates, and higher than the more precisely estimated coefficient values, as recounted in Doucouliagos and Stanley (2009).
Moreover, I cannot understand how the Wisconsin figure of 27,937 lost jobs is "consistent" with the CBO midpoint estimate of 500,000 lost jobs nationwide. 27,397 is 5.6 percent of 500,000; however, as of January 2014, Wisconsin nonfarm payroll employment constituted only 2.1 percent of national employment. It is conceivable that the composition of Wisconsin employment — in particular the minimum wage sensitive component — is so different from the national composition that the 27,397 figure is consistent with the CBO nationwide estimate. However, I must confess a such a large compositional effect seems implausible to me.
Here is an additional assertion from the Manley piece:
According to the U.S. Bureau of Labor Statistics, only 1.1 percent of workers over age 25 earn the minimum wage. That's because typical minimum wage earners in America are teenagers living with their parents in middle class families. They are not living in poverty nor are they earning a wage that is responsible for sustaining a family.
This figure can be verified for one's self by inspecting BLS, Characteristics of Minimum Wage Workers: 2013 (Mar. 2014), Table 1, page 4. Of course, this figure tells one how many are now at or below the current minimum wage. It doesn't tell one how many would be affected by an increase to $10.10. According to a Economic Policy Institute study, using the CPS, 15.4 percent of all Wisconsin workers would be affected directly by the increase (by directly, I mean the constraint would bind; spillover, or indirect, effects on wages close to the new minimum wage are not incorporated). Here is the relevant table.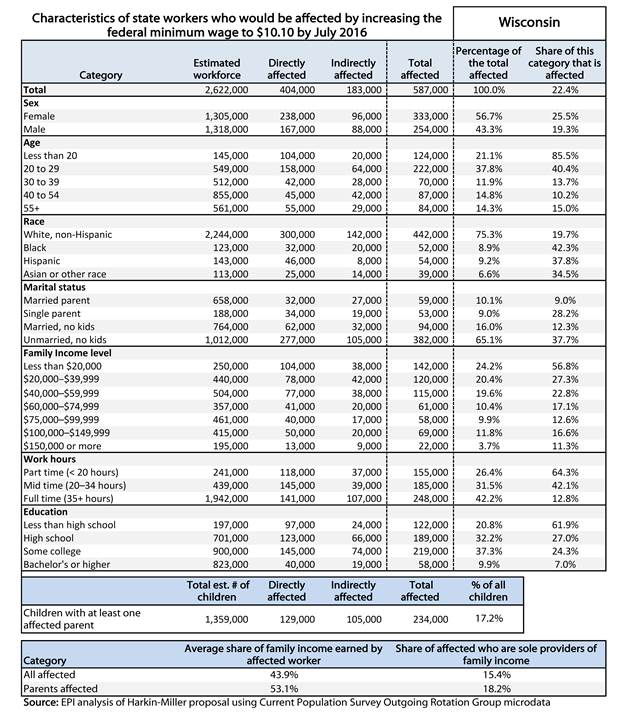 Table from David Cooper, Economic Policy Institute Briefing Paper #371, December 19, 2013
Would it only be youngsters affected, as implied by the WMC op-ed? According to the table, of the workers older than 29, 142,000 would be directly affected (constituting 5.4 percent of the total Wisconsin workforce). In other words, it's not just teenagers in relatively affluent households that are affected. Figure 1 illustrates the age distribution: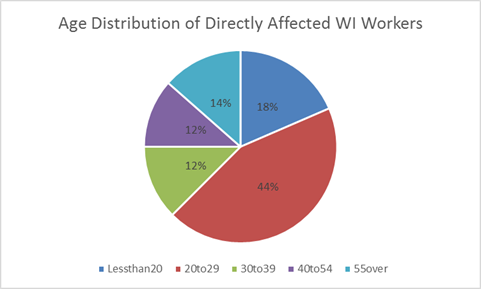 Figure 1: Age distribution of directly affected Wisconsin workers. Source: David Cooper, Economic Policy Institute Briefing Paper #371, December 19, 2013
In fact, of the 404,000 directly affected by the $10.10 minimum wage, 104,000 individuals — with household income below $20,000 — would be affected. 104,000 is 25.7 percent of the total directly affected by a minimum wage increase to $10.10, and is 4 percent of the total workforce.
Finally:
The empirical evidence also suggests raising the minimum wage simply does not impact poverty levels.
This is an interesting statement, and is made on the basis of a Employment Policies Institute funded study written by Saiba and Burkhauser. This assertion is seemingly contradicted by this recent analysis that highlights the fact that earlier studies of the impact of the minimum wage on poverty might have been outpaced by recent developments.
In this study I show that the target efficiency of the minimum wage improved between 1999 and 2013. In 1999-2001, 15.3% of the minimum wage benefits went to workers in poor families. By 2011-2013 this figure had risen to 18.8%. Nearly two-thirds of the improvement in target efficiency occurred during pre-recession years (1999-2001 to 2005-2007), and the balance of the improvement occurred since the onset of the Great Recession. The improvement in target efficiency during pre-recession years was entirely due to an increase in the share of minimum wage workers in poor families. Decreased income among near-poor minimum wage workers drove the majority of the increase in the share of minimum wage workers in poverty. Reduced teen employment, increased teen wages (relative to the minimum wage), and increased employment among poor low-skilled 20-29 year-olds also contributed.
The WMC conclusion also contrasts strongly with the CBO reading of the literature, and the corresponding estimate that 900,000 individuals would be moved above the poverty line by a $10.10 minimum wage (see Table 1, page 2).
It is at this juncture it is useful to remember what the Employment Policies Institute is. As noted in the NY Times, it is a nonprofit organization which bills a for-profit organization for services (and shares office space with that for-profit organization). The IRS form 990 for the Employment Policies Institute makes for illuminating reading.
Bottom line: Beware of unfootnoted articles! And beware the estimates of the Employment Policies Institute!
Update, 4/8 2PM Pacific: Arindrajat Dube points me this paper:
I use data from the March Current Population Survey between 1990 and 2012 to evaluate the
effect of minimum wages on the distribution of family incomes for non-elderly individuals. I find robust evidence that higher minimum wages moderately reduce the share of individuals with incomes below 50, 75 and 100 percent of the federal poverty line. The elasticity of the poverty rate with respect to the minimum wage ranges between -0.12 and -0.37 across specifications with alternative forms of time-varying controls and lagged effects; most of these estimates are statistically significant at conventional levels. For my preferred (most saturated) specification, the poverty rate elasticity is -0.24, and rises in magnitude to -0.36 when accounting for lags.

I also use recentered influence function regressions to estimate unconditional quantile partial effects of minimum wages on family incomes. The estimated minimum wage elasticities are sizable for the bottom quantiles of the equivalized family income distribution. The clearest effects are found at the 10th and 15th quantiles, where estimates from most specifications are statistically significant; minimum wage elasticities for these two family income quantiles range between 0.10 and 0.43 depending on control sets and lags. I also show that the canonical two-way fixed effects model—used most often in the literature—insufficiently accounts for the spatial heterogeneity in minimum wage policies, and fails a number of key falsification tests. Accounting for time-varying regional effects, and state-specific recession effects both suggest a greater impact of the policy on family incomes and poverty, while the addition of state-specific trends does not appear to substantially alter the estimates. I also provide a quantitative summary of the literature, bringing together nearly all existing elasticities of the poverty rate with respect to minimum wages from 12 different papers. The range of the estimates in this paper is broadly consistent with most existing evidence, including for some key subgroups, but previous studies often suffer from limitations including insufficiently long sample periods and inadequate controls for state-level heterogeneity, which tend to produce imprecise and erratic results.