And Kansas travels its own path
Bruce Bartlett brings my attention to this article noting Minnesota's economic performance. This reminded me to check on the Philadelphia Fed's forecast for the next six months, released earlier today. What's interesting to me is the fact the cumulative growth gap between Minnesota and Wisconsin (relative to 2011M01) is forecasted to grow — rather than shrink — over the next six months.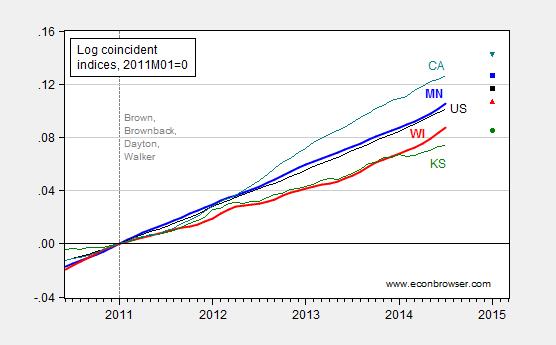 Figure 1: Log coincident indices for Minnesota (blue bold), Wisconsin (red bold), Kansas (green), California (teal), and United States (black), all normalized to 2011M01=0, seasonally adjusted. Observations for 2015M01 are forecasts implied by leading indices. Source: Philadelphia Fed and author's calculations.
For those who argue that because Minnesota fell further during the Great Recession so it should be growing faster than Wisconsin — well that's just plain wrong (not that I believed in that particular snapback argument). Wisconsin fell 8.3% from 2007M12 to trough, while Minnesota fell 5.0% (both in log terms).
The cumulative growth gap between Kansas and the Nation is also forecasted to rise, from the current gap of 2.7%, to 3.2%, in just the next six months. The forecast from a simple ARIMA(1,1,1) estimated over the 1986M01-2014M07 period yields the same conclusion: the gap will widen.