No succor from the QCEW series that the Walker Administration previously touted [1]
DWD released QCEW figures for first quarter 2014. Since the QCEW figures are not seasonally adjusted, I have estimated a series consistent with the BLS private nonfarm payroll employment series based on the QCEW data.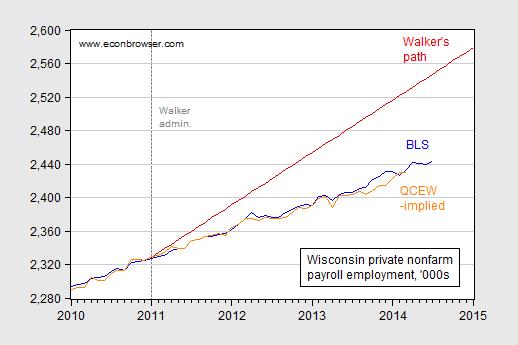 Figure 1: Wisconsin private nonfarm payroll employment (blue), path implied by Governor Walker's August 2013 pledge (red), and employment implied by QCEW series (orange), all in thousands, seasonally adjusted. Source: BLS, DWD, and author's calculations.
Figure 1 includes an estimate of the private nonfarm payroll series using the QCEW figures as input. By March 2014, the BLS series and the estimated are close, although the BLS establishment survey was higher for much of the preceding months.
This result confirms Wisconsin's lackluster employment growth. As noted in this post, in order to hit the January 2015 target laid out by Governor Walker, the Wisconsin economy will need to generate 22.6 thousand net new jobs in each of every month until January. Mean job creation over Governor Walker's term thus far has been 2.7 thousand per month. This suggests that it is unlikely that the goal will be achieved.
The implied employment level is obtained by regressing the log BLS series on the log QCEW series, along with a constant and monthly seasonal dummies, over the 2001M01-2014M03 sample. The elasticity is 0.96, the adjusted-R2 = 0.99, and SER = 0.0019 (much as in the earlier case, suggesting stability in the relationship).
In other news, "… tax collections were $281 million less than anticipated for the fiscal year that ended in June. That puts the two-year budget on pace to be at a $115 million shortfall by June 30." In other words, the hit to tax revenues was $81 million more than I assumed in this post. See this for additional information regarding the full enormity of the shortfall.