Longtime reader Ricardo (aka Dick/DickF/RicardoZ) writes:
…Our government is doing a serious disservice by falsifying the employment condition in our country. Policy changes that could actually help are being delayed with false information.

(second sentence added 11/8 -mdc)
If the secret government was really serious about falsifying the data to make it look better, they could for sure do a better job…
But seriously, how can economic discourse proceed if all the inconvenient data are disbelieved? Fortunately, Floyd Norris is on the case, as is Paul Krugman. See also Econbrowser posts [1], [2], and [3].
Update, 11/8 11:40AM Pacific: Ricardo states the government is falsifying the data. But the BLS reports many series. I downloaded on FRED just a few, before I got tired, and here are the unemployment rates. What series would Ricardo want reported before he didn't accuse the government of suppressing the truth?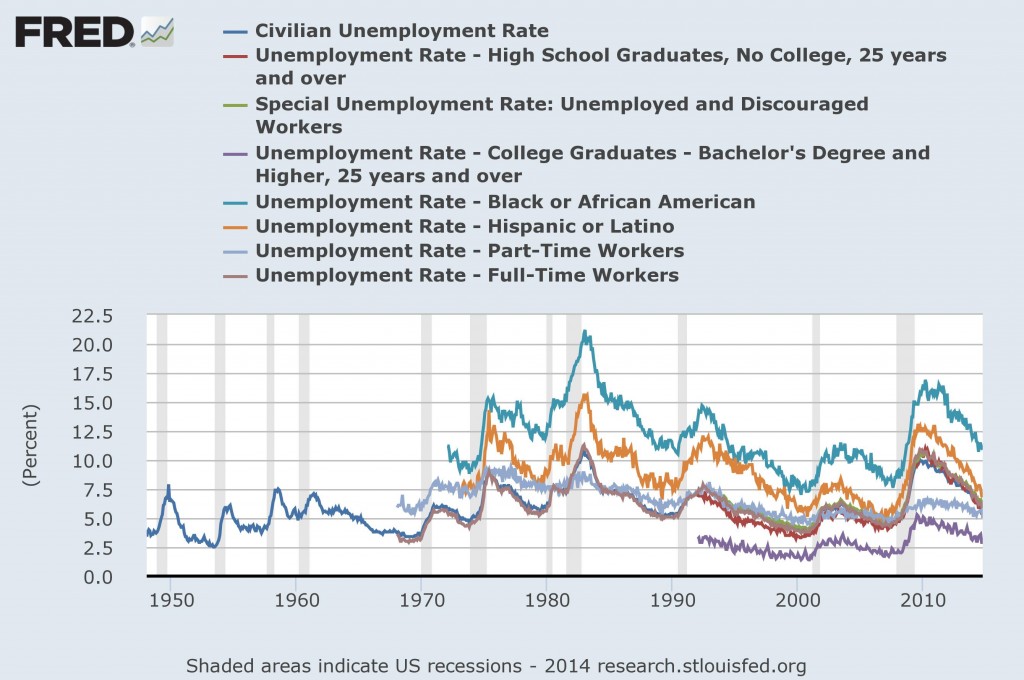 Update, 11/9, 8AM Pacific: I am reminded that 5 years ago, Ricardo in his DickF incarnation showed up in a similar context, in this post. Here is a snippet of DickF's comment:
Also any time numbers are manipulated by government there is a political element involved. The whole reason the numbers are manipulated is to the will be "more normal" but who decides what is normal? In the government political bureaucrats who know their jobs depend on pleasing the politically connected.
If that is not an allegation of falsifying data, I do not know what is.