The CBO took at face value the revenue and spending levels in the House Budget, FY2016, and assessed the impact on GNP per capita (remember, this is not a score, as there are few details on specific provisions to hit the targets). The impact is shown in Figure 2 from the CBO.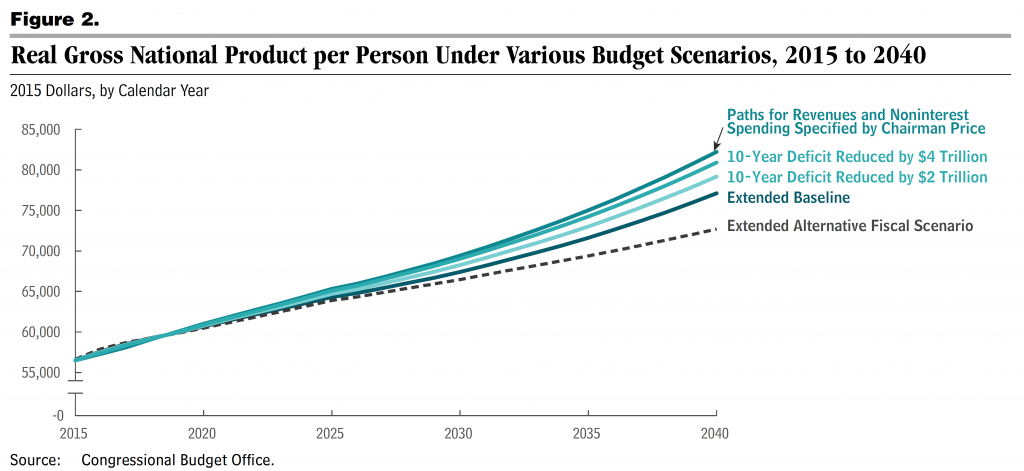 Figure 2 from CBO (2015). Notes: "These results account for the following macroeconomic effects ("feedback"): the ways in which changes in federal debt affect investment in capital goods (such as factories and computers), the ways in which changes in after-tax wages (resulting from changes in capital investment) affect the supply of labor, and the ways in which those economic effects in turn affect the federal budget. The analysis incorporates the assumption that the budget scenarios do not alter the contributions that government investment makes to future productivity and output; those contributions are assumed to reflect their past long-term trends.
Unlike the more commonly cited gross domestic product, real (inflation-adjusted) gross national product includes the income that U.S.
residents earn abroad and excludes the income that foreigners earn in the United States.
The 10-year baseline used in this report refers to the projections for the budget and the economy that CBO released in January 2015. For
information about CBO's analysis of the extended baseline and other scenarios considered here, see the notes to Figure 1."
I thought it was of use to investigate what happens in the short term — so zooming in on 2007-2020. Unfortunately, 2014 GNP per capita was not reported in the document, so I had to do some estimating. But in the end, this is what I obtained.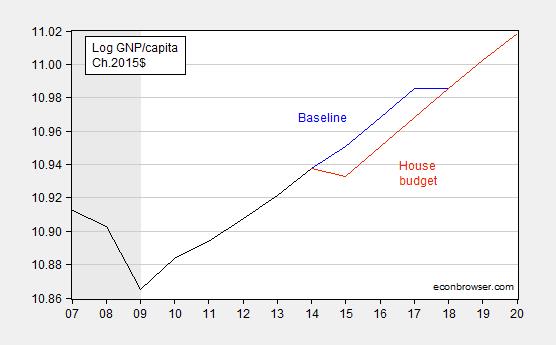 Figure 1: Log GNP per capita in Ch.2015$ (black), extended baseline (blue), and assessment of House budget (red). NBER recession dates shaded gray. Historical GNP per capita series adjusted from Ch.2009$ to Ch.2015$ assuming CBO forecasts of GDP deflator hold for 2014 and 2015; 2014 growth in real GNP per capita assumed to equal actual real GDP per capita growth. NBER defined recession dates shaded gray. Source: BEA via FRED, NBER, CBO, Budget and Economic Outlook (January 2015), and CBO, Budgetary and Economic Outcomes Under Paths for Federal Revenues and Noninterest Spending Specified by Chairman Price, March 2015.
What I have for 2014 real per capita GNP might not match what CBO has, but as best as I can make out, it sure looks like the short term impact is to set growth to zero for 2015 (my actual calculation is -0.5%, y/y — but like I say, I had to estimate 2014 per capita GNP).
More on the (re-)appearance of the magic asterisk, from CBPP.