That's the title of an article by John Schmid and Kevin Crowe in the Milwaukee Journal Sentinel today, based upon just-released state level data on the Quarterly Census of Employment and Wages (QCEW):
Wisconsin gained 27,491 private-sector jobs in the 12 months from September 2013 through September 2014, a 1.16% increase that ties Wisconsin with Vermont and Iowa at a rank of 38th among the 50 states in the pace of job creation during that period.
The state's national ranking fell from a revised rank of 31st three months earlier, in the previous release of quarterly jobs data, which covered the 12 months through June 2014. In that period, Wisconsin created 36,732 private-sector jobs.

Wisconsin continued to trail the national rate of job creation, as it has since July 2011. The United States created private-sector jobs at a rate of 2.3% in the latest 12-month period, twice Wisconsin's 1.16% rate, the data show.
What about regional comparisons?
Among its peer states in the Midwest, Wisconsin tied with Iowa for last place. Both states created private-sector jobs at 1.16%. Michigan and Indiana led that group of states with 2.02% and 1.64% growth, respectively.
The downward revision in Wisconsin employment series was not surprising; I'd mentioned the impending downward revisions in this post a week and a half ago. What is surprising is that Wisconsin's downward revisions were apparently bigger than those in other states, relatively speaking. So, in sum, it just looks worse for Wisconsin.
Note that Minnesota's growth rate of employment (as measured by the QCEW, year-on-year through September 2014) is matched by Wisconsin's. Of course, levels matter, and over the past nearly four years, Minnesota's employment growth was substantially higher than Wisconsin's. Using the updated establishment series on private employment (released on Tuesday), I display this fact in Figure 1.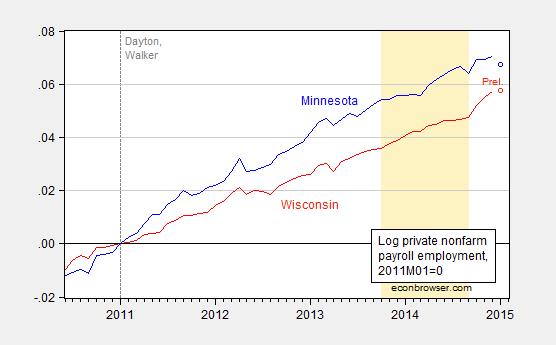 Figure 1: Log private nonfarm payroll employment for Minnesota (blue), and for Wisconsin (red), normalized to 2011M01=0. Preliminary estimates for January denoted as circles. Dashed line at 2011M01, when Governors Dayton and Walker take office. Light tan shaded period is the period over which the last year's worth of QCEW data is used to benchmark the establishment series. Source: BLS and author's calculations.
Notice that while there is an uptick in Wisconsin employment after September 2014, these are estimates of private nonfarm payroll employment that are not based on contemporaneous QCEW data, which as readers will recall were the series the Walker administration was in favor of before it was against (or indifferent to).
Finally, since nonfarm payroll employment is one of the four state-specific indicators used to calculate the Philadelphia Fed's coincident indicators of economic activity, one can infer that it is likely that Wisconsin's performance will deteriorate in absolute level and relative terms, once these new data are incorporated. The Philadelphia Fed indices will be released on March 23rd.
Update, 6:40PM: Here is a comparison of actual (black) evolution of Wisconsin nonfarm payroll employment from the January benchmarked release, and a forecast (blue) based on data from 1994M01-2010M12, and an error correction model (ECM) using cointegration between log WI NFP and log US NFP, with two lags of first differenced terms. The ECM regression has an adjusted R2 of 0.44, SER of 0.0019.


Figure 2: Actual Wisconsin nonfarm payroll employment, in 000's, seasonally adjusted (black), and forecast from ECM estimated over 1994M01-2010M12 (blue), and ±1.64 standard error band. Source: BLS (January 2015 release) and author's calculations.
In other words, Wisconsin employment growth deviates in a statistically significant way (at 10% MSL) from the level predicted using US NFP, since 2011M01.