The New York Times has an article in The Upshot today, which shows the yield curve over time in a nifty map. They also show the topography for yields in Germany and Japan.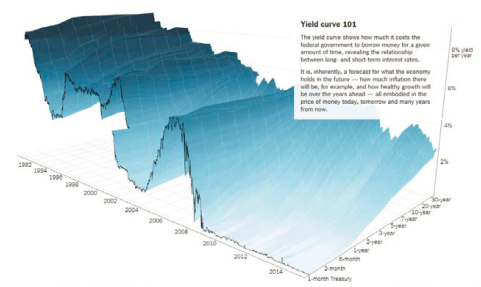 One conclusion they come to for the US: "The yield curve is fairly flat, which is a sign that investors expect mediocre growth in the years ahead."
This conclusion is in line with recent work with in Chinn and Kucko (March 2015). We conclude:
This paper has explored the importance of the yield spread in forecasting future growth and recession. Generally speaking, when using the entire data series from 1970-2013, in-sample results suggest the yield spread is indeed important and has significant predictive power over a one-year time horizon. The results deteriorate when forecasting growth two years ahead. Moreover, it appears that the forecasting power is weaker during the great moderation up until the financial crisis of 2008. However, each of the six European country models exhibited relatively high R-squared statistics (above 0.1) when using data from 1998-2013. While the explanatory power is somewhat less for certain models estimated over the early subsample, the data still suggest the yield curve possesses some forecasting power for European countries.

…

In summary, we do not obtain a simple story for the yield curve's predictive power. The yield curve clearly possesses some forecasting power. However, there is also some evidence the United States is something of an outlier, in terms of its usefulness for this purpose. And overall, the predictive power of the yield curve seems to have rebounded in the lead up to the Great Recession, reversing a longer term trend of declining predictive power.
Here's the term spread for the 10 yr-3 mo and 10 yr-2 yr Treasurys.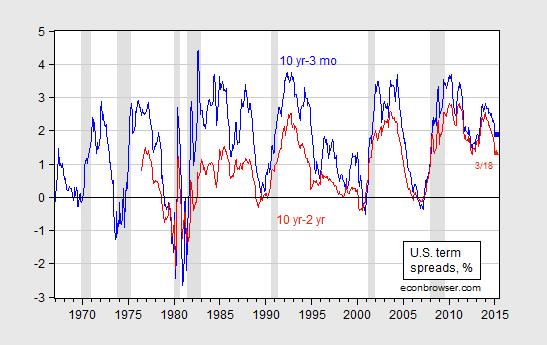 Figure 1: Ten year-three month Treasury spread (blue) and ten year-two year Treasury spread (red), in %. Observation for March pertains to 3/18. NBER defined recession dates shaded gray. Source: Federal Reserve Board via FRED, NBER and author's calculations.
Using the February observations, and an updated regression extending from 1970M01-2015M02, the implied probability of a recession in the next six months is 8.4% (using the 10 yr-3 mo spread).
More on the subject, here.