My wife, Laura Schwendinger, is having her composition, "Creature Quartet", premiered at the Wisconsin Union Theater on May 8th. The Quartet is made up of four larger movements which are framed by smaller movements, each one an ode to an extinct, endangered or mythical creature.
The performance will be performed by the acclaimed JACK Quartet [short musical excerpt – sound file], and accompanied by animations by Pauline Gagniarre.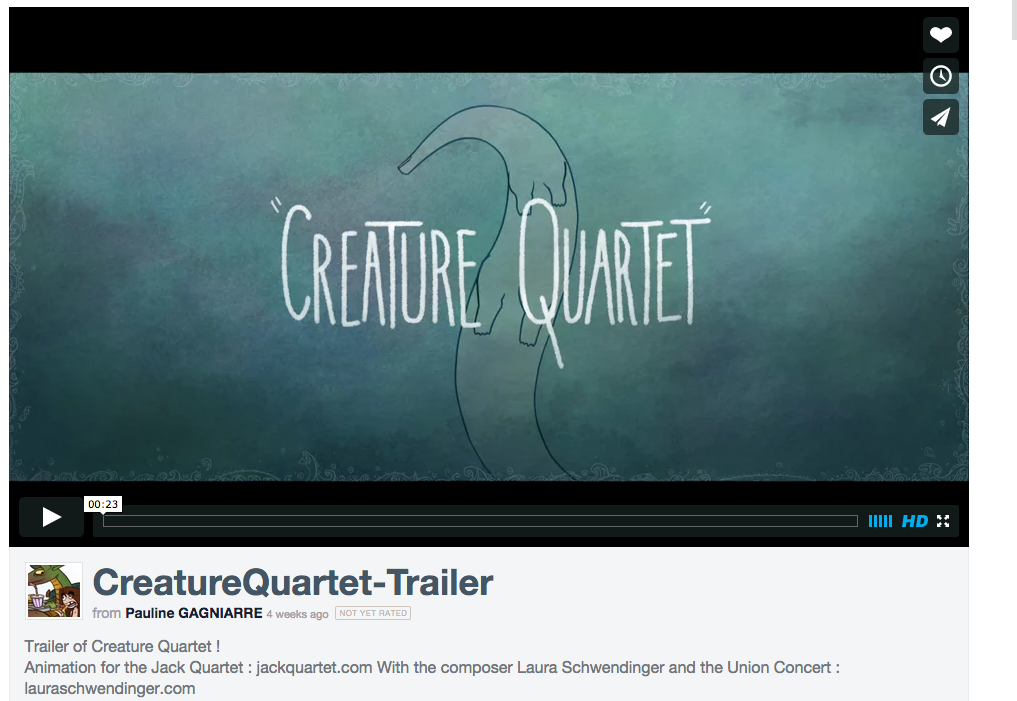 From Pauline GAGNIARRE on Vimeo.
More about the composer and the work
Laura Schwendinger, a professor of music at the University of Wisconsin-Madison, a Guggenheim prize winner and the first composer-recipient of the Berlin Prize, wrote the Creature Quartet — a one movement work for string quartet played without break and comprised of twelve short movements, each a character portrait in music, of an extinct, mythological, or endangered creature — as a personal response to the current mass extinction.
These include Ivory Billed Woodpecker, the Passenger Pigeon, the marvelous and funny looking Dodo Bird, mythological creatures like the mysterious Yeti, Chupacabra, and the famous "sea monster" Nessy. Also depicted are endangered animals such as the magnificent Javan Rhinoceros, the western Mustang and the adorable yet irascible Tasmanian Devil; and finally the Tasmanian Tiger or Thalycine, the Western Lowland Gorilla and the majestic Northern Right Whale [sound file excerpt here].
The work is supported by the Memorial Union Concerts series and a Vilas Associates Grant for Schwendinger. Schwendinger's composing has been called "Punchy, imaginative, subtle, stirring, [and] evocative," by Colin Clarke of Fanfare. [Links to some music files here]
And the players
The JACK Quartet's is arguably one of the finest quartets performing today, and one of the best interpreters of contemporary music. As recipient's of Lincoln Center's Martin E. Segal Award, JACK — With violinists Christopher Otto and Ari Streisfeld, violist John Pickford Richards, and cellist Kevin McFarland — has performed to critical acclaim internationally at venues such as Carnegie Hall, Lincoln Center, and Wigmore Hall (United Kingdom).
So for those want an artistic take on the destruction wrought by human activity — pollution, hunting, poaching, global climate change — on our fellow beings, come to the Wisconsin Union Theater on Friday, May 8th.