In Madison, WI, that is.
In response to my post on the effort to eliminate the Bureau of Science Services in the Wisconsin Department of Natural Resources, reader Ed Hanson rises to the defense of the effort.
How about some real information. What is the annual budget of the Bureau of Science Services? Without some actual numbers the debate is just a philosophical debate.
Apparently he didn't read the news articles that were hyperlinked to in the blogpost. From the Milwaukee Journal Sentinel:
The employees include scientists and others with master's and doctoral degrees who perform research for the DNR on environmental regulation and wildlife management policy.

Walker's budget would cut 18.4 positions in the Bureau of Scientific Services.

The bureau has a total of 59.4 budgeted positions, although 9.4 are currently vacant. That would a 31% cut in total budgeted positions and a reduction of nearly 20% of the positions now filled in the bureau.

All told, Walker's budget would cut 66 positions from the DNR. Of this, more than 25% would come from the science group.
Here are some time series for the Enforcement and Science function within the DNR, expressed in FY2014 real dollars (CPI deflated).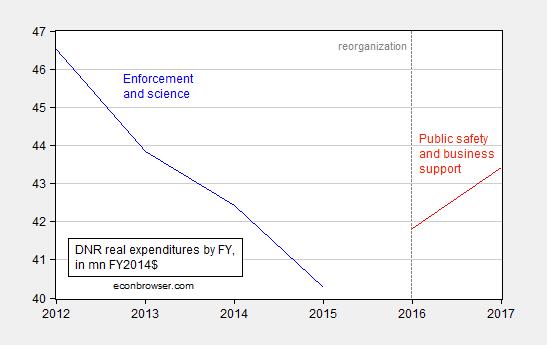 Figure 1: Real spending on "Enforcement and science" (blue) and proposed spending on "Public safety and business support" (red), in millions of FY2014 dollars (deflated using CPI-all), by fiscal year. Out year CPI derived from CBO. Source: Governor's budget proposal (2015), CBO, Budget and Economic Outlook (January 2015), and author's calculations.
The astute reader will notice that it's not really possible from the Governor's budget proposal to read out separately the science component, and more interestingly a re-organization proposed by the Governor makes even more difficult tracking the aggregate "enforcement and safety" function. A new function, the "Public safety and business support", is proposed. (I'm sure there are some budget experts that know the exact breakdown over time, but I don't have the expertise to track them down on demand from Ed Hanson.).
However, one can guess what the trend is from what has happened over the time Governor Walker has been in office. The share of enforcement and science expenditures in overall DNR over the FY2012-15 period is shown in Figure 2.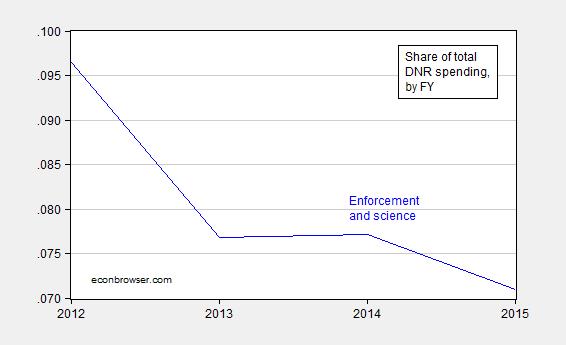 Figure 2: Share of spending on "Enforcement and science" (blue) in total DNR spending, by fiscal year. Source: Governor's budget proposal (2015) and author's calculations.
In just four years, the enforcement and science share has fallen from 9.7% to 7.1%.
Regarding the re-organization, the relevant statement is here (page 399)
The Governor recommends amending statutory language to reflect the new responsibilities of the Public Safety and Business Support Program, which consists of the department's law enforcement, science, and office of business support and sustainability functions.
Hence, it's not possible to make comparisons of spending on comparable enforcement/science activities pre- vs. post-FY2015.
Ed Hanson ends:
I suspect that in a varied and rich state such as Wisconsin, any necessary product coming from this Bureau can and would be created from other sources.
This is a remarkable statement. I'll just call it the "spontaneous generation" theory of knowledge generation…and I understand why Ed Hanson would adhere to such a view!
* Location of Wisconsin Department of Natural Resources. Original title, "Orwell on East Wilson Street" referred to street location of Department of Administration. Since the proposal is being pushed by DNR administrators, the new title seems more appropriate.