Some individuals have questioned the accuracy of the Philadelphia Fed coincident indices as measures of economic activity. Recently released Gross State Product (GSP) data confirms the pattern previously identified: Wisconsin lags the Nation, and its neighbor Minnesota. Thank goodness for Kansas to make Wisconsin look good!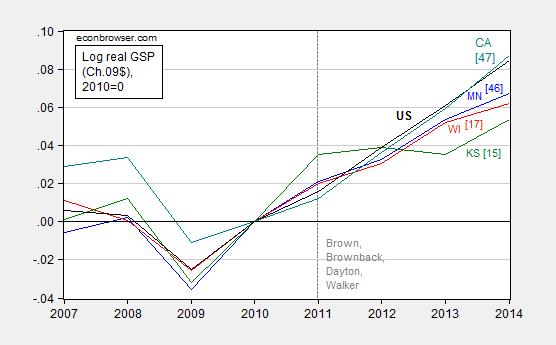 Figure 1: Log Gross State Product for Minnesota (blue), Wisconsin (red), Kansas (green), California (teal), and United States (black), all normalized to 2010=0. 2014 figures are advance. Numbers in [square brackets] are ALEC-Laffer rankings from Rich States, Poor States, 2014. Vertical dashed line at beginning of Brown, Brownback, Dayton and Walker administrations. Source: BEA, ALEC RSPS 2014, and author's calculations.
Update, 10pm Pacific: Ironman argues I have committed two offenses: (1) using Philadelphia Fed coincident indices to compare economic activity, and (2) not incorporating weather, for Kansas. On (1), I now use GSP. On (2), I estimate an ECM(1) with the Palmer Drought Severity Index (PDSI) for Kansas in the short run dynamics, using quarterly GSP 2005-10. I then estimate out-of-sample in an ex post simulation.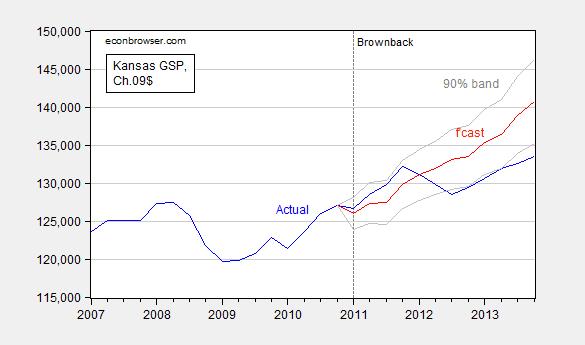 Figure 2: Real Gross State Product for Kansas (blue), out-of-sample dynamic forecast (ex post) from ECM (Kansas GSP, US GDP) with one lag of first differences and contemporaneous first difference of Kansas PDSI, over 2005-10 period (red), and 90% confidence band (gray lines). Source: BEA, NOAA.
Even taking into account the drought, Kansas is doing poorly relative to counterfactual (and statistically significantly so).
Update, 6/18 11am Pacific: Headline from print version of Wisconsin State Journal today: "2 Walker pledges fall short". Online article here.
Wisconsin's private-sector job growth during Gov. Scott Walker's first term lagged all other Midwestern states and ranked 35th overall, according to figures released Wednesday by the U.S. Bureau of Labor Statistics.

The state had 131,515 more private-sector jobs in 2014 than in 2010, or 52.6 percent of the 250,000 jobs that Walker promised to create during his first term.

That represented a 5.9 percent increase, compared with 8.8 percent private-sector job growth nationwide.

The data also show Wisconsin had 9,463 more business establishments in 2014 than in 2010, or more than 500 short of Walker's campaign pledge to create 10,000 businesses in his first term. The business growth rate of 6.4 percent ranked 10th nationally and outpaced the national average of 4.4 percent.
Ironman asserts that sequential shocks to agriculture and aircraft explain Kansas's sub-par (I'm being generous here) economic performance. A decomposition of GSP indicates that — yet again — Ironman's assertions cannot be substantiated.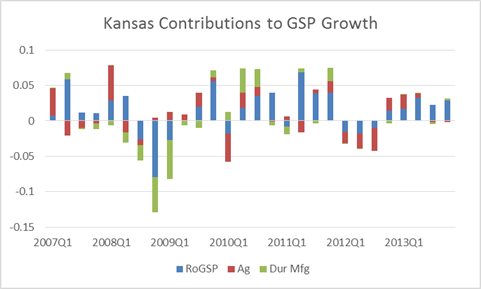 Figure 3: Contributions to annualized real GSP growth, from rest of agriculture (red), durable manufacturing (green) and rest-of-GSP (blue). Source: BEA, and author's calculations.
Notice that while agriculture does subtract from GSP in an accounting sense in 2012, it pretty much compensates in 2013. On the other hand, durable manufacturing (where aircraft production would be) doesn't show up as an important contributor to changes in the growth rate of GSP.