and is forecasted to continue to lag.
The Philadelphia Fed has recently revamped the formulas used to calculate the coincident indices used to track state economies [1]. Wisconsin's lagging performance remains unaltered using these new metrics to judge. Moreover, leading indices indicate that Wisconsin will continue to lag. This is shown in Figure 1.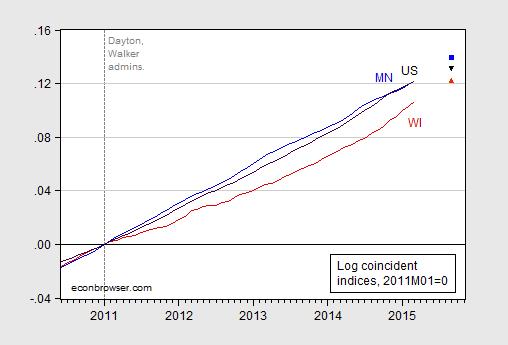 Figure 1: Log coincident indices for Minnesota (blue), Wisconsin (red) and the US (black), all normalized to 2011M01=0. Observations for 2015M09 are log-levels implied by leading indices. Source: Philadelphia Fed, and author's calculations.
Hence, this is the answer for those people who thought newer data would vindicate the Governor's tax cut/spending cut/deregulatory/anti-union policy framework: no catch-up to the rest of the country (or Minnesota for that matter). And what about for those who thought Minnesota's mainstream approach to public finance would lead to disaster? Here's one prognostication, from reader Ed Hanson, a week and a half ago:
Also as I noted in previous posts, Minnesota's leading indicators has plunged to 0, which I believe is indicating the coincidence index should shortly begin a similar plunge. Do you expect that? I continue to speculate the lag from Minnesota's unreasonable tax increases of 2013 is over and the consequences are now here. Do you have any better stats for the future on Minnesota?
These are the better stats. Wisconsin is forecasted to grow 1.58% over the next six months, Minnesota 1.81% (non-annualized). That means that by September 2015, Wisconsin will have lagged a cumulative 1.8% since 2011M01, despite the slight acceleration in Wisconsin growth in recent months.
As I have noted elsewhere, much of the surge in WI nonfarm payroll employment (a series used in the construction of the coincident index) occurs after September 2014, and hence after QCEW data availability. Much of the surge that was apparent starting in late 2013 was subsequently "benchmarked away" with the incorporation of QCEW data; it may again be the case this time around. If that outcome is realized, then the Wisconsin coincident index will likely be revised downward (although we won't know until nearly a year from now). For now, we know employment fell in Wisconsin last month. [2]