Updated 8/3:
From WaPo:
"Wisconsin's doing terribly. It's in turmoil. The roads are a disaster because they don't have any money to rebuild them. They're borrowing money like crazy. They projected a $1 billion surplus, and it turns out to be a deficit of $2.2 billion. The schools are a disaster. The hospitals and education was a disaster. And he was totally in favor of Common Core, which I hate!"
I can't say I agree with much of what Mr. Trump says, but even a broken clock is right twice a day. (I don't hate common core, but he is right that Governor Walker was for common core before he was against it…) And the WaPo article goes through some material documenting the correctness of several of the assertions.
As Jon Peacock at Wisconsin Budget Blog notes, the apparently small structural budget deficit of $210 million hides an enormous shortfall implicit in assumptions that agencies will underspend ("lapses") billions of dollars over the next three fiscal years, and return those funds to the state treasury.
[T]he assumption that state agencies will lapse about $2.15 billion over a 3-year period is a convenient way to make the structural deficit look relatively manageable, compared to many of the past structural deficits. However, it also means that the structural deficit figure by itself is no longer a very good indicator of the state's future fiscal challenges, because that figure leaves out the immense challenge of lapsing so much funding year after year.
Given the fact that typical lapses are between $250-$300 million/year [1], assumptions of something like $700 million year imply that 0.15% of gross state product worth of additional cuts and tax increases will be necessary each of the next three fiscal years, by my back-of-the-envelope reckoning.
And of course, civilian and private employment continue to decline [1]. As a reminder, Wisconsin employment is now below pre-recession peak levels. In other words, Wisconsin is reverting.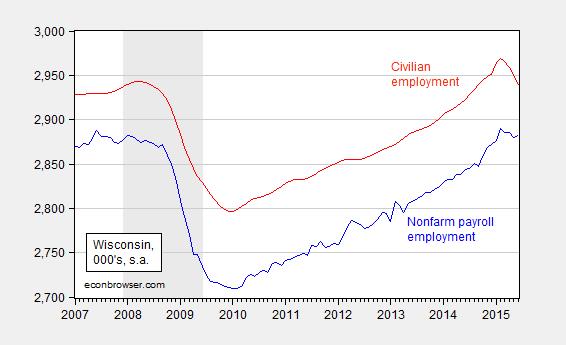 Figure 1: Wisconsin nonfarm payroll employment (blue), and civilian employment (red), both in 000's, seasonally adjusted. Source: BLS and DWD.
More on the Wisconsin economy here.
Update, 8/3, 5PM Pacific: More material which fits under "who am I to disagree?":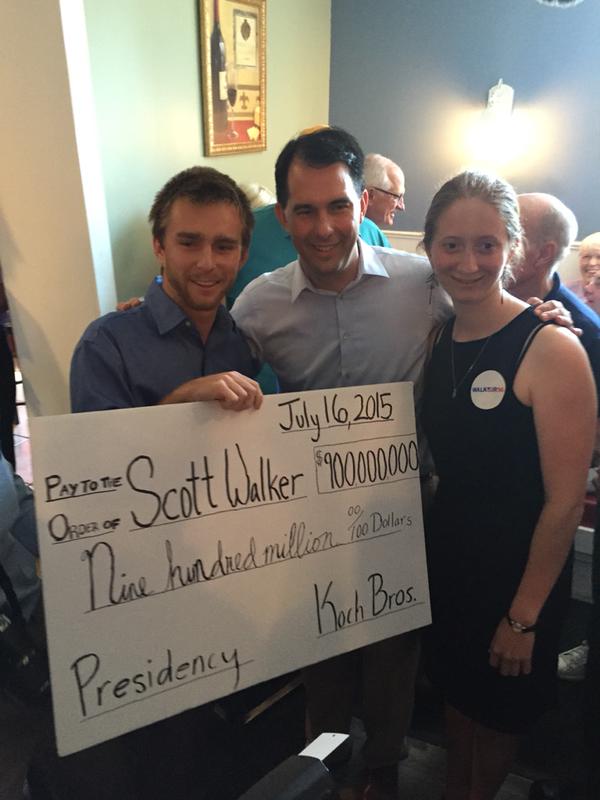 Source: WaPo.