From The Hill:
Instead of crediting Obama for any of the economic gains that have occurred in the last seven years, Ryan argued that the Fed's policies pushed the recovery. He added that the central bank's controversial efforts to drive down borrowing costs may have driven growth, but the benefits failed to spread to everyone.
I find it interesting that Speaker Ryan credits the Fed, because six years ago, he warned of inflation arising from quantitative easing and Federal deficits. From Representative Ryan's website, on October 16, 2009:
…One of my key concerns is on the inflation front.

This may seem like an odd preoccupation right now because the recession is generally keeping a lid on price increases. Data released just this week showed that the overall consumer price index (CPI) has actually declined slightly over the past year. The Federal Reserve generally feels that the slack in our nation's factories and labor markets (the so-called "output gap") should keep wages and prices contained for some time, allowing interest rates to remain low for "an extended period." Yet, although inflation is not an immediate concern, I believe it represents a key risk to our economy over the medium and longer term.
Here is a picture of how inflation has evolved since that dire warning.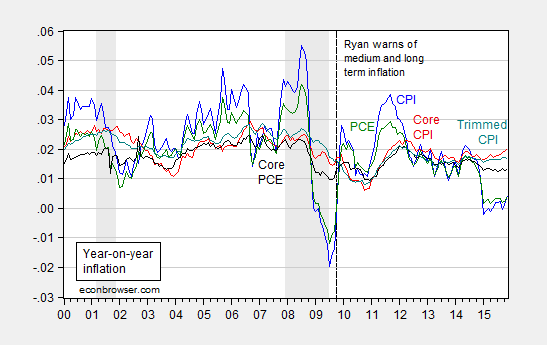 Figure 1: Year-on-year inflation, as measured by CPI-all (blue), core CPI (red), personal consumption expenditure deflator (green), core personal consumption expenditure deflator (black), and trimmed CPI (teal). NBER defined recession dates shaded gray. Source: BLS, Dallas Fed, via FRED, NBER, and author's calculations.
In any case, Representative Ryan has not provided a quantitative assessment backing his claims. His last quantitative assessment of fiscal policies is here.
For a serious attempt to do a decomposition, see this post, based upon the Blinder-Zandi analysis. Here is a figure based on the analysis: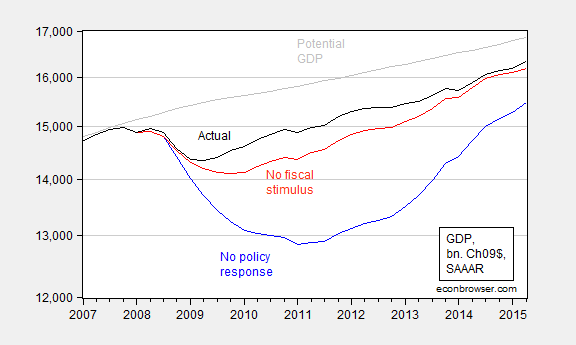 Figure 2: Actual GDP (black), counterfactual GDP under no economic response (blue), counterfactual GDP under no fiscal response (red), potential GDP (gray bold), all in billions Ch.2009$, SAAR; log scale. Source: Blinder and Zandi (2015), appendix tables B1, B2; and CBO, Budget and Economic Outlook (August 2015), via FRED.
Note that TARP (which to his credit, Representative Ryan did vote for [1]) and other policies were included in the policy responses, but not in the fiscal stimulus.