The portents from China are not good. There are ominously titled news articles aplenty; the WSJ asked in August if a global recession is brewing in China. Wonkblog asks How China could trigger a global crisis:
When China sneezes, the rest of the world might not catch a cold, but it does feel bad for a couple of days. The question, though, is whether China is sicker than it seems and how contagious that would be for the global economy.
A common thesis is that the crisis in China forces a policy retrenchment that involves a yuan devaluation that in triggers a currency war. I don't doubt that emerging market currency values hinge, in many cases, on the Chinese currency's value, or alternatively, on commodity prices. It's going to be difficult to parse out the effects on emerging market currencies between Fed tightening (see this post) from China's slowdown.
Chinese Growth and Global Growth
I'll take a slightly different approach – and that is to look at the increments to world GDP under different assumptions. That is, I'll compare the forecasted increments using the October 2015 IMF World Economic Outlook ([1]) versus those assuming real growth is halved for 2016-2018. These two breakdowns are shown in Figures 1 and 2.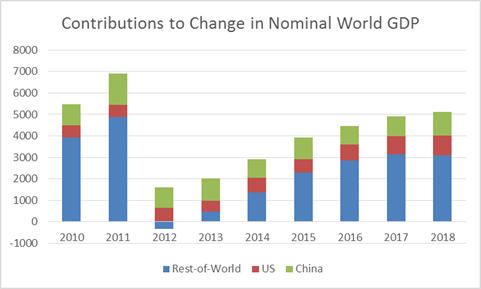 Figure 1: Increments to World GDP in billions of USD, at market exchange rates, from Rest-of-world (blue), US (red) , and China (green). Source: IMF, World Economic Outlook, October 2015 database, and author's calculations.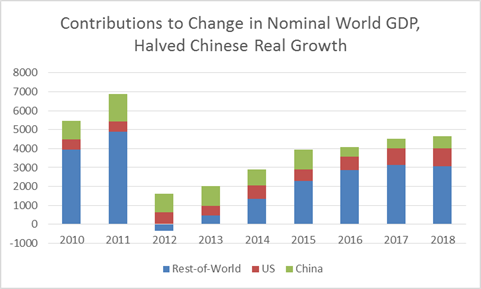 Figure 2: Increments to World GDP in billions of USD, at market exchange rates, from Rest-of-world (blue), US (red) , and China (green), assuming Chinese real growth is one-half that forecasted in WEO for 2016-18, but inflation and exchange rate forecasts are unchanged. Source: IMF, World Economic Outlook, October 2015 database, and author's calculations.
The above mechanical calculations assume no spillover effects, i.e., the Chinese slowdown has no impact on rest-of-world growth. Clearly, if there are multiplier effects, then rest-of-world growth would be lower. This is not indicative of a global recession, but we are in uncharted territory.
Historical Precedents
As Kose and Terrones (2015) point out, all four global recessions after 1960 have involved the United States (although not all US recessions are global recessions). One can then ask if the China slowdown presages a new era in which global recessions are driven by Chinese fluctuations – much like the ascent of the US in the 19th century was signaled by the global impact of the Panic of 1857 (see e.g., here), and the subsequent recession. As Bordo and Landon-Lane note:
The 1857 crisis started in the US with the failure of the Ohio Life Insurance Company, leading to a stock market crash and banking panic. This crisis augured the importance of the United States in future global financial crises. Major banking panics also occurred in London and Germany.
Bordo and Landon-Lane further note:
… international financial crises since at least 1857 seem to occur when the US (the largest economy since the end of the nineteenth century) is involved. One strong possible reason for the U.S. involvement in global financial crises is that the US banking system has long been crisis prone.
The first observation prompts my comparison where relative GDP in 2015 and 1857 stood, in Figures 3 and 4, respectively.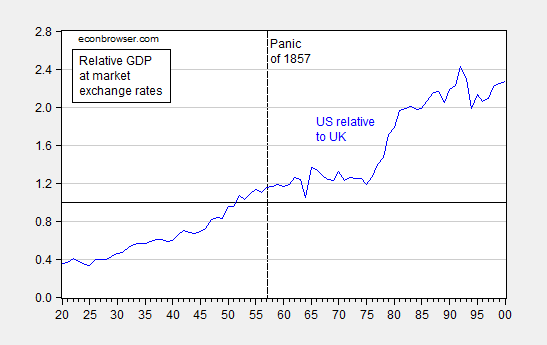 Figure 3: Ratio of nominal US/UK GDP at market rates (blue). Dashed line at 1857. Source: Measuring Wealth and author's calculations.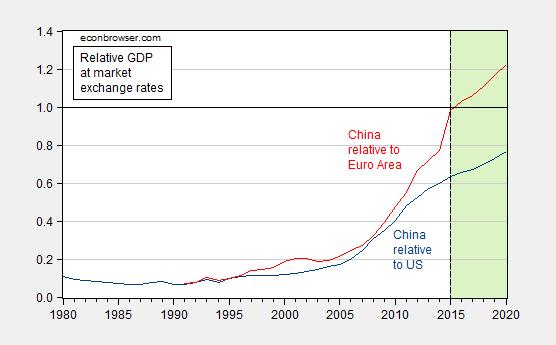 Figure 4: Ratio of nominal China/US GDP at market rates (dark blue), China/euro area (red). Dashed line at 2015. Forecasts shaded light green. Source: IMF World Economic Outlook October 2015 database and author's calculations.
In other words, the US had overtaken the UK as the world's largest economy when the Panic of 1857 sparked a global crisis. In contrast, China is overtaking the euro area, but has yet to surpass the US, at least at current exchange rates (PPP terms would yield a different result). This suggest (but does not prove) that a China-induced global recession is unlikely.
Bordo and Landon-Lane's second observation suggests the importance of tight financial interlinkages as a key factor in crisis propagation (recent quantification, here). Here, the continued segmentation of the Chinese banking sector from the global financial system is important. Not only do capital controls segment the Chinese market. The highly regulated non-market oriented banking system further insulates the rest of the world from Chinese banking problems (in any case, China seems to have ample resources to recapitalize the banking system, should that prove necessary).
Obviously, China is linked to the rest of the world's finances by way of being a net creditor, and holder of US Treasurys. So it's not to say a severe crisis in China would not have negative impacts on the rest-of-the-world; rather it's to say that the modes of transmission might be more of the old fashioned types – trade flows and commodity prices, and maybe interest rates.
A Final Caution on Forecasting China
Assessments for growth in China vary wildly. That's partly because one's assessments of growth prospects depend on views regarding government policies. If one views the government as committed to keeping growth above a certain threshold, then one is willing to countenence the possibility that authorities will sacrifice reform for continued stimulus, and short term growth will not collapse, even if longer term prospects might suffer. If one believes the government will hold true to a program of financial liberalization and rebalancing toward domestic sources of growth, then growth could very well fall far below the 6% in the short term. Count me skeptical of the latter outcome.